KILDEER, Ill. – Michelle Wie made the American team for the first time.
So did Jessica Korda.
The United States will defend its title with a revamped squad when it heads to South Korea in the fall for the third rendition of the UL International Crown.
The rosters for the biennial international team event were announced in a news conference Monday at UL's headquarters in Northbrook, Ill., just north of Kemper Lakes Golf Club, home to last week's KPMG Women's PGA Championship.
Eight teams previously qualified for the event, with four players from each of those countries earning roster spots based on Monday's new Rolex Women's World Rankings release.
While the United States may be the defending champs, the South Koreans will be overwhelming favorite and No. 1. seed, with seeding based on the world rankings. The Americans will be the No. 2 seed followed by Japan, England, Australia, Thailand, Sweden and Chinese Taipei.
"If you think about it, these teams are as hard to make as the Olympics," LPGA commissioner Mike Whan said. "So what you're essentially going to get in October is a glimpse of Team Korea, an Olympic-caliber team, competing against seven other high-quality teams. Korea hosted the [Olympic] Winter Games earlier this year. Now, Korean sports fans are going to get a glimpse of the Summer Games when we show up for the UL International Crown."
Wie and Korda will team up with Lexi Thompson and Cristie Kerr, both of whom helped the Americans win the event at the Merit Club in suburban Chicago two years ago. Thompson and Kerr have made the U.S. team for all three Crown competitions. Stacy Lewis and Gerina Piller did not make the team as both are transitioning into new roles as mothers. Piller is on maternity leave, having given birth to her first child earlier this year, and Lewis is about to go on maternity leave, with her due date in the fall.
The South Koreans will be looking to win the event for the first time, with a home crowd expected to make this the most electrically charged atmosphere in the history of the crown.
Monster crowds are expected after weekly passes sold out in a record 21 days.
"Last year, at our Hana Bank Championship [in South Korea], we had 38,000 people on Sunday, in that one day," Whan said. "That's a monster Sunday. I'd expect to see that many around the first tee when we tee it up on Thursday."
The South Koreans will have more proven winners on their squad than any other team. All four of their team members are major champions. No other squad can say that.
World No. 1 Inbee Park and No. 2 Sung Hyun Park will team up with No. 4 So Yeon Ryu and No. 7 I.K. Kim to form the South Korean team.
Kim made the team with her finish Sunday at the KPMG Women's PGA Championship, bumping Hye Jin Choi outside the top four South Koreans in the world rankings. It was the only roster change occurring on the final weekend of qualifying.
Ryu is eager to see the atmosphere in her homeland.
"It's going to be crazy," Ryu said. "Golf is such a popular sport in Korea, with a lot of Korean players dominating the LPGA."
South Koreans have watched the Solheim Cup competition between the United States and Europe for a long time, wanting that kind of opportunity to play as a team.
"We never really had a chance to represent our country," Ryu said. "So all the Korean fans just cannot wait for this fantastic tournament. Yeah, there's going to be a lot of pressure, but I think we can handle it."
Eight of the top 10 players in the current Rolex world rankings will be compete in the event.
Here is the complete list of seeded teams and rosters:
1. South Korea – Inbee Park, Sung Hyun Park, So Yeon Ryu and I.K. Kim
2. United States – Lexi Thompson, Jessica Korda, Cristie Kerr and Michelle Wie
3. Japan – Nasa Hataoka, Ai Suzuki, Misuzu Narita and Mamiko Higa
4. England – Charley Hull, Georgia Hall, Jodi Ewart Shadoff and Bronte Law
5. Australia – Minjee Lee, Katherine Kirk, Su Oh and Sarah Jane Smith
6. Thailand – Ariya Jutanugarn, Moriya Jutanugarn, Pornanong Phatlum and Sherman Santiwiwatthanaphong
7. Sweden – Anna Nordqvist, Pernilla Lindberg, Madelene Sagstrom and Caroline Hedwall
8. Chinese Taipei – Teresa Lu, Wei-Ling Hsu, Hsuan-Yu Yao and Candie Kung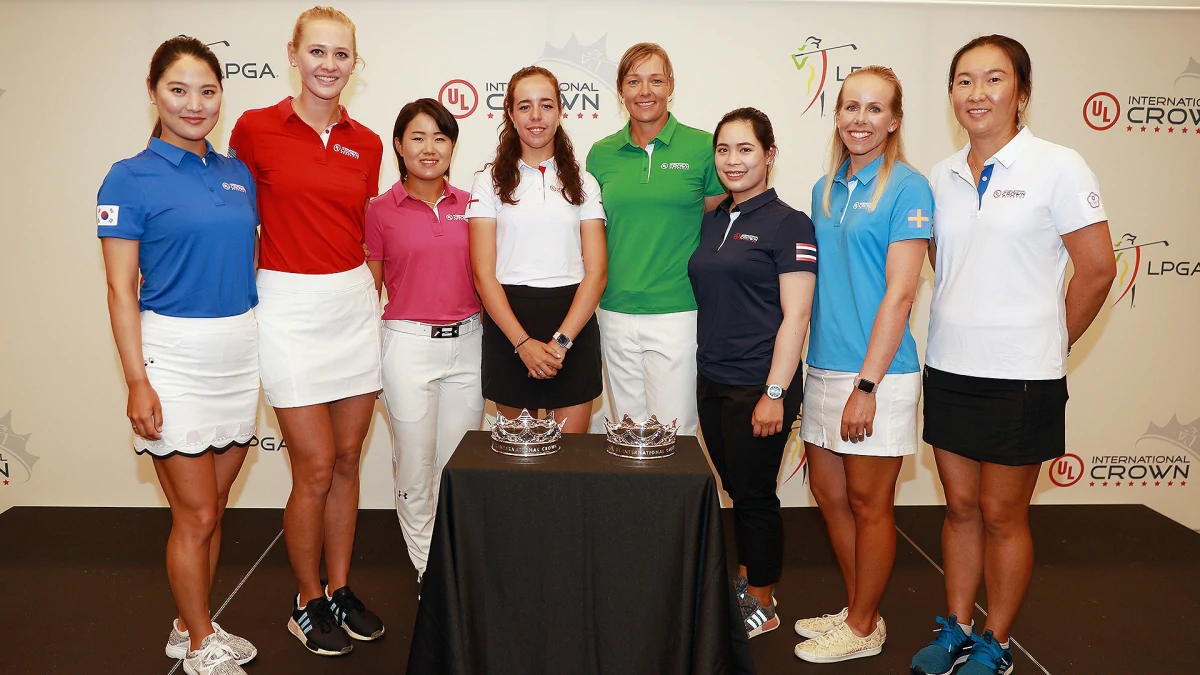 Source: Internet