Bubba Watson turned the final match at Austin Country Club into a rout, defeating Kevin Kisner, 7 and 6, to win the WGC-Dell Technologies Match Play.
Watson started the week as the 35th seed, but he went 2-0-1 in group play before defeating Brian Harman, Kiradech Aphibarnrat, Justin Thomas and Kisner in the span of two days. It's his 11th career PGA Tour victory and his second in a five-week span following his win last month at the Genesis Open.
"I got off to a hot start, and I just focused on golf," Watson said. "I was so focused on golf, so focused on committing to the shots. There were about four or five shots for the week where I wasn't committed, where I kind of blanked out. So that's pretty good over 100 and something holes, however many holes we played."
Watson took advantage of a rough start for Kisner in the championship match, winning each of the first five holes to build a nearly insurmountable lead. Watson was 6 up at the turn, 7 up through 10 and ultimately closed out Kisner with a 7-foot birdie putt on the 12th hole. Kisner's birdie on No. 11 proved to be his only winning hole of the afternoon.
"Just one of those deals, man. Every time I looked up it was nowhere near where I was looking," Kisner said. "You've just got to keep grinding, and a lot to build on this week. Looking forward to it in a couple weeks at Augusta."
---
WGC-Dell Technologies Match Play: Full bracket | Scoring | Group standings
WGC-Dell Technologies Match Play: Articles, photos and videos
---
Consolation match: Alex Noren defeated Justin Thomas in a consolation match, 5 and 3, to take third-place honors at the WGC-Dell Technologies Match Play.
Noren won the first hole and never trailed in the match, with Thomas only pulling even briefly with a birdie on the third hole. The Swede won each of the next two holes to regain the lead and took three of five holes on Nos. 11-15 to turn a tight contest into an easy win.
Noren lost to Kevin Kisner Sunday morning in a close semifinal match that went 19 holes, but he now has three top-3 finishes this year on Tour following his playoff loss at the Farmers Insurance Open and third-place showing at the Honda Classic.
Thomas would have overtaken Dustin Johnson as world No. 1 with a win in his semifinal against eventual champ Bubba Watson, and after his second straight loss he admitted it was a struggle not to think about the possibilities entering the tournament's final day.
"It would have been a good night to put my phone away and not read anything, just because I couldn't pull anything up without it being right there," Thomas said. "But it's just a learning experience. I need to handle it better. In the end, it might be a good thing heading into Augusta without that."
---
Semifinal No. 1: (35) Bubba Watson def. (2) Justin Thomas, 3 and 2: This was a match that had Thomas' full attention as a win would have allowed him to overtake Dustin Johnson as the new world No. 1, but Watson never let him off the mat.
The southpaw won the opening hole and three of the first six, capping his opening run with an eagle on the par-5 sixth. Thomas won two of the next three holes to trim the deficit heading into the back nine, but he never quite seemed comfortable as Watson won Nos. 10 and 12 to pad his advantage.
Thomas couldn't get a few mid-range putts to drop down the stretch, and a birdie from Watson on the 16th hole was good enough to advance to the championship match as he looks to win for the second time in the last five weeks.
---
Semifinal No. 2: (32) Kevin Kisner def. (13) Alex Noren, 19 holes: This turned out to be one of the best-played matches of the entire week, as neither player held more than a 1-up lead and four straight holes on the front nine were all halved with birdies.
Kisner took an early advantage before Noren drew even with a birdie on No. 7, his fifth in a row. Noren took his first lead of the match with a par on No. 8, but Kisner answered with an eagle on the par-5 12th and the two men remained deadlocked for the rest of regulation. Noren missed an 8-foot birdie putt on No. 18 that would have closed out the match, then opened the door for Kisner with a poor eagle putt on the first extra hole that barely stayed on the green.
After Noren missed his comeback attempt, Kisner rolled in a 5-foot birdie putt to win the match and set up an all-Georgia Bulldog final with Watson. Noren, who lost in a playoff at Torrey Pines and finished third at Honda, once again falls just short of his first PGA Tour win and will face Thomas in the consolation match.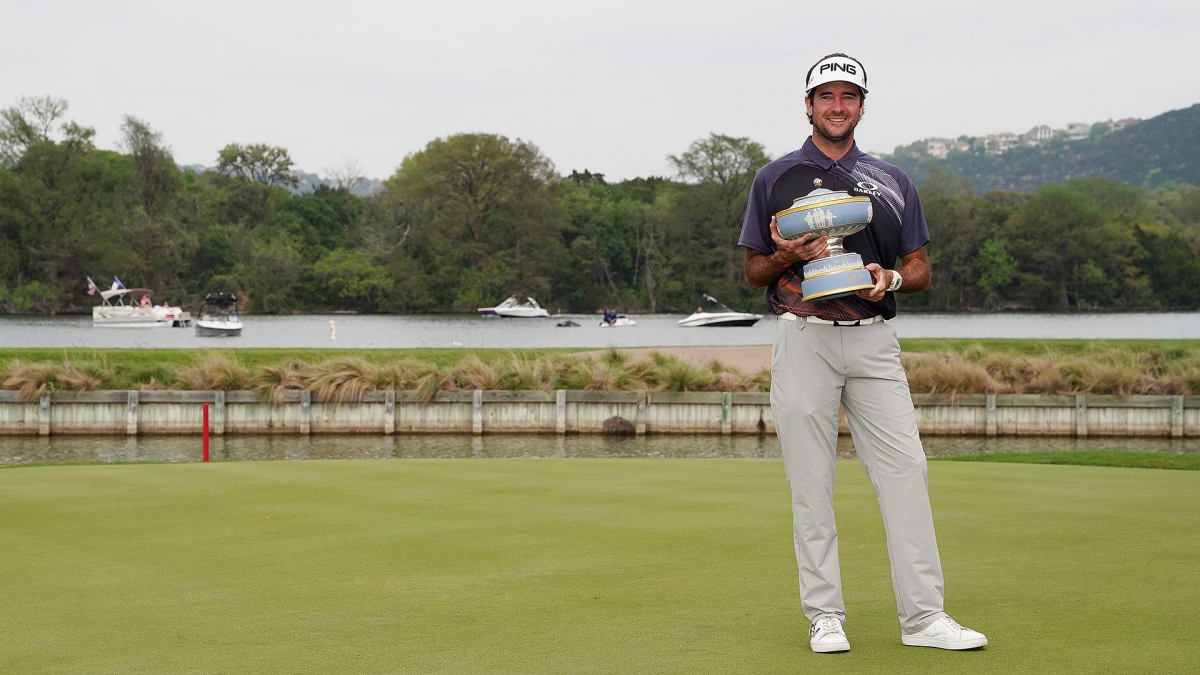 Source: Internet