CHARLOTTE, N.C. – Justin Thomas started the par-5 10th on Sunday at the PGA Championship trailing leader and playing competitor Hideki Matsuyama by a stroke. But thanks to a couple of good breaks, it turned out to be a pivotal hole in his quest to capture his first career major.
Thomas got a very fortunate kick off a tree with his tee shot, which you can see below:
---
"Lucky bounce" doesn't do this justice.#PGAChamp pic.twitter.com/BY51gPh37q

— PGA Championship (@PGAChampionship) August 13, 2017
---
"I talk to my ball a lot, and anytime it's going somewhere I didn't wish it would, I probably am saying, 'Get lucky,' or something like that," Thomas said. "And I said that in the air, 'Get lucky, just spit it out for me, please.' And it spit it out, and right in the middle of the fairway. I told (caddie) Jimmy (Johnson), 'That's why you ask.'"
He took advantage of that good luck and left himself with 7 feet for birdie – to stay within one of Matsuyama, who made a lengthy birdie putt on the hole.
Thomas' putt died on the left edge of the cup. He circled in disbelief … and then the putt fell. By rule, he has 10 seconds to tap in the putt – beginning once he makes an effort to address the ball. So, no issue with the amount of time it took the ball to fall.
Wait for it … wait for it … GOT IT. #PGAChamp pic.twitter.com/FUR5HciqxM

— PGA of America (@PGA) August 13, 2017
"I thought it might be our day, like it was Jordan (Spieth)'s at Hartford. I was like, that might be an omen," Johnson said of the theatrics on No. 10. "You never know. But you have to have good things happen to you to win a golf tournament, that's the bottom line."
After gaining a one-shot advantage, Thomas added to his lead by holing this chip on the par-3 13th to go two clear of the field, which ultimately proved to be the winning margin.
Two-shot lead!

JT chips in at 12 to move to 8-under #PGAChamp Watch LIVE: https://t.co/mT5mpu9yEU pic.twitter.com/X9p4jECtG5

— PGA of America (@PGA) August 13, 2017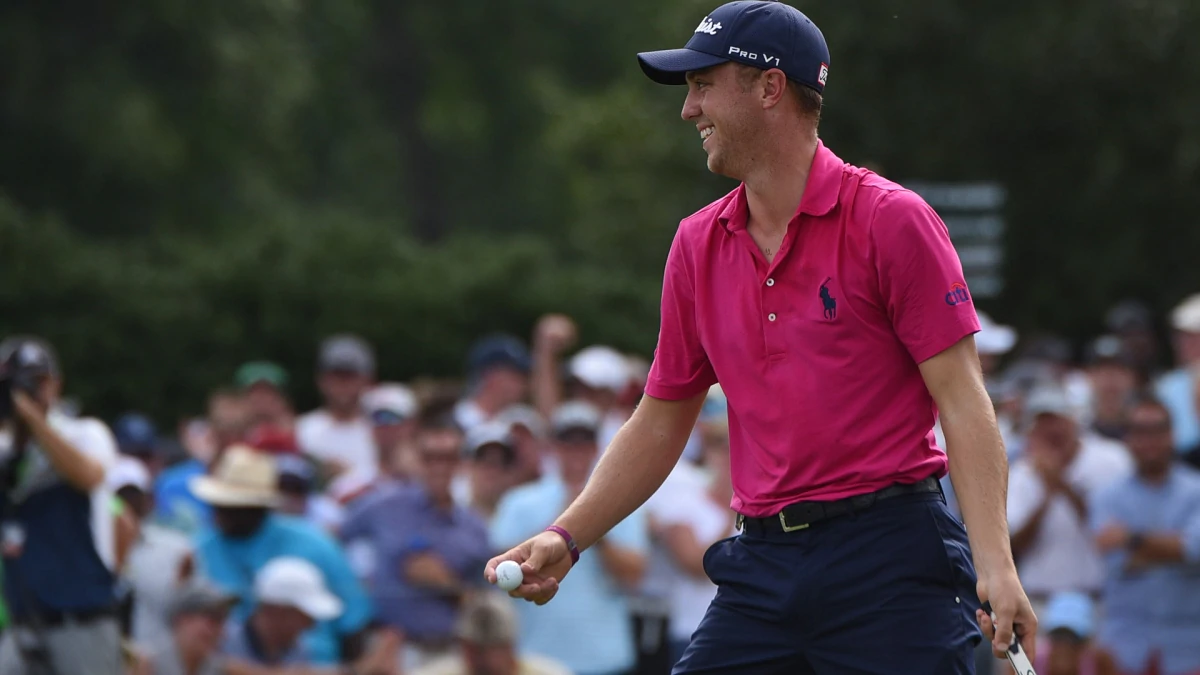 Source: Internet