THACKERVILLE, Okla. – The top two players are gone. So, too, is the defending champ. But the drama and intrigue have only just begun at the Volvik World Long Drive Championship.
There were upsets aplenty as the top 16 men squared off in head-to-head matches under the lights Tuesday at the Winstar World Casino and Resort. Chief among surprises was two-time and defending champ Joe Miller, who couldn't match a 426-yard bomb from southpaw Nick Kiefer.
Kiefer was hoping to make the Round of 16 entering the week, but he'll now return for Wednesday's high-octane finale with a shot at the $125,000 top prize.
"It's huge," Kieffer said. "I've looked at the numbers, and I know I'm just as fast as everyone else. But it's about who puts a good ball out on the grid."
The most dramatic duel featured two-time champ Tim Burke, who skated through by the thinnest of margins. Burke and Stephen Kois both hit 415-yard drives, which called for a manual measurement. Had the two shots been within 6 inches of each other, they would have squared off in a four-ball playoff.
But instead, Burke's ball was measured at 415 yards, 28 inches – 9 inches past Kois.
"When I looked at the Jumbotron when they were measuring, I could tell I was a little farther, Burke said. "I'm glad it went my way."
---
Volvik World Long Drive Championship: Articles, photos and videos
Volvik World Long Drive Championship scoring and brackets
---
Burke will encounter a familiar face in Wednesday's quarterfinals when he meets 20-year-old Kyle Berkshire. The two are frequent training partners together in Orlando, Fla., and Berkshire continues to impress in his world championship debut.
Only months removed from playing stroke-play tournaments as a freshman at the University of North Texas, Berkshire heads into a marquee quarterfinal match on a mission.
"I've only been playing for one year, but I've already come close to winning a couple tour events," Berkshire said. "I know what I'm doing and I know how good I am. My main goal is to win. I don't think I would have gotten this far if I was just trying to do well."
Berkshire is hardly the lone surprise still with title aspirations. Wes Patterson's underdog tale only detoured into the sport of long drive last month, but after twice beating world No. 1 Maurice Allen in the Round of 32 he toppled No. 2 Ryan Riesbeck Tuesday to advance to the quarterfinals, where he'll face Canada's Mitch Grassing.
With Allen and Riesbeck out, the top-ranked player is now world No. 3 Justin James, who will square off against Paul Howell and is not exactly lacking confidence.
"I'm the best," James said. "So come get me."
Howell turned heads with a 425-yard shot to advance, while the fourth quarterfinal will feature Kiefer and Will Hogue. Hogue's back was against the wall after his opponent, Josh Cassaday, set the mark at 428 yards. But with his penultimate ball, Hogue uncorked a 437-yard shot that won the match and served as the longest shot of the Round of 16.
The spotlight will again be on the grid Wednesday in primetime, where the top eight players will square off in head-to-head matches featuring eight shots per player. The four match winners will continue until someone leaves with the championship belt.
The women will also share the stage Wednesday, as the semifinal matches will feature defending champ Phillis Miti against Heather Manfredda and Sandra Carlborg against newcomer Alexis Belton.
Some of the names have changed and a few of the familiar faces have been eliminated, but the high-energy action of long drive remains a constant. Wednesday the stakes will get even higher as a pair of world titles are up for grabs.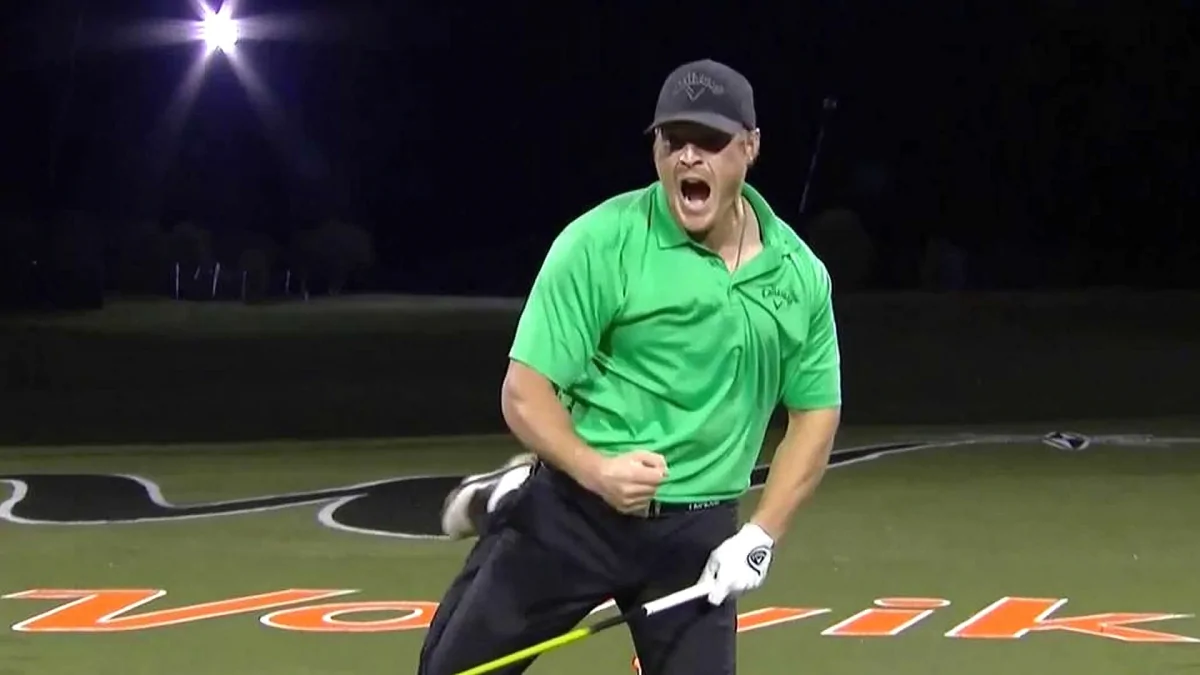 Source: Internet