Final standings
1. Republic of Korea, 15
2. United States, 11
2. England, 11
4. Thailand, 10
5. Sweden, 9
6. Australia, 7
7. Japan, 5
8. Chinese Taipei, 0
---
Sunday's singles recaps
Match 1
Caroline Hedwall (SWE) halved Sherman Santiwiwatthanaphong (THA)
Two down with two holes to play, Sweden's Hedwall finished par-birdie to her opponent's bogey-par. "I've been fighting on, just nice when it pays off," Hedwall said.
Match 2
Charley Hull (ENG) def. Pornanong Phatlum (THA), 1 up
Hull won the first two holes when Phatlum started bogey-bogey. Phatlum took a 1-up lead at the ninth hole and held onto it for five holes before Hull tied the match with a birdie at the 14th and went ahead for good with another birdie at 16.
Match 3
Pernilla Lindberg (SWE) def. Jodi Ewart Shadoff (ENG), 1 up
Shadoff never trailed in this match until the 18th hole. Lindberg trailed by as many as two holes until she pulled all square at No. 15. They halved 16 and 17 before coming to the par-5 18th, where Lindberg won with a birdie to Ewart-Shadoff's bogey.
Match 4
Moriya Jutanugarn (THA) def. Michelle Wie (USA), 2 and 1
Wie went 1 down on the third hole and never led. The American made only one birdie, but she made several mid-range par saves that kept her in the match.
Match 5
Ariya Jutanugarn (THA) def. Sung Hyun Park (KOR), 2 and 1
World No. 2 Jutanugarn took down No. 1 Park in front of Park's legion of fans, a massive swarm that easily gave the match the largest gallery on the course.
Match 6
Jessica Korda (USA) def. Madelene Sagstrom (SWE), 4 and 3
Sweden's Sagstrom led for two holes after making a birdie at No. 3, but it was all Korda after that.
Match 7
In Gee Chun (KOR) def. Anna Nordqvist (SWE), 1 up
Chun took a quick lead when Nordqvist bogeyed the first hole, and the Swede was rarely a factor. Her deficit grew to 4 holes before she pared it to 1 late.
Match 8
Georgia Hall (ENG) def. Cristie Kerr (USA), 2 and 1
Hall, who may be the hottest player in women's golf right now, grabbed an early 2-up lead. Kerr never got cloder than 1 down the rest of the way.
Match 9
In-Kyung Kim (KOR) def. Bronte Law (ENG), 2 up
This match represented the clinching points for Korea. Law led through 11 holes before Kim strung three birdies together at Nos. 12-14.
Match 10
So Yeon Ryu (KOR) halved Lexi Thompson (USA)
Ryu birdied the first hole, but Thompson pulled even when Ryu bogeyed the fourth. Another Ryu bogey at No. 7 gave Thompson the lead, which she held until the 16th hole. The overall competition was already decided by then, and these two players halved.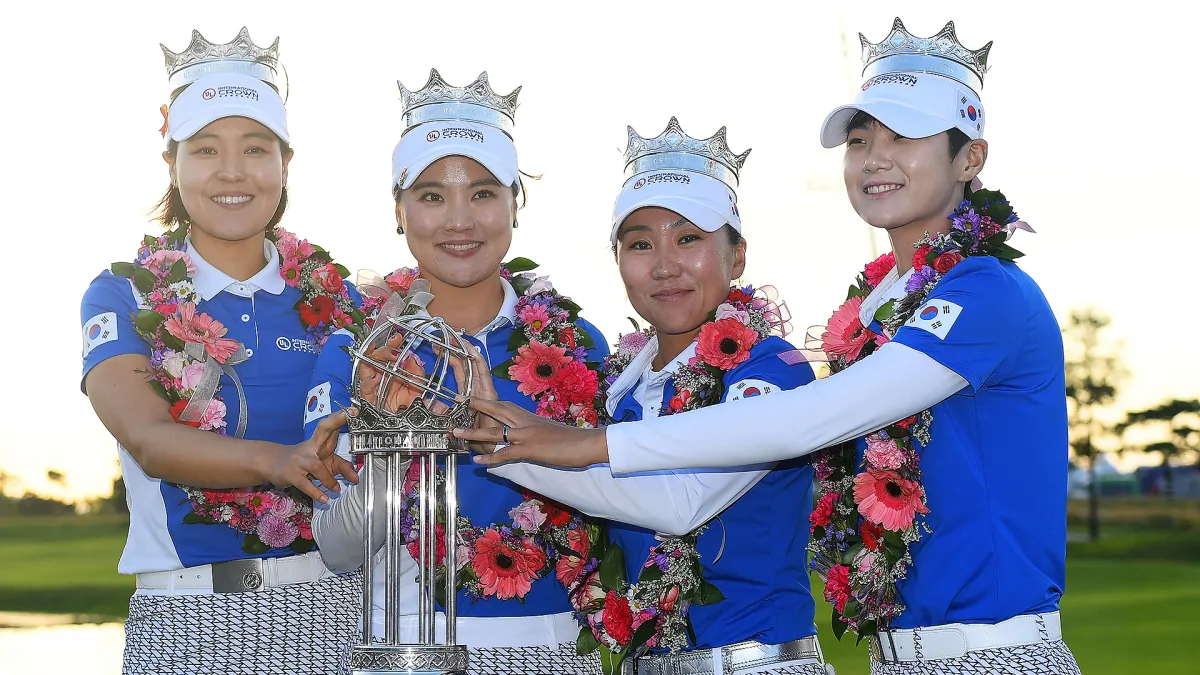 Source: Internet