SOUTHAMPTON, N.Y. – Tiger Woods played in the shadow of world No. 1 Dustin Johnson during two rounds at the U.S. Open. OK, maybe that's not really possible, but Woods was second fiddle to all that sweet music Johnson was making on his run up the leaderboard.
My thoughts on Tiger's 2-over-par 72 on Friday:
• Let's cut to the chase. As much as Tiger grinded, as much promise as he continued to see in his swing and ball striking, his overall game isn't ready for major championship heat. Not close. Not yet. Too many big numbers. He had a triple bogey and two double bogeys on Thursday and another double bogey on Friday. Yes, if you throw out the first hole – he was 5 over on it – he would be playing this weekend, but every player would love a couple mulligans this week.
• Shinnecock was tough on everyone, but Tiger's judged by a different standard. He isn't everyone, and he doesn't want to be. You could hear that in his frustration after. He doesn't want to be judged like the guys in the middle of the pack, but the truth is he wasn't good enough this week to hang with the guys in the middle of the pack. At 10 over through two days, he looked resigned to heading home with the rest of the guys missing the cut.
---

U.S. Open: Scores | Live blog | Full coverage
---
• Tiger is still a work in progress. I get that. He's still rebuilding, still addressing what time lost and all kinds of physical and other injury have done to him, but major championships aren't rehab starts.
• With driver in hand, Tiger looked confident. He ripped some terrific tee shots, long and straight. He hit 11 of 14 fairways. That's a great sign going forward. He closed with back-to-back birdies that made all my followers wonder what may be close to coming back together again. There's a foundation to keep building upon.
• His iron play? Not as good. It was spotty, not consistent enough, understandable in Thursday's winds but less so on Friday. His wedge play wasn't good at all. He squandered a number of chances from the middle of fairways with wedge in hand. In Thursday's winds, with the course so firm, that was going to happen. But Friday, he failed to give himself close looks with Shinnecock about as soft as players were going to see it. He hit 9 of 18 greens, but if you were looking at the targets he wanted to hit, he was less proficient. His short game wasn't good enough, either. He made a mess of the first hole making that triple on Thursday. It was revealing how much better Johnson scrambled over both days.
• And from there, Tiger was exasperated with his putter. It goes beyond his four-putt on Thursday. "I haven't made anything the last two days," he said. It's been an issue over his last few starts, and it's what really kept him from making it into the weekend this week.
• Overall, Tiger was excited about his ball striking, what that control can mean, but major championship heat and playing alongside Johnson showed just how much work is left. Johnson didn't make any of the big mistakes that Tiger made, and he finished 14 shots better than Tiger.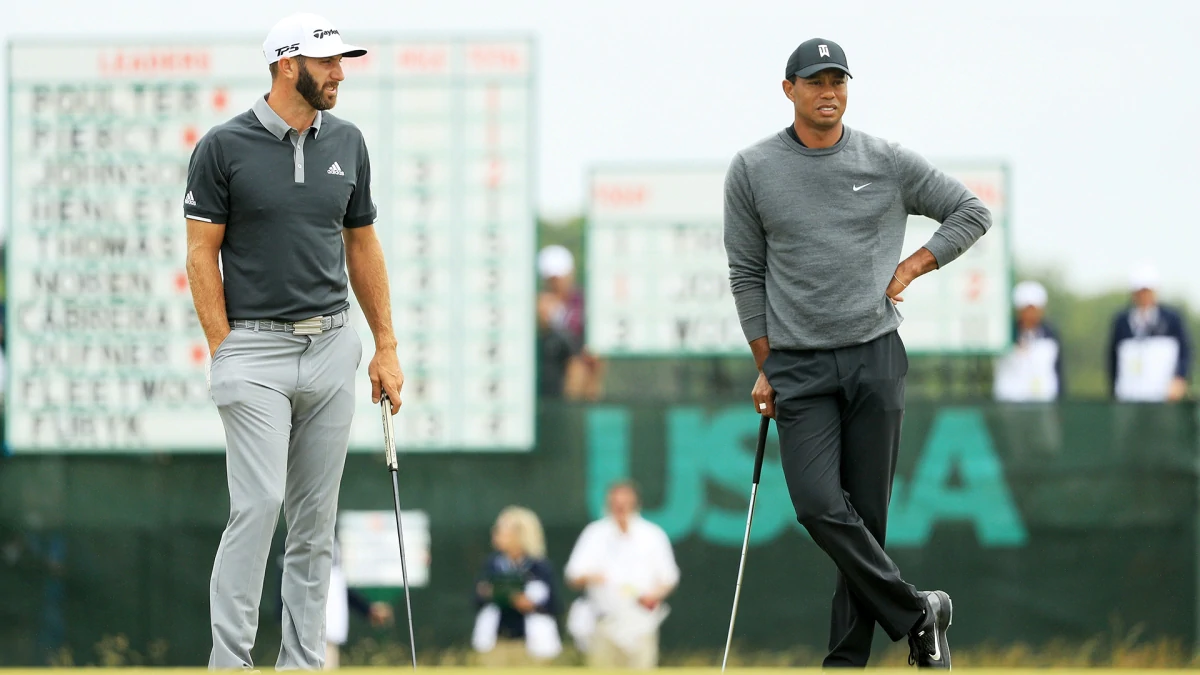 Source: Internet