AKRON, Ohio – Count this as another round that could have been so much better, but then so could Tiger Woods' play on Day 2 at the WGC-Bridgestone Invitational. A little this and that from Firestone:
• Tiger's second-round 68 left him tied for 10th place, five strokes off the lead, but as he was reminded after his round he leads the PGA Tour in third-round scoring average and will need to make a move on Saturday. "There's, I don't know, 40 plus guys under par," he said. "That's never the case here at Firestone. So tomorrow's going to be one of those days I'm going to have to go out there and post a low one and see what happens."
• Although statistically Friday was identical to his opening round with 7 of 14 fairways hit and 13 of 18 greens in regulation, Tiger said that doesn't tell the full tale. "I felt better with my game today than I did yesterday," he said.
• The biggest difference was his putting, with Tiger needing 29 putts on Friday. Although he said he was hitting his lines, he simply wasn't hitting his putts hard enough for greens that are slower than he expected.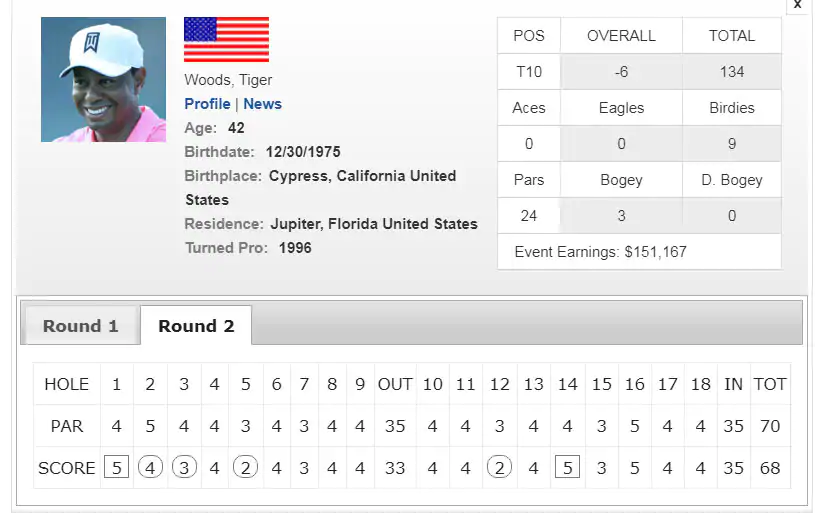 • There was an awkward moment on the 14th hole after Tiger's approach shot nestled into the rough just on the edge of a bunker. After thoroughly going through his options, he chipped his third shot through the green with a manufactured stance. "It came out a lot harder than I thought it would," he said.
• Tiger is no stranger to big Saturday's at Firestone, where he's won eight times. In 1999, the year he won his first World Golf Championship on the course, he posted a third-round 62 and in '09, which was also a victory, he carded a 65.
• The shot of the day came at the par-3 12th hole when he launched his tee shot to within 2 feet for a tap-in birdie to move to 7 under par.
Source: Internet