DUBLIN, Ohio – Tiger Woods came into the final round of the Memorial Tournament with an outside chance to win, but in the end he didn't even crack the top 20. Some thoughts and reactions from a disappointing stroll around Muirfield Village next to the man:
• Woods got on the board with an opening birdie to get within four shots of the lead, but that proved to be one of few highlights. He made only two more birdies the rest of the way, shot a 38 on the back nine and signed for an even-par 72 to end the week at 9 under, tied for 23rd and six shots out of a playoff.
• The story is the same as it ever was this week. Woods controlled his ball off the tee, hit plenty of accurate iron shots … and couldn't convert the putts. After ranking among the top players in nearly every ball-striking statistic, he finished the week 72nd out of 73 players in putting.
• Still unable to shake the short miss, Woods lipped out from 3 feet for par on No. 10 and three-putted for bogey on No. 16 after missing another 5-footer. He also dropped a shot on No. 13 after hitting his second driver of the week out of bounds.
• Despite the drop down the leaderboard on Sunday, Tiger stayed positive while turning his attention to Shinnecock. "Overall my game is where it needs to be heading into the U.S. Open," he said. "And that's something that's very positive."
---
Full-field scores from the Memorial Tournament
Memorial Tournament: Articles, photos and videos
---
• While the front nine at Muirfield Village typically plays as the easier side, Tiger's split was eye-popping: 13 under on the front and 4 over on the back, with over-par scores on the inward half on three of his four rounds.
• Woods was frank about the state of his struggles on the greens, as he has been throughout the week. "If I just putt normally, I probably would be right there with those guys and up in there in the last couple of groups," he said.
• Woods will take next week off to spend with his kids, but he still believes he'll have plenty of time to solve his putting woes before renewing his quest for a 15th career major on Long Island. "It's just a minor tweak here and there," he said. "As soon as I get the reps in, I'll be all right."
• After watching another shot to contend during the final round fizzle out, Woods once again kept things in perspective by taking the long-term view. "Week in, week out, I keep getting just a little bit more fine-tuned," he said. "I've had little building blocks along the way, and I keep getting a little bit better."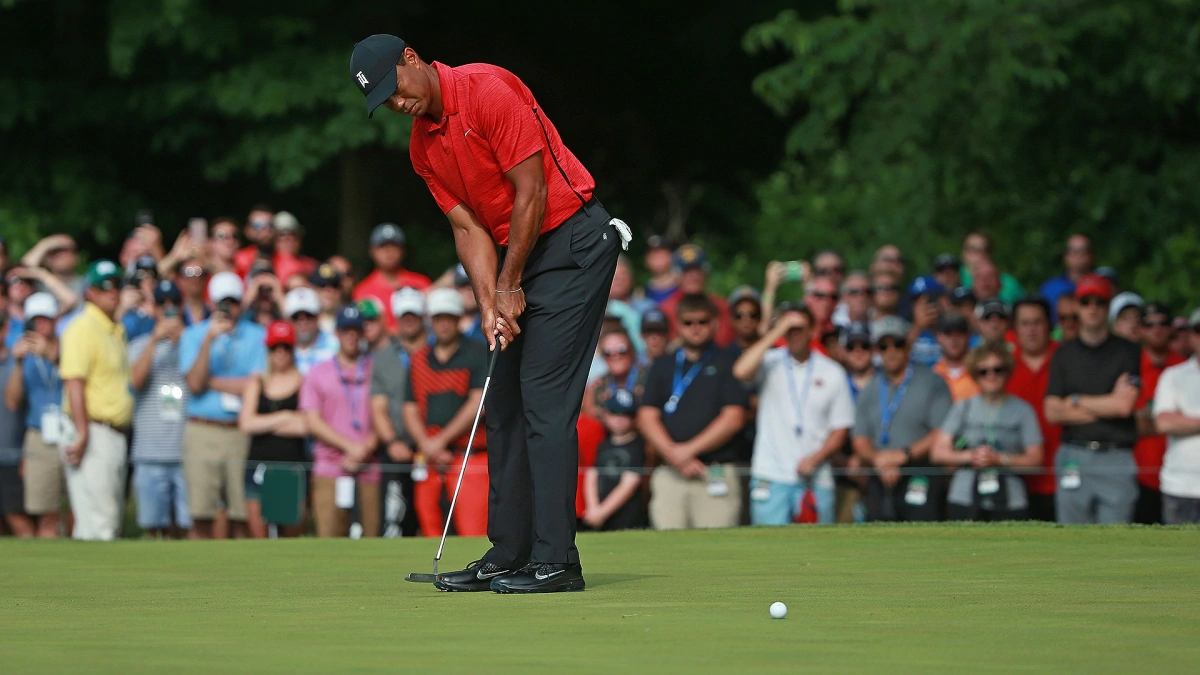 Source: Internet