The big difference this year—winning five times, my first major (PGA Championship) and the FedEx Cup—was working hard on my putting consistency. I've always been a streaky putter. My great putting days are really great. But it's about the bad putting days. You look at Jordan, Rickie or Tiger in his prime; their version of putting bad versus a guy ranked 100th on tour in putting is just so different.
So I worked on making those bad days better. First, when I practice, I put a mirror on the green with a line on it and put a ball on that line. Then I stand over the ball and make sure my eyes also are on that line with my left eye over the ball. I'm left-eye dominant. Having your eye line correct is going to make you a lot more accurate. I also check that the putterface is square to that line and my posture and body alignment are consistent. Finally, I pay attention to my feet. I'll explain that in a second.
Another change, my pre-putt routine is shorter. I no longer take a practice stroke. I just step in and go before doubt can set in. I also have a shorter stroke. It's the same on both sides of the ball, but the overall length is shorter because it's easier to control. I mentioned my feet, because it's important to feel as stable as possible in your lower body when you hit a putt. I want my feet gripping the ground, so my body doesn't drift when I make a stroke.
As far as practice, I worked hard on putts over 10 feet. Making ones from long range, or at least getting them a lot closer to the hole, is going to make you a better player. One way to do that is randomize your practice. Keep changing the distance you hit putts, with a focus on speed control. Success at any level comes from not taking this part of the game for granted. —With Brian Wacker
---
IT WAS A VERY GOOD YEAR
Money isn't everything, or so they say, but it's hard to ignore all those zeroes Justin Thomas added to his bank account throughout 2017. Here's a breakdown.
PGA TOUR REGULAR SEASON: $7,094,741
FEDEX CUP PLAYOFFS: $2,826,819
FEDEX CUP VICTORY BONUS: $10,000,000
TOTAL: $19,921,560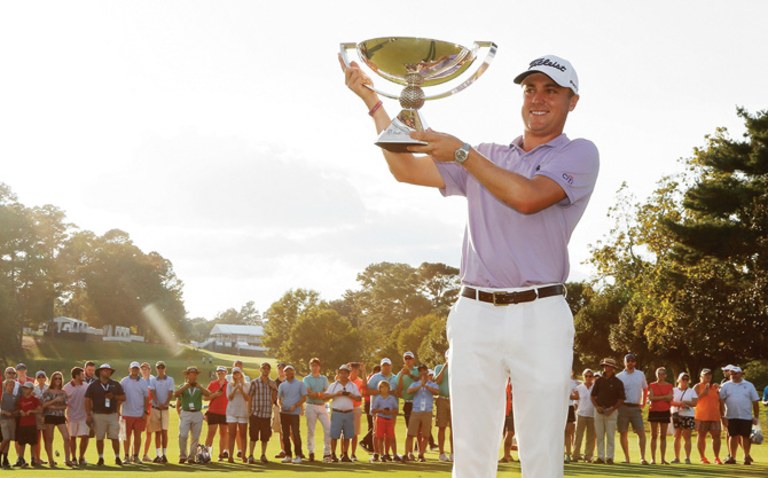 ---
WATCH: GOLF DIGEST VIDEOS
Source: Internet