ATLANTA – On Tuesday at East Lake, Tiger Woods played a nine-hole practice round with Bryson DeChambeau, adding to the notion that the two could end up partnering at next week's Ryder Cup.
Of course, he also played with Tony Finau. And – let's face it – there are no shortage of potential teammates for Woods in the U.S. team room.
But DeChambeau does seem to have his interest.
"I've gotten to know Bryson very well, and what an amazing talent, and an unbelievable hard worker," Woods said. "He has figured out a way to play this game his own way, and he's very efficient at what he does, and he's not afraid to think outside the box on how he can become better."
After missing the last two matches because of injury, finding the right partner is a good problem to have.
---
Tour Championship: Articles, photos and videos
---
Being one of Jim Furyk's four captain's picks is particularly rewarding for Woods, who endured one of his toughest losses in the matches in his last start in 2012, when the U.S. team took a four-point lead into Sunday singles but lost, 14 1/2 to 13 1/2.
The '12 matches were where Woods' back prompted him to request a late tee time Sunday, rendering his anchor match with Francesco Molinari ultimately irrelevant once Europe retained at least a share of the cup. Woods eventually conceded the 18th hole to Molinari, ending their match in a halve and allowing Europe to win outright. 
"I wasn't feeling physically well at that Ryder Cup, and it's where my back started bugging me," Woods said. "That's the only wave I've ever missed was [that] Saturday afternoon wave, because I told [U.S. captain Davis Love III] I just really couldn't go. And I said, 'Can you put me out later on Sunday? Because I need the time to get my back organized here.'
"It was tough watching them celebrate in the 18th fairway when I thought we should have won that one."
Woods actually missed the morning foursomes session on Day 2 in at Medinah. It marked the first time in his Ryder Cup career he didn't play all four team sessions. He finished with a 0-3-1 record for the week.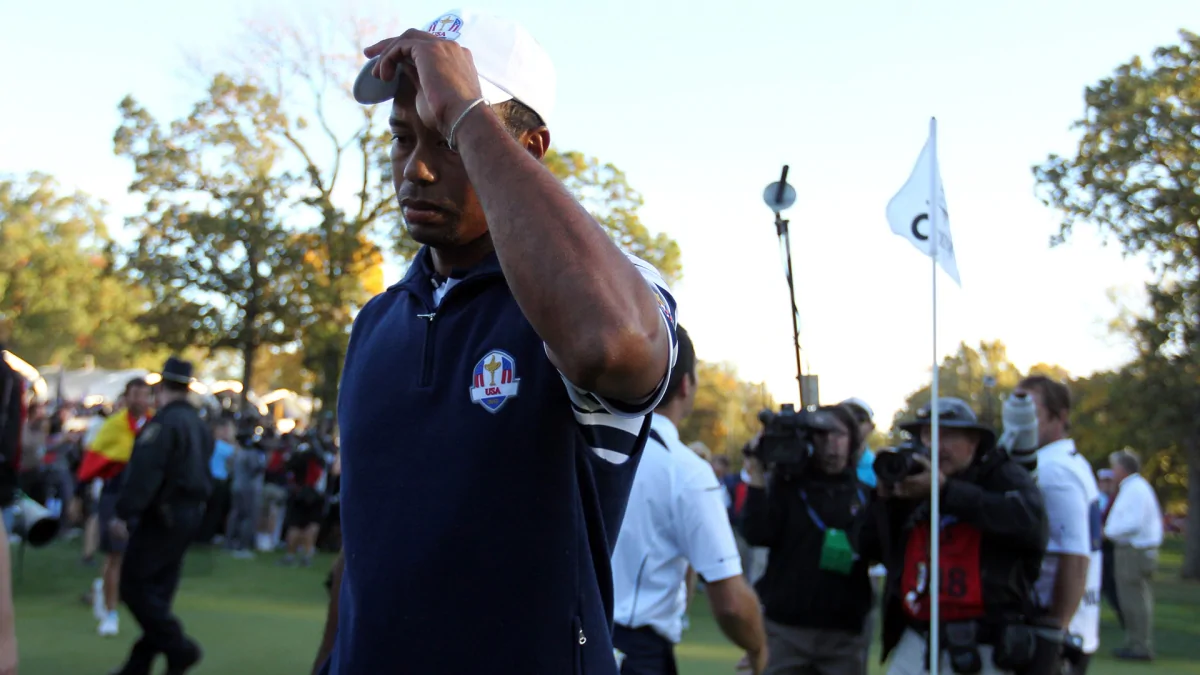 Source: Internet