The Best Golf Simulators of 2021 – Our writers spent 3 hours researching the most popular golf simulators on the market. Before making their final recommendations, they considered 12 different golf simulators overall, screened options from 10 different brands and manufacturers and read over 20 user reviews (both positive and negative). All of this research adds up to recommendations you can trust.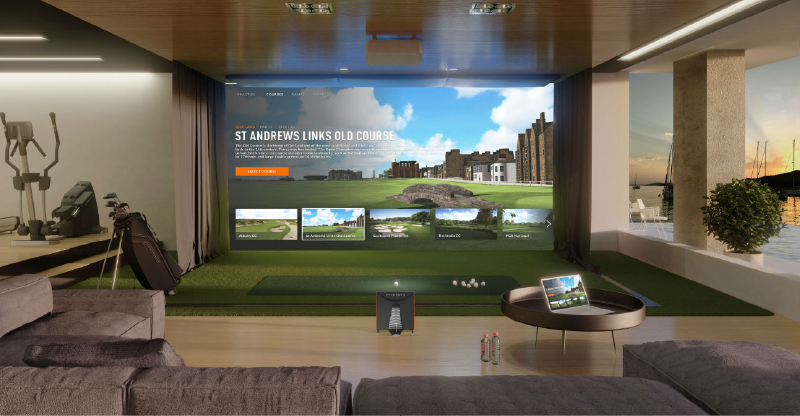 Here are "The Best Golf Simulators of 2021" you can buy:
Best Golf Simulators 2021: Best Overall – SkyTrak Launch Monitor
Best Golf Simulators 2021: Best Value – Optishot 2 Simulator Bundle
Best Golf Simulators 2021: Best for Swing and Ball Flight Data – P3 Proswing
Best Golf Simulators 2021: Best for Your Laptop or Smart Device – Rapsodo R-Motion
Best Golf Simulators 2021: Best for Small Spaces – Tittle X Golf Simulator Pack
The Best Golf Simulators of 2021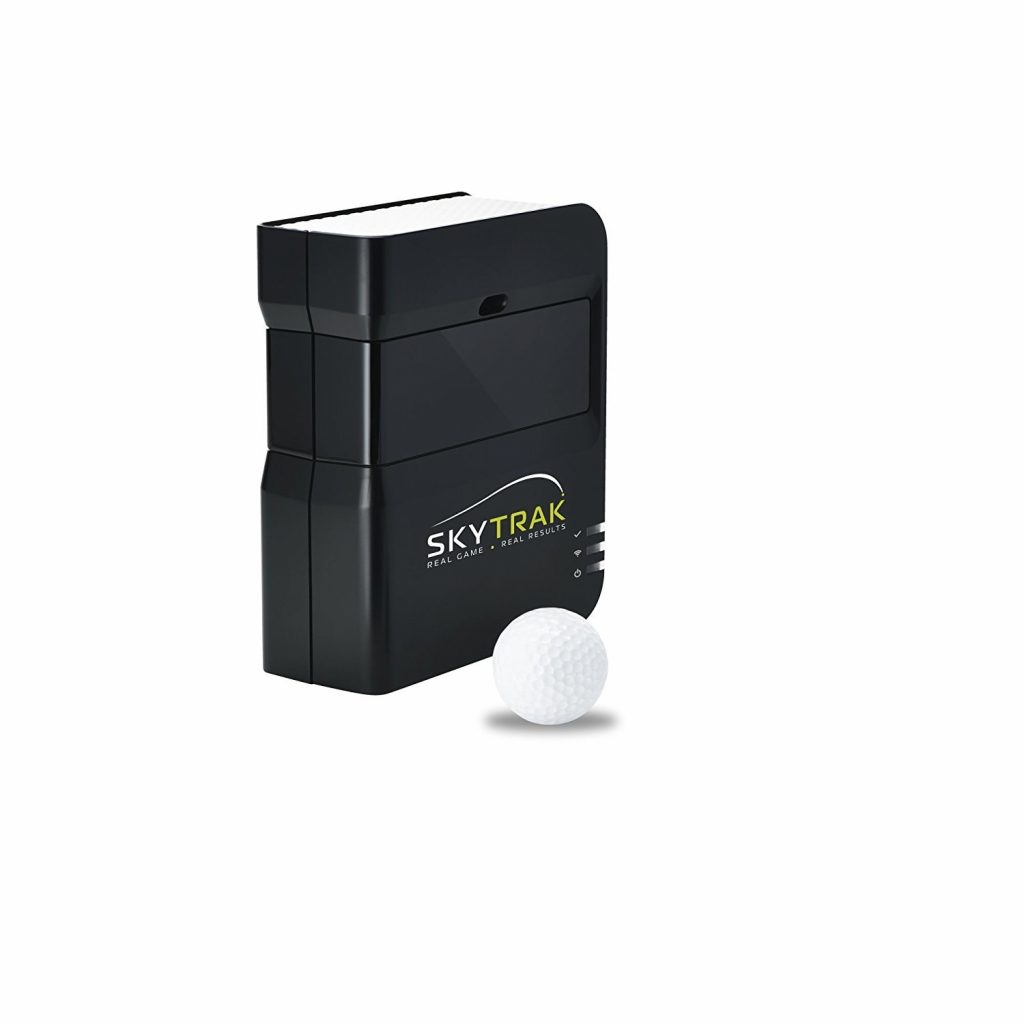 Best Overall: SkyTrak Launch Monitor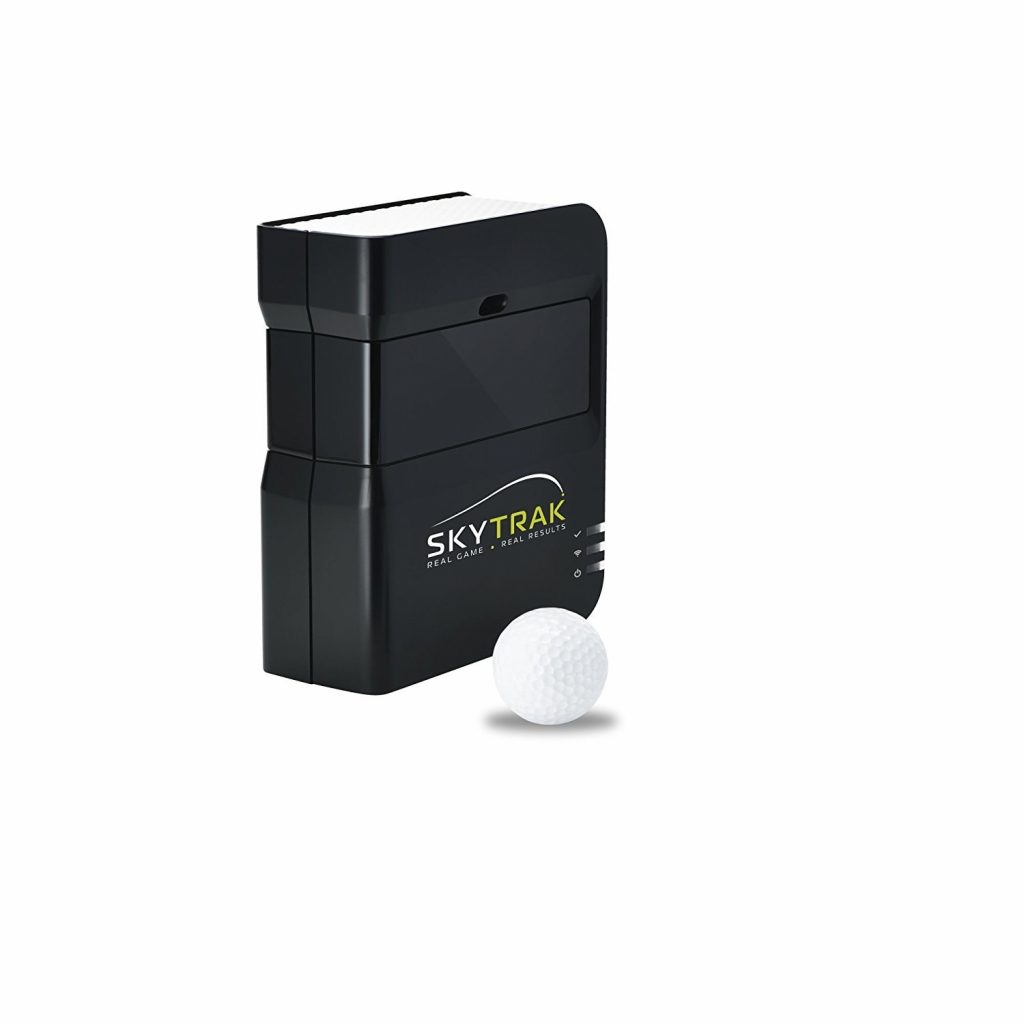 Skytrak Launch Monitor
Price: 1995$ | From: Amazon
Launch monitor and golf simulator combination designed to act as a game improvement tool.
For those who want the simulator experience but can't write a check for five figures, there are options. Skytrak delivers the essentials (i.e. launch data and ball flight) you'd want from a simulator. It also lets users play 18 holes on courses like Oakmont and Bethpage Black or participate in various practice modes with the purchase of an additional simulation package. It connects wirelessly to any iPad, PC or TV, and is portable to let you work on your game on the go.
The SkyTrak Launch Monitor is an immersive, one-stop golf simulation and analysis workhorse. It employs high-definition simulations that tap into the world's top-rated golf courses built off a variety of data plans that run through either a PC or Mac. This device lets you use your own clubs, compete in live tournaments, play on more than 150,000 courses with friends, and even allows you to choose between stroke play, match play, or fourball.
It also comes with a realistic practice range, generating near-instant stats on ball speed, launch angle, back spin, side angle, and legions of other data points to help find your weak spots and improve your game. Single- and multi-player contests tap into the competitive nature of the sport, while the "improve" functions help you ID your strengths and weaknesses with a skills-assessment feature, along with "bag mapping" to help you choose the right club for any situation, and a wedge matrix to help master the short game.
It works wirelessly, connecting to your enabled device, and employs high-speed photography to measure and record an array of data. It runs on a rechargeable lithium-ion battery that can last up to five hours. Partner it with a net and a hitting mat to take it to the next level.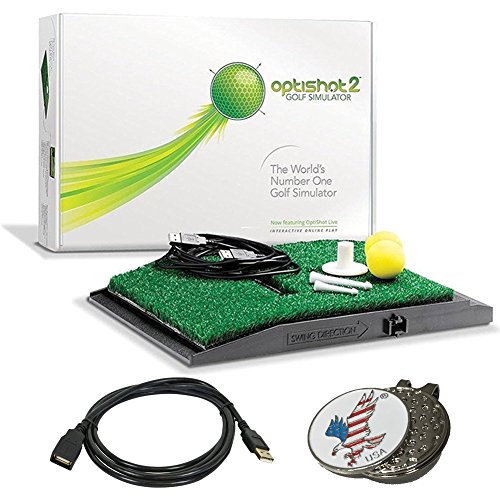 Best Value: Optishot 2 Simulator Bundle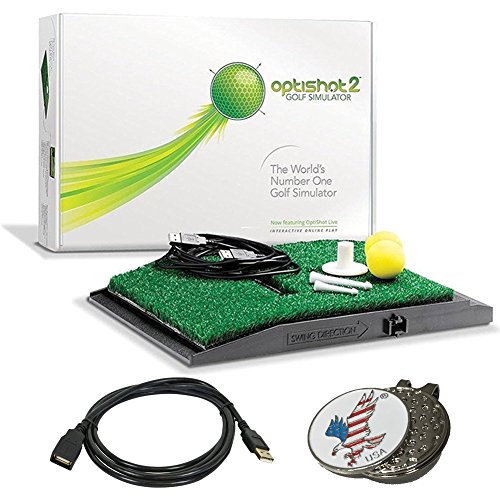 Most simulators edge toward $1,000, but the Optishot 2 Simulator Bundle gives you pretty much everything you need at a fraction of the cost. It connects to your computer or laptop via USB and employs 16 precisely-tuned high-speed 48MHz infrared sensors to track your swing and calculate lift, ball speed, and a whole lot of other data. You can calibrate the device to track your individual clubs before, during, and after contact to help laser-focus insight into your swinging, so you can ID specifically how and where you need to improve. It comes with access to 15 of the world's best courses, including the Golf Club Scottsdale, Torrey White and Black, and West Maui Plantation. The package includes two foam plastic balls along with a rubber tee and the infrared optical swing pad, making it clutch for those pressed for practice space. It can also be paired with a projector, monitor, or HDTV. All that said, it's built specifically to work with those foam balls, so if you want to hit real balls into a net, this isn't the optimal device.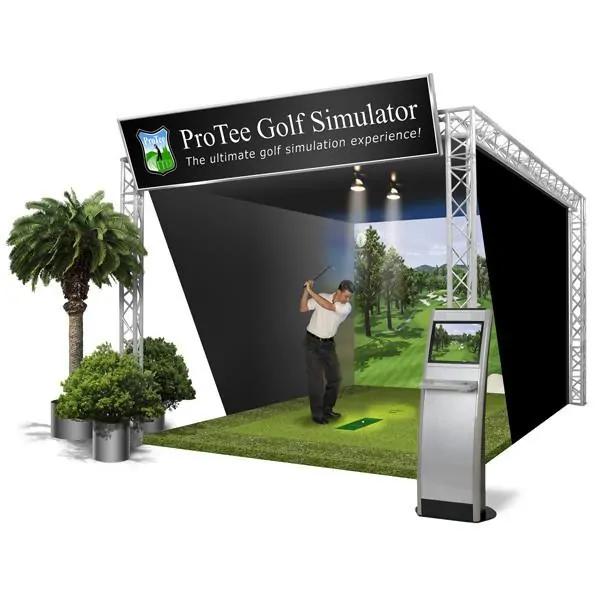 ProTee Base Pack Simulator (Lowest Price Guaranteed)
If you are a beginner in golf, you should choose a more affordable option. But if you are a serious golfer, Protee golf simulator is perfect for you. Protee golf simulator system will allow you to practice with your own golf clubs and golf ball and play with comfort in the home or office.
What's Included in the Package
The Putting Sensor: Here putting is simulated by revolving the ball with the sensors. You can finish your game with the putting sensor. Either short putts or long putts to the left or right don't create any problem to the putting sensor.
Black Interior Impact Screen: This impact screen is exactly what you will need to improve your golf game. It's designed to resist direct impact with a little bounce back. To know its features in details, visit the link.
Protee Light: At first install the sensor system and make sure your floor is leveled. Then you need to install 2 lights.
Cameras: While installing cameras, remember that if you have two cameras, plug one into the front of the computer. Then plug the other on the back.
Protee Golf Simulator Software: This software is uniquely designed to expertize 3D golf simulation for professional and commercial use. You can have a real experience of your draws and slice through this software. It also provides detailed swing analyzer information.
Projector: Panasonic PT-VZ580U Golf Simulator Projector is remarkable for its imaging brilliance as it displays clear and bright pictures. It has more efficient parts for easy maintenance.
Quality
It will help you improve your golf swing.
It will allow you to play on thousands of golf courses.
It will provide you with the most realistic golfing simulator experience.
This system will easily blow the competition out of the water.
What People Are Saying About This Simulator (Review)
When the customers used it, they got the system's mat good as it scored well. They are impressed with the package. Some have talked about the system that it is good for both at tracking the ball and the club. Some could increase their confidence by using this simulator.
Price Pro Tee Base Pack Simulator
Although you can buy all the products individually from the above-mentioned links, you can get the base pack at $7,324 (after a huge 17% discount) and the ProTee Golf Simulator Ultimate Edition for $35,181.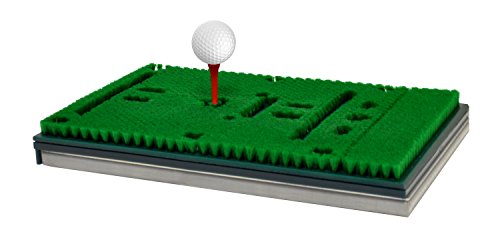 Best for Swing and Ball Flight Data: P3 Proswing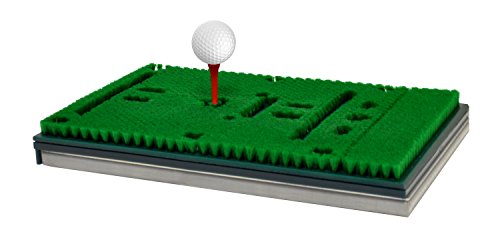 Built to deliver lots of data, including hit and carry distance, swing path and angle, club face angle, toe/heel height, swing tempo, launch angle, and club head speed (to name a few), the P3 Proswing is a statistician's simulation dream. It has a library of more than 150 virtual golf courses, a driving range that saves sessions and ball trails, a putting green that let you shoot from a variety of distances, and offers both discrete competitions and online play in daily games or in full-fledged tournaments. It comes with a variety of data packages, from the "Affordable" (basically an entry-level simulation kit that includes the grass-top sensor, a driving range and 20 virtual courses, the full software suite, and a handful of other accessories) to the Champion's Studio, which includes 132 virtual courses, a putting strip, a mat with sensor drop-ins, two webcams, a projector, and a pre-configured computer.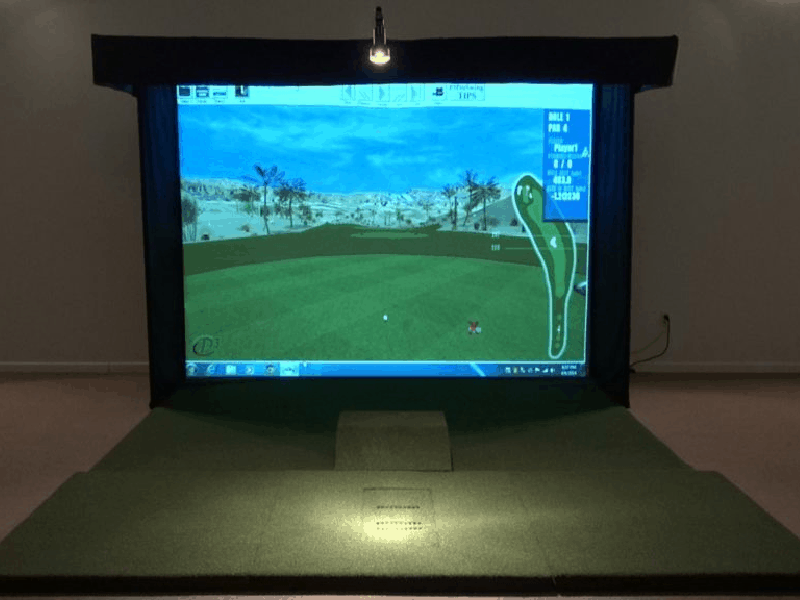 P3ProSwing Golf Simulator(Portable & Affordable)
P3 golf simulator will help you create a favorable environment for your golf swing where you can focus on your shots. If you are looking for a teaching tool, P3 will be best for you. It's available in the market.
What's Included in the Package
P3ProSwing Sensor Device: The major function of this device is to sense the motion of the golf.
Analyzer Software for PC: It will analyze your golf swing, interpret the data and display the information.
Software for Video Capturing: It will analyze the golf swing with club dynamics and ball flight.
Practice Range Software
Putting Game and Putting Practice Green: If you want to take strokes off of your score, P3ProSwing will be perfect for you as it includes a Practice Green and the Hybrid system provides a Green.
P3 ProSwing Versa Hitting Mat: You will get it with two different cutouts. It will help you to keep safe your ankles, knees and hips.
P3ProSwing Golf Ball Catch Net: This mat is designed to catch the ball. It's tough, lightweight, portable and durable. It will allow you to practice anywhere indoors.
Quality
This simulator system will give you relief from your stress after working a long day.
This has patented club taping system
It provides layers built into every P3 ProSwing Golf Analyzer. This layers will protect the circuit board from any damage.
It can be easily set up.
What People Are Saying About This Simulator (Review)
People talked about the package. According to them, the analysis is objective, accurate and scientific. Customers are satisfied with such an affordable price. They got the setting system simple and easy.
Price
P3ProSwing Golf Simulator can be purchased for $999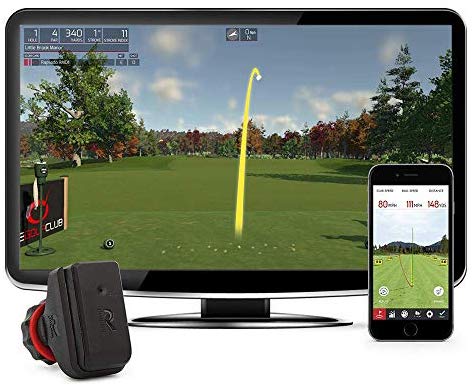 Best for Your Laptop or Smart Device: Rapsodo R-Motion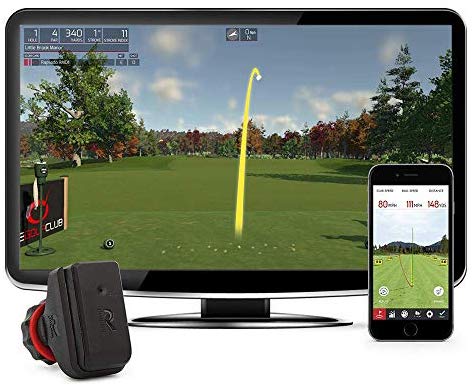 For plug-and-play simplicity, nothing beats the Rapsodo R-Motion simulator. Rather than relying on a launch monitor or projector, it uses your enabled PC or smartphone app, which communicates with an easy-to-swap-out sensor that attaches to your actual clubs — all you need is a mat and a net to catch the balls. The app experience calculates ball and club stats for each swing as well as ball flight and swing path visualizations, so you could even take it on the fairway to see how well it measures up to the real deal, as well as track each stroke data in real time. With your computer, the R-Motion's functions expand, including access to 15 virtual courses, a driving range, and a suite of other gameplay features. The sensor weighs just 10 grams, so it won't impact your swing, and its USB-rechargeable battery will last up to four hours. Stats break out by distance, ball speed, launch angle, back spin, and side spin. You can also track info on each club, broken out by days, giving you a quick glimpse into the history of your performance. No subscription services or anything else is needed, and the price should be approachable for most golfers.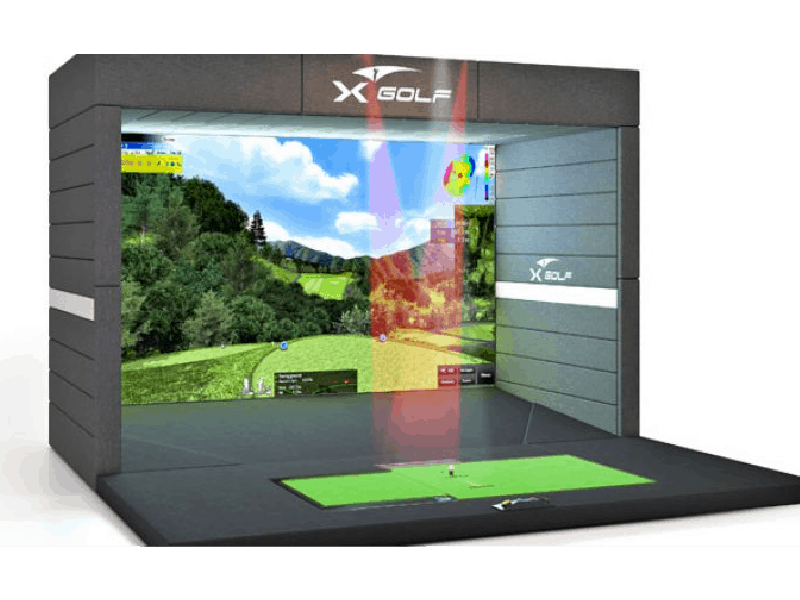 Tittle X Golf Simulator
Tittle X golf simulator will be suitable for you if you want a solution for your golf training facility. You can build this simulator in your home, or in your office. X golf will meet your every need.
What's Included in the Package
Tittle X Golf Simulator: This device revolutionary reduced the features of multi-thousand dollar apparatus into a 7.9g device. You just need to lift your Tittle X device on your golf club and then connect to the simulator.
A Swing Stick: It is a training device used to swing a golf club safely and perform multi-functions. This device is designed to develop directional hitting and timing.
A Safety Stick: This device is required to ensure that you are safe with your hitting club while swinging.
E6 connect golf simulation software: We have already described it above in the TruGolf Vista 10 Golf Simulator. This software includes stunning HD graphics and flexibility and provides the most realistic and comprehensive ball flight model that has been developed for over 30 years.
Quality
You will realize how it would look in real life with the help of Title X sensor.
It will share the necessary information of your swing with the software.
It is prepared to suit the indoor environment.
You will be able to practice your swings regardless of the weather.
It's perfect for both beginners and experienced.
What People Are Saying About This Simulator (Review)
Customers informed that they became pleasantly surprised after realizing that Tittle X Golf Simulator is more of a practice tool. It provides simulator feedback. They are pleased to have the swing stick which is a high quality made short golf club.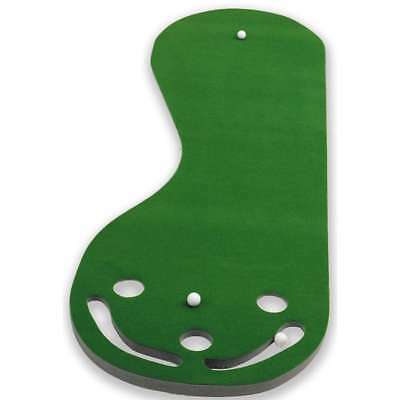 Best for Putting Practice: Putt-a-Bout Par Three Putting Green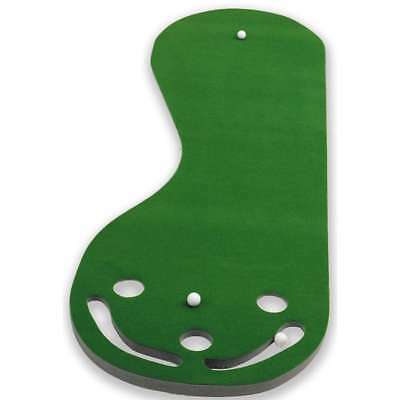 Not every golfer wants to rip high-velocity shots indoors, instead preferring for the more Zen-focused approach when it comes to perfecting the toughest part of the sport: the short game. And the Putt-a-Bout Par Three Pudding green offers an affordable solution to do precisely that. The kidney-shaped putting green measures nine by three feet, with three practice cup cutouts and built-in sand trap cutouts to catch the occasional missed shot. Made of PET resin, it's very durable with a high-end putting surface that retains its smoothness over years of use. It rolls up for easy storage when not in use and the bottom is non-slip, so it finds support on all sorts of floors, though some users report that using the green on carpet adds a bit of softness that can slow down the ball. Best to go with hard surfaces like wood, linoleum, or tile.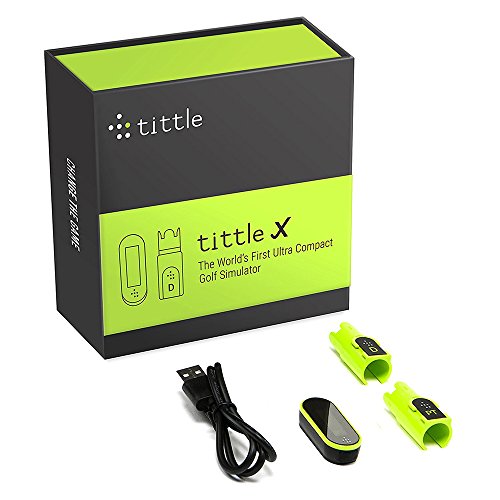 Best for Small Spaces: Tittle X Golf Simulator Pack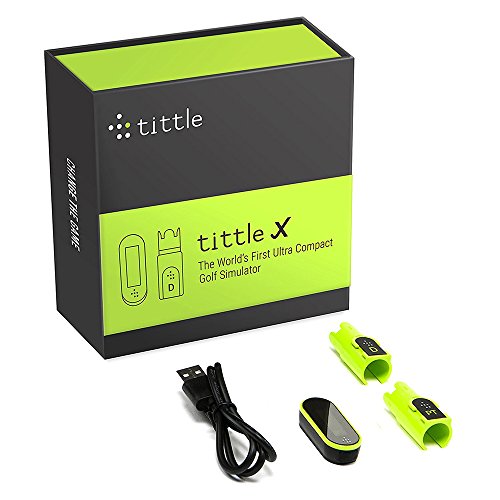 Built with space and simplicity in mind, the Tittle X Golf Simulator Pack utilizes a 7.9-gram device that mounts onto your clubs and taps into more than 80 virtual courses throughout the world, including Yellowstone Golf Club and Wade Hampton, as well as kid-friendly virtual worlds like the Demolition Driving Range, one of 12 fantasy courses. The kit comes with swing and safety sticks as well, which makes it a great learning tool for junior players and kids. All you need is the Tittle X PC app and you're ready to tap into the simulation software, which works with Apple and Android devices.
To be clear, this simulator isn't designed to work with actual, physical balls, so for those with small spaces, there's no need for a net. But for those with space aplenty, users report that the device also works pretty well with both foam and real balls. The only (potential) drawback? This device is merely a simulator, and won't track detailed stats or run any tutorials to help you improve your game.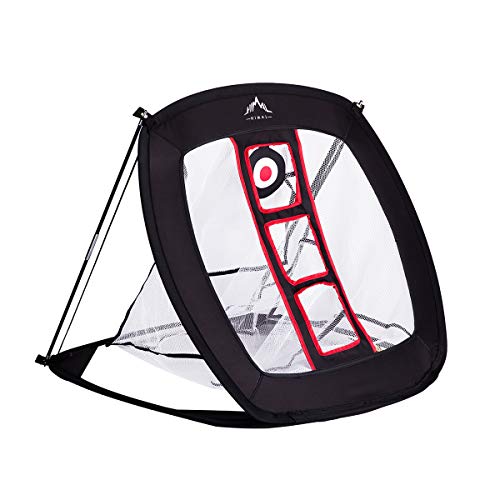 Best Analog Experience: Himal Pop-Up Golf Chipping Net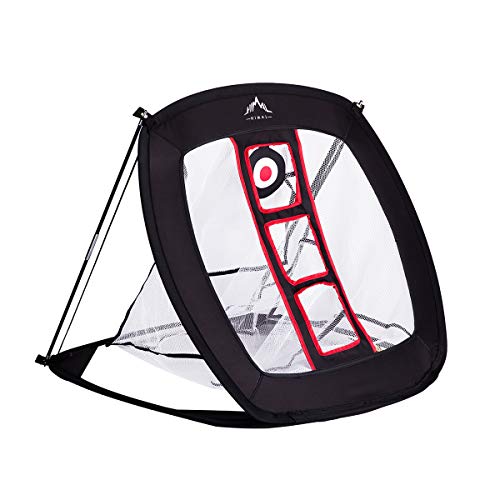 If wireless interaction and virtual courses feel like overkill, then the Himal Pop-Up Golf Chipping Net offers a very low-tech way to work on your game — specifically your chip shots — at a price point that's less than an entrée at most restaurants. It's shockingly simple to use: Just pop open the net, which assembles in roughly two minutes on a collapsible fiberglass pole, and start swinging at one of three targets. Playing outside on a windy day? Use the included stakes to anchor the net in place, while a durable spring steel frame and a 300D canvas netting are made to tackle the elements. Folded out, the net measure 25 x 25 x 20 inches, and it comes with a circular nylon carrying bag that weighs only 1.4 pounds, so you can take it practically anywhere the impulse to chip might strike.
Our Process
Our writers spent 3 hours researching the most popular golf simulators on the market. Before making their final recommendations, they considered 12 different golf simulators overall, screened options from 10 different brands and manufacturers and read over 20 user reviews (both positive and negative). All of this research adds up to recommendations you can trust.
Source: tripsavvy.com + niftygolf.com