The best irons help you achieve your best golf performance. While putting and driving may see the lion's share of focus by individual golfers and interest by manufacturers, your irons are arguably the most important clubs in your bag. From hitting off a short tee to cleanly getting through the fairway, a good iron will help you improve the majority of your shots every time you play 18.
There are a number of considerations to make when you're selecting the right irons for yourself. First, you want to look at the flexibility of the shaft. An experienced golfer with a hard swing will want a stiffer shaft, while someone with a slow swing speed may want a regular or more flexible shaft. Shafts can also be made of steel or graphite, with graphite being lighter and more shock absorbent (often better for older golfers). Some irons are sold simply as game-improvement or super-game improvement irons, with more forgiveness, while experienced golfers will want player's irons.
Keep these factors in mind when you search for your own irons and check out some of the best and most popular irons available today.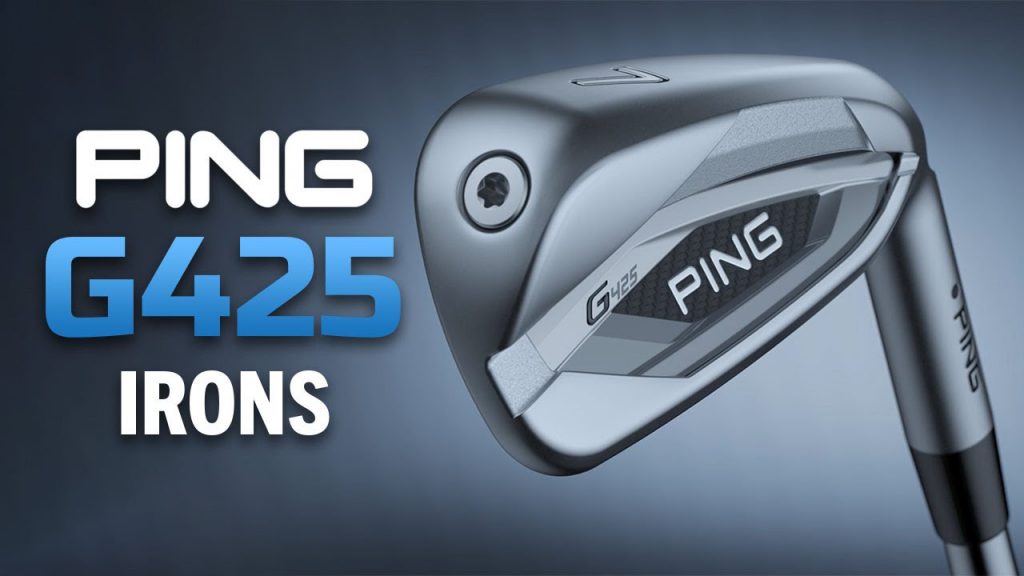 The Best Golf Irons Of 2021
Here are the best golf iron sets of 2021 you can buy:
The best golf iron sets of 2021 – PING G425 Irons (FEATURES)

Best irons 2021 overall: Mizuno MP-20 Irons Set
Best irons 2021 for average to high handicap golfers: Callaway Big Bertha Irons Set
Best irons 2021 for low handicap golfers: Titleist 718 AP2 Irons Set
Best irons 2021 for extra distance: Cobra King Forged TEC Irons Set
Best irons 2021 on a budget: Wilson Staff D300 Irons Set
Best irons 2021: TaylorMade SIM2 Irons 2021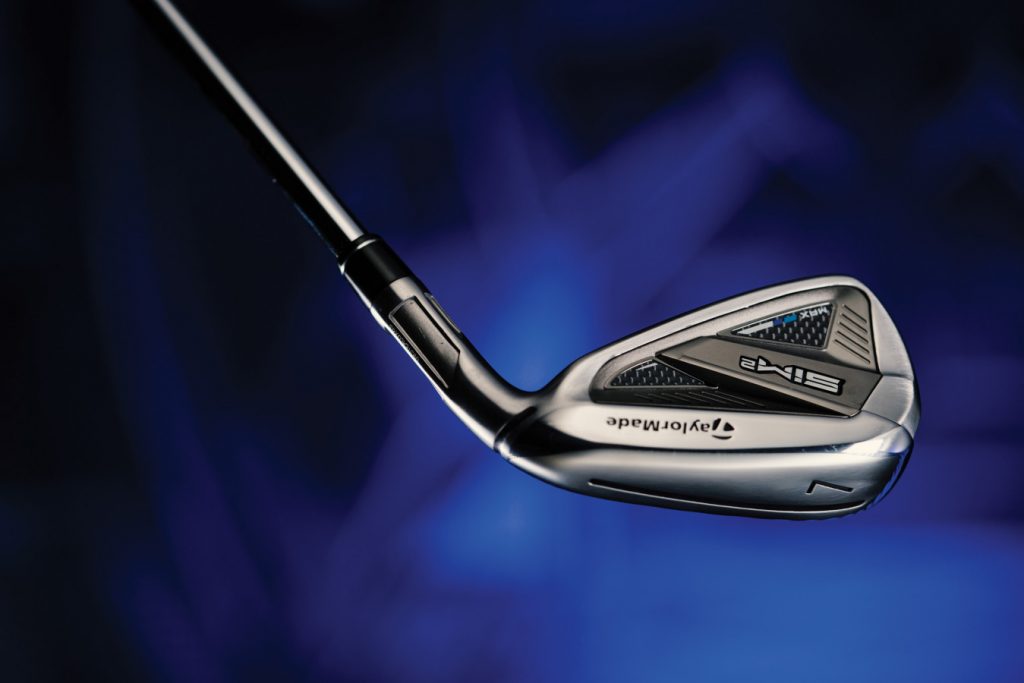 TaylorMade SIM2 Irons 2021
TaylorMade SIM2 Irons 2021 – Engineered to help you hit better shots more often with the all-new Cap Back™ design. SIM2 Max has an intelligently optimized sweet spot designed to provide golfers with better…
EXPECT MORE BETTER
Engineered to help you hit better shots more often with the all-new Cap Back™ design. SIM2 Max has an intelligently optimized sweet spot designed to provide golfers with better performance where they need it the most.
THE NEXT LEVEL OF GAME IMPROVEMENT
A revolutionary new Cap Back Design unlocks the next level of game improvement irons. Eclipsing the performance of traditional cavity backs, the multi-material construction promotes better forgiveness, distance and feel.
FAST AND FORGIVING
Powered by the all-new Cap Back Design and Thru-Slot Speed Pocket, SIM2 Max irons feature an intelligently positioned sweet spot that spans the most common impact points, delivering explosive ball speeds and consistency in all the right places.
HIGH LAUNCHING
Optimized CG placement delivers a high launching ball flight for long carry distance and heavy stopping power. While most game improvement irons have an inherent right bias, each SIM2 Max iron face has been engineered to encourage a neutral ball flight and counteract right misses.
FORGED IRON FEEL
A softer ECHO® Damping System, fully enclosed by the Cap Back Design, stretches from heel to toe and absorbs unwanted vibrations, improving feel and maximizing face flexibility.
Cap Back™ Design
Cap Back Design utilizes a revolutionary multi-material construction to support the entire topline from heel to toe. Crafted from a lightweight polymer, it provides stability within the topline and upper perimeter of the face to deliver improved sound and feel while working in conjunction with a reflexive Thru-Slot Speed Pocket™ in a design made to maximize face flexibility, ball speed and distance.
New ECHO® Damping System
The introduction of Cap Back Design created a full hollow body construction, making way for the new ECHO® Damping System. The fully encapsulated system uses a softer polymer blend and multiple contact points across the face to channel away harsh vibrations creating forged-like feel.
Fast Forgiving Face with Progressive ICT
The all-new SIM2 Max irons use a fast and forgiving face to give golfers more performance exactly where they need it. An expanded sweet spot has now been intelligently positioned to capture more shots across the club face. Designed to approach the threshold of the legal limit, the new face design is fast, flexible and supremely forgiving. Each face has been uniquely designed to position Inverted Cone Technology (ICT) for optimal forgiveness and minimize the common right miss.
Thru-Slot Speed Pocket™
This patented and proven TaylorMade technology is engineered to maximize face flexibility for increased ball speed and forgiveness on mis-hits low on the face.
Low Center of Gravity
An array of technologies, such as a fluted hosel, 360° undercut and an ultra-thin face, work in unison to deliver an ultra-low CG engineered to produce a high penetrating ball flight.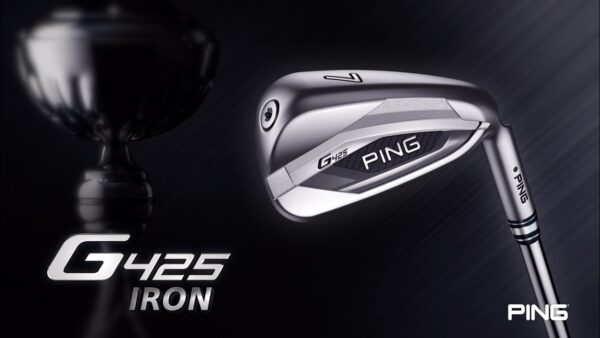 PING G425 Irons (FEATURES)
The NEW Ping G425 Irons are a departure from recent iron models, PING's experts re-engineered the face of the G425 iron by employing a metal-wood-style, variable face thickness (VFT) design. This greatly increases flexing for measurable ball speed gains that launch shots higher and farther with the stopping power to hold greens – a rare result with most of today's distance-minded irons.
In the process of creating the new face design, they developed a more compact head that sets a new standard for forgiveness for an iron its size. While shorter heel-to-toe than the G410 model, it boasts a 3% higher MOI due to mass savings from the new face geometry that have been re-allocated to the toe and hosel weights, which expands the perimeter weighting and greatly tightens dispersion.
Extensive finite element analysis was used to help develop a multi-material cavity badge that covers more of the face to damp undesirable frequencies and ensure a superb feel and pleasing sound. The G425 irons feature a performance-improving, water-repelling hydropearl chrome finish.
Best Irons Overall: Mizuno JPX-900 Forged Iron Set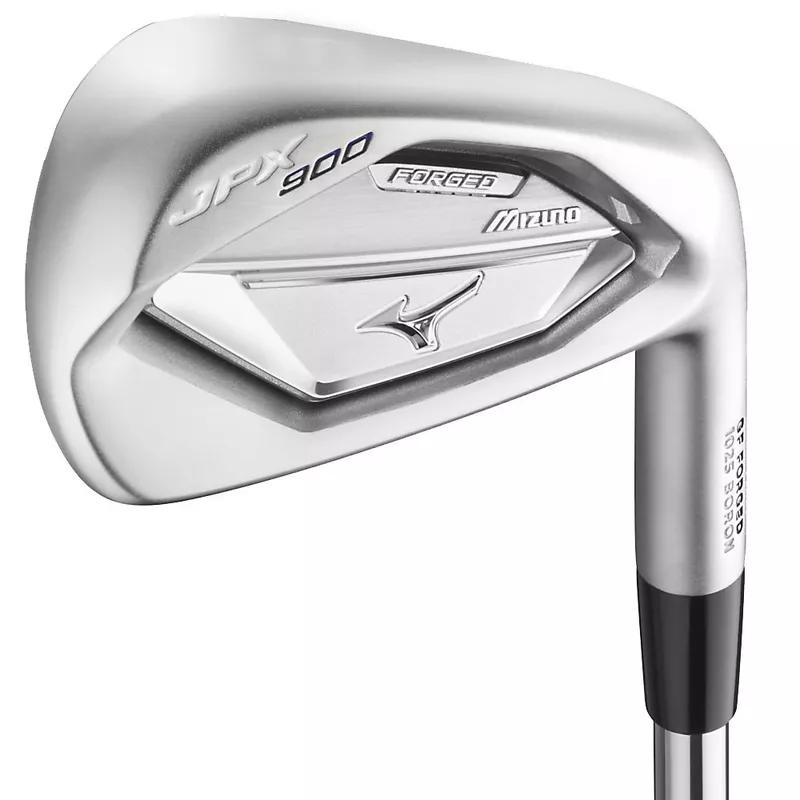 Mizuno is well-known for its high-quality irons and the JPX-900 are no different. These stiff irons are perfect for a wide range of golfers. The steel used in the iron is reinforced with boron for a stronger design and a "multi-thickness face" that delivers faster hits. The iron's face uses its unique metal composition for a reshaped pocket cavity on the head to redistribute weight for optimized power. Similarly, the irons' Coretech+ Powerframe allows for the best hit when you cleanly hit your ball in the center. The Mizuno JPX-900 are just plain great irons for a variety of golfers.
The best irons for low handicap golfers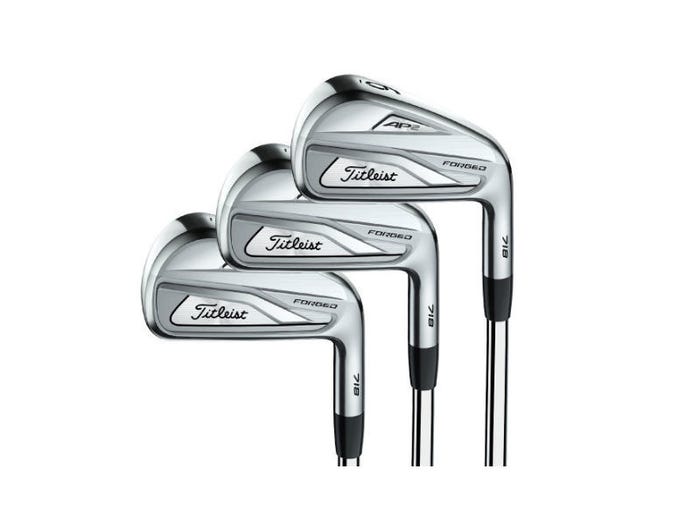 The Titleist 718 AP2 irons are its best set of irons yet, especially for low handicap players.
The Titleist 718 AP2 iron set has been proven successful on the professional tour, and the same technologies and design features in these irons that appeal to pro golfers also make them an excellent choice for low handicap amateur players.
These Titleist irons are forgiving for any shots slightly struck off-center, which allows you to maintain a precise distance control. Titleist changes the center of gravity from club to club in the individual irons in this set, maintaining a lower center of gravity in the long irons to deliver consistent performance, which is a great feature for people who struggle to hit long irons.
As you move through the shorter 718 AP2 irons, Titleist moves the center of gravity higher on the clubface, delivering a good feel for the shorter shots where low handicap players will want more control.
Titleist uses a steel face insert in its longer irons through the 6-iron. From the 7-iron through the pitching wedge, the club construction consists of a carbon-steel face and body. Along with the steel face insert in the long irons, Titleist has placed tungsten in the heel and toe of the 718 AP2 long irons, which The Golf Warehouse says keeps the clubface on line and delivers a higher launch at impact.
Golf Digest says these variances in the materials used to construct these irons yield better distance in the longer irons and better accuracy and feel in the shorter irons. Golf Monthly writes that the Titleist 718 AP2 irons will give you a consistent ball speed, even with strikes that are a little off-center, which creates nearly the same distance on every shot.
Those upgrading from the previous version of these Titleist irons, the 716 AP2, will be able to make a smooth transition, according to National Club Golfer, as the 718 AP2 irons don't give a significantly different look at address, even with the added design features.
Pros: Minimal but significant design upgrades from previous version, perfect design for low handicap players, long irons will deliver a consistent distance, forgiving clubface design keeps off-center shots on line
Cons: Very expensive set of irons, not really designed for average or high handicap players
Best for Beginners: Callaway Golf Men's Rogue X Individual Iron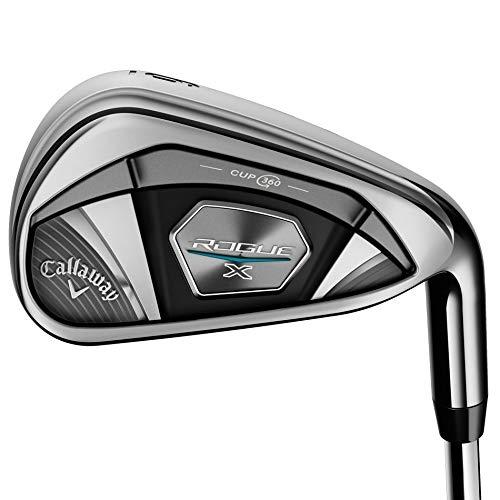 The Callaway Rogue X is the perfect iron for beginners for one reason: forgiveness. This iron — available in seniors, regular and stiff — can let new golfers have a high-quality club that won't punish them for an errant swing in the same way the top-of-the-line irons do. The Callaway Rogue lets beginners swing from the rough with maximum distance by pulling the center of gravity lower, making the shaft longer and the club lighter.
These Callaway clubs are No. 1 Amazon Best Sellers and available in either Synergy 60g or KBS Max 90 Steel shaft material. Each Callaway Rogue X iron is made with Tungsten weighting for better control with each stroke, as well as the 360 cup face and variable face thickness, which improve ball speed and distance. Beginners will always struggle to hit accurately and far, but the Callaway Rogue X may just make the process a little easier.
The best golf irons for extra distance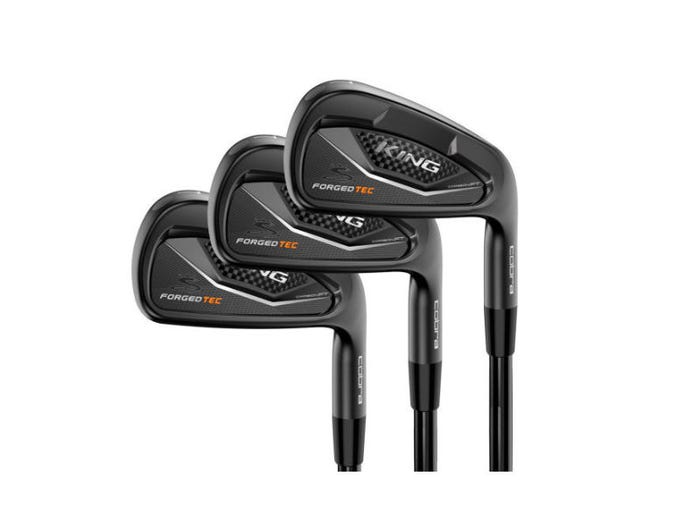 The black finish on the Cobra King Forged TEC Black irons will grab your attention, and the extra distance you get from these clubs will impress you.
Part of the reason Tiger Woods began wearing red on the PGA Tour was the intimidation factor. If you'd like your game to deliver a little more intimidation to your regular weekend foursome, wearing red probably won't do it (unless you have a young Tiger's length off the tee and signature fist pump). So consider using golf clubs that provide a little intimidation, like the Cobra King Forged TEC Black iron set.
These attention-grabbing black irons look amazing, but they also deliver some excellent design features that will help you hit the ball farther, which is more likely to intimidate your foursome partners than the occasional fist pump.
The Cobra King irons use a thin steel insert that delivers outstanding distance versus most irons. Additionally, the irons feature tungsten in both the heel and toe of the iron, which helps you keep these irons on the correct swing path, again leading to more distance.
Finally, these impressive irons include a carbon-fiber insert just behind the hitting zone in the face of the club. This absorbs any vibration that you may have from an off-center ball strike, which allows you to finish the swing strong and gain all of the distance you're seeking.
Golf Monthly says the thin steel face generates extra ball speed, which is the key to the extra distance you'll receive with these clubs. The materials inside these Cobra King irons deliver consistent ball strikes that will give you extra distance versus other types of irons, according to Golf Digest, which awards these irons a gold ranking.
These clubs ship with a set of Arccos 360 sensors that you can connect to your clubs to track the distance and accuracy of each shot using a smartphone app, helping you learn to dial in the distance on these irons more quickly, according to Golf Punk HQ.
Pros: New design and materials deliver extra ball speed for more distance, carbon-fiber insert absorbs vibrations at impact for comfortable ball strikes, black finish on these irons will grab attention
Cons: You'll pay a little extra for the new features, those with slow swing speeds won't receive a huge distance jump
Best for Mid-Handicappers: Callaway Big Bertha OS Iron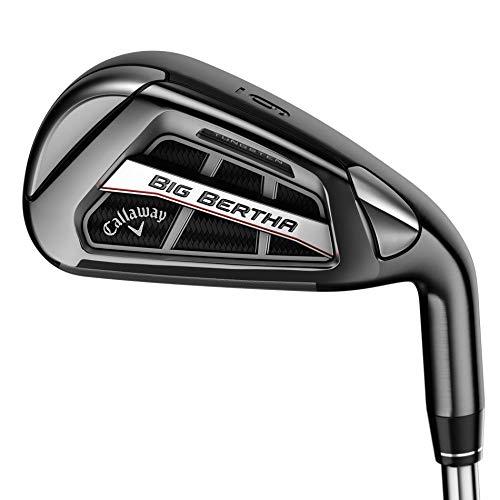 Mid-handicappers will love the Callaway Big Bertha OS. This high-quality club with the distinctive "Big Bertha" insignia of the side is designed for control and distance, and may even help you move into a lower handicap. The Big Bertha is available in stiff or regular flex with a graphite or steel shaft.
This club also has the unique Callaway face factors. The 360 Face Cup leads to balls leaving your clubs that are moving faster and going farther than they would with other irons. Additionally, the tungsten-loaded standing wave and progressive center of gravity technology both help shift the center of gravity for better control and more variance among irons. For example, the higher irons will have better distance and the short irons will have more control.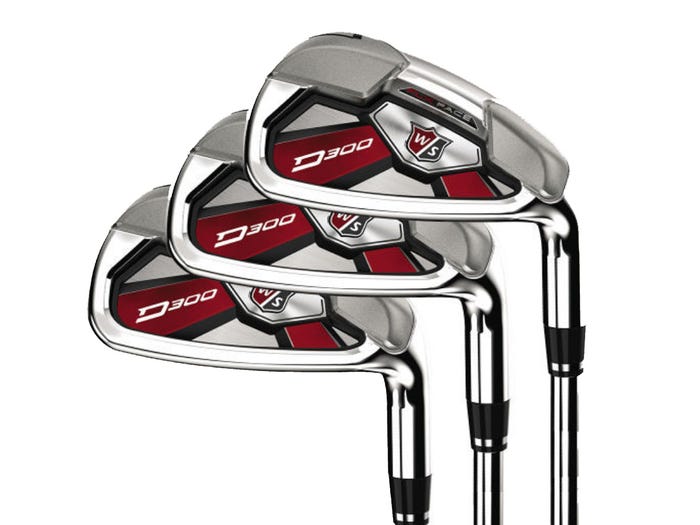 The best golf irons on a budget
The affordable Wilson Staff D300 irons deliver consistently long distances, even when struck a bit off-center.
If, when shopping for new irons, you're undergoing a lot of sticker shock, the Wilson Staff D300 should be more in line with your budget. The D300 set is a little older than some of the irons we've listed previously, but it delivers helpful design features that make it the best set of irons available at a bargain price.
Additionally, most average to high handicap players don't need the feel and precise design features more expensive irons deliver. The Wilson Staff D300 will give you what you're seeking: a consistent distance when you strike the ball on the center and a limited penalty when you have a slightly off-center ball strike.
Wilson's irons feature a black urethane material, visible in slots around the perimeter of the clubface. This interesting design feature allows the clubface to flex just a little bit at impact, which leads to the desired combination of ball speed, accuracy, and distance. Roughly three-quarters of the face touches this urethane material, rather than the club head chassis, which allows the flex in the club to keep shots on line.
The Wilson Staff D300 irons have a lightweight feel with an all-steel construction that allows you to generate a high level of ball speed at contact. This extra speed will give you extra distance versus other irons, as these irons (compared with our previous pick, the C200s) have q little more meat behind them, according to Steve Fonseca at Golf Unfiltered.
Golf Magazine says these clubs generally offer more yardage, but the longer shafts mean they're a little more difficult to get the loft of shorter irons. Overall, though, the editors at Golf say it provides "ample forgiveness," and makes for a "good option for higher-handicappers."
Golf Digest gave the D300 a gold-star review on their "Hot List" of 2018.
Pros: Great price point that has dropped recently, delivers more distance than most similarly priced irons, especially forgiving of off-center strikes toward the toe, good all-around irons that deliver fast ball speed
Cons: Clubs don't necessarily excel in any one area, slightly older irons, some people will not like the look of these irons
Best Budget: Wilson Velocity HDX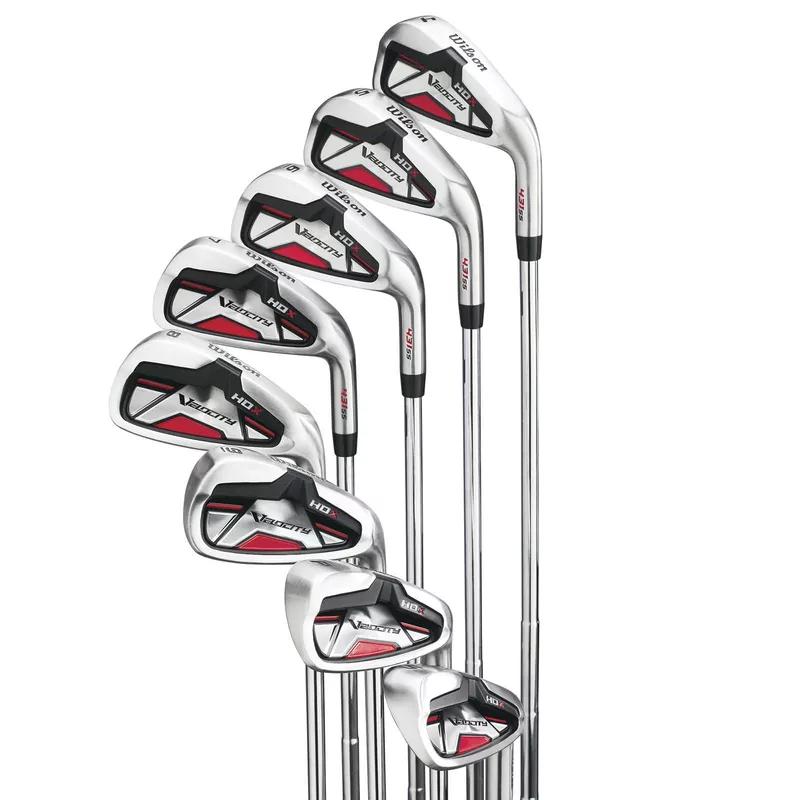 The Wilson Velocity HDX golf club set is a great and inexpensive option for anyone who wants to play a few holes without breaking the bank. Cost is such an important consideration when playing golf, from the cost of balls to cart fees, that getting a good price on some manageable clubs is important. These stiff, steel clubs are best suited for people with some experience golfing. The Wilson HDX irons are characterized by their low center of gravity and a simple head that easily sweeps across the grass in the fairway.
Best for Distance: Wilson Staff C300 Forged Iron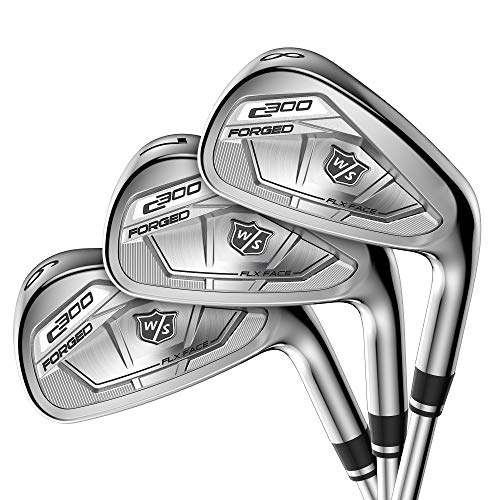 There are a lot of reasons you'd want to hit for distance. Maybe you live near a Par-3 course and like to leave the 5-wood in the bag, maybe the strongest part of your game is the in the fairway or maybe you always end up in the rough. Regardless of the reason, finding the perfect iron for distance is a great option and the Wilson Staff C300 Forged Iron can deliver what you need. These irons feature a strong design and are available as stiff or regular with either a steel or graphite shaft. Wilson expanded this iron's "sweet spot" for better ball speeds and the entire club is devoted to maximum power. With the greater ball speed across the head and power from the shaft, you're guaranteed a father shot every time.
Best for Kids: Intech Lancer Junior Golf Club Set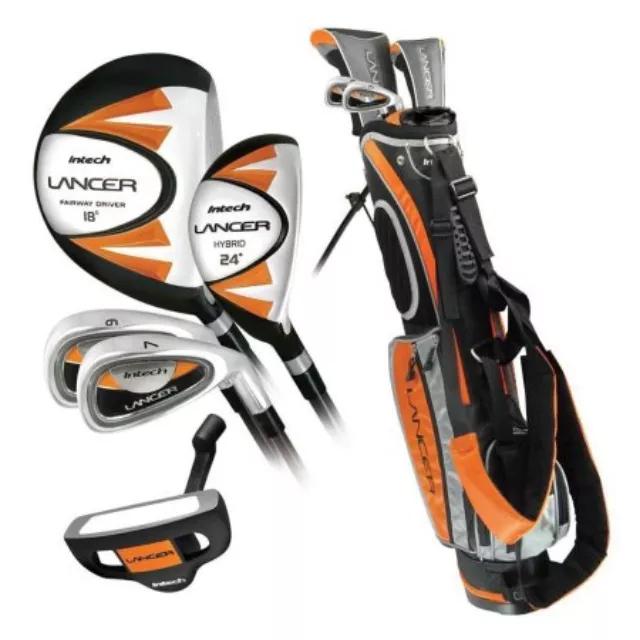 Intech's Lancer Junior Golf Club set gives kids 8 through 12 a great set of irons to play with and develop their game. With a hybrid 4/5 iron and wider-faced 7- and 9-irons, this set gives kids a range of forgiving clubs to play with. The shafts are made with the lighter and more manageable graphite material. Additionally, with this set, you get a convenient bag and headcovers and no iron longer than 34 inches. Once your junior golfer has a good set of clubs you can bring them to the range to hit a few balls and practice chipping in the backyard.
Best Complete Set: TaylorMade Men's Speedblade Golf Complete Set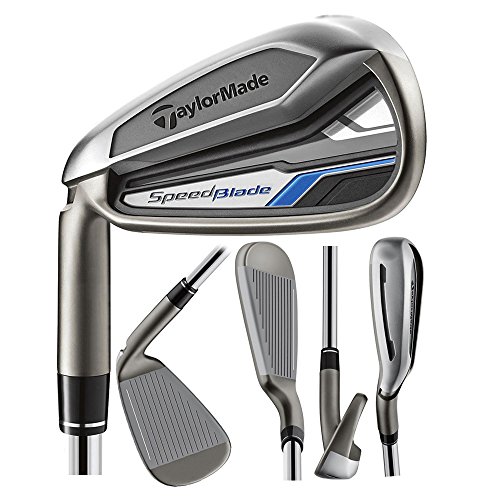 TaylorMade's Speedblade Golf Set is an affordable way to get a complete set of good clubs. This package of stiff, graphite clubs is popular on Amazon and has a high user rating. The set includes irons 4 through 9 as well as pitching and approach wedges. These clubs have some of the lowest centers of gravity among all TaylorMade clubs and feature an advanced head structure with a multi-material badge. Users praise these clubs for how easy they are to use.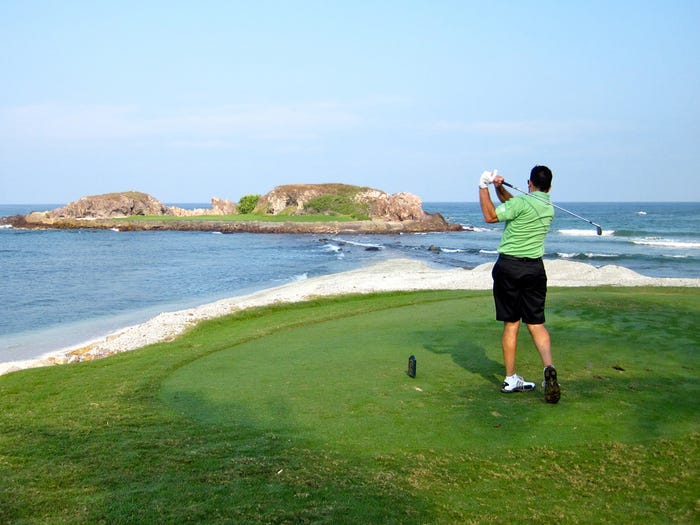 What to Look for in Golf Irons
SKILL LEVEL
Irons come in three different categories: player's irons, made for skilled players; game-improvement irons, which are for golfers with a midrange skill level; and super-game-improvement irons, which are especially forgiving for beginners. Don't "play up." Get the irons right for where you are in your game.
SHAFT FLEX
Flex refers to the amount of bend a club has, and stiffness tends to correlate with how fast you swing your club. If you go too fast without enough stiffness, your ball could veer off in any direction. Look for labels like "regular," "stiff," and "extra stiff," then play around with them to figure out what fits your swing best.
PRICE
Irons, like all golf clubs, have a huge range when it comes to price. While typically you get what you pay for in terms of quality, it is possible to find clubs that outperform their price tag at all sorts of points. Be sure to consider how much you'll actually be using the clubs and how long you want to stick with whatever you choose, and let that guide you toward a budget that feels right for you.
Source: Google.com