Welcome to the best golf clubs and golf irons guide for beginners.
As a golf pro I've had the pleasure of watching many golfers to hit their first golf shot up in the air and flying forwards. A common question they have is – what are the best golf clubs for beginners 2021?
Here are "The Best Golf Clubs For Beginners 2021" you can buy:
Best Overall: Callaway Men's Strata Ultimate Complete Golf Clubs Set
Best for Men: Pinemeadow PRE Men's 16-Piece Complete Golf Set
Best Value: Wilson Golf Men's Ultra Complete Package Set
Wilson Men's Profile XD Complete Golf Set – Best Golf Clubs For Beginners 2021
Wilson Women's Profile XD Golf Set – Best Golf Clubs For Beginners 2021
Callaway Men's Strata Complete Golf Clubs Set – Best Golf Clubs For Beginners 2021
Callaway Men's Strata Ultimate Complete Golf Clubs Set – Best Golf Clubs For Beginners 2021
Confidence Junior Golf Club Set with Stand Bag – Best Golf Clubs For Beginners 2021
In this review I'll cover my personal recommendations for beginner golf clubs and golf irons you can buy online.
The Best Golf Clubs For Beginners 2021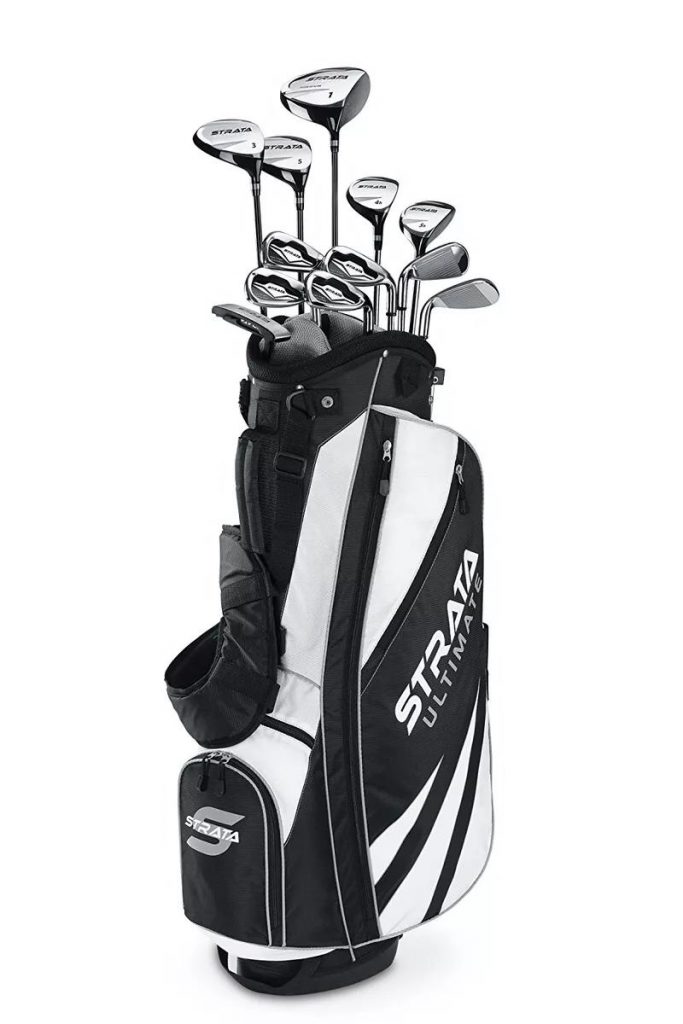 Best Overall: Callaway Men's Strata Ultimate
The Callaway Men's Strata is a popular and beloved set of golf clubs for two reasons: It's complete and all of the clubs are great. Beginners will especially like the "forgiving" 3- and 5-woods, which can help you easily get out of deep fairway trouble. Callaway explains that the clubs in this set are devoted to distance, ball control and forgiveness — all top qualities a beginner needs.
The 18-piece set comes with a nice, standing golf bag, a 460cc driver, two fairway woods, two hybrids, four irons, two wedges, a putter, lightweight stand bag and several headcovers. This set is comprehensive, but there are also similar 16- or 12- piece Strata sets as well, also good for beginners. Simply put: The Callaway Strata is a complete set of great clubs that will benefit any beginner.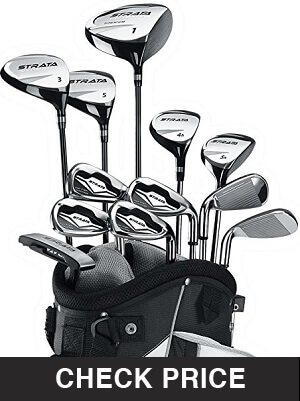 Callaway Men's Strata Ultimate Complete Golf Set – Best for Beginners
This is yet another quality club set from Callaway, which is one of the best golf club brands and can take the skills of beginners to the very next level.
This model offers fairway woods (3 and 5 wood) with huge club faces that facilitate beginners to produce high flying shots.
The driver is made from light-weight Titanium that ensures greater durability. It has a large sweet spot for greater forgiveness and a 12-degree loft for longer shots.
The 3-woods having a loft of 15.5 degrees and a shaft with 42.5" length ensure that the player has no mishit and play along and high shot.
The 4H and 5 H hybrids are great alternatives to long irons making it easier to play long shots with greater confidence. The stainless steel irons are made with high fly technology that adds control, distance, and forgiveness to every shot.
The putter of this set has a length of 35 inches and a loft of 3.5 degrees. This precise face milling putter delivers more control with better accuracy and enables even a starter to sink more putts.
Unlike many beginner sets, the Callaway Men's strata 18 piece features sand wedge that makes it very easy to get the ball out of the bunker. The set comes with a light-weight bag with a cool look and 5 convenient pockets. This set offers an ultimate combination of distance control and feel.
Best for Women: Bullet .444 Complete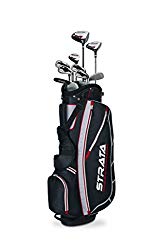 Callaway Strata Complete Golf Set
If money isn't an issue and you want everything possible to get golfing as a beginner then the Callaway Strata sets are great buys. Callaway make top-end clubs and this Strata range is their beginner golf club starter set. This means you get high-quality equipment with everything you'll need in a set of golf clubs.
The 9-club option gives you a Driver, for whacking golf balls off the Tee, a whole host of hybrids and irons for medium length shots, a pitching wedge for when you get close to the green and a putter. This golf set comes complete with a stand-bag for carrying your clubs. You can buy the other options mentioned below, but in my opinion, the 9 clubs are more than enough to get your started with.
This set of golf clubs will take you from a beginner golf all the way through to being a solid club player. The only golf club you may wish to add at some point is a sand-wedge (56-degrees). These tend to be sold separately as there is a good deal of personal preference.
The Strata golf clubs are available in left handed, and women's length and flex.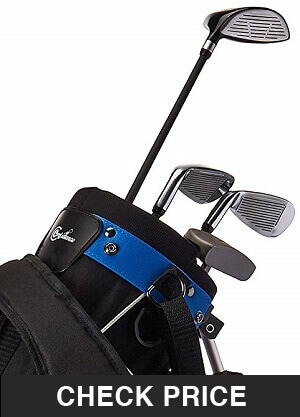 Confidence Junior Golf Club Set with Stand Bag – Little Ones with a Low Budget
If your child falls in the age group of 4 to 8 years, this Confidence Junior Golf Club Set must be your final stop.
This is specially designed for kids who use clubs casually, quite frequently.
Its high-end-features make it the best golf clubs set for juniors. The lofted hybrid iron that it has offers the advantage of hitting the ball over a longer average distance and will help deliver more accurate off-center hits.
4 to 7 and 8 to 12 are the two age brackets that this set entertains and is sized for.
This set brings along 4 clubs, one made up of wood, the other two of iron, and a putter. The low center of gravity of iron helps to propel the ball airborne easily by children, without needing to apply much force.
For the safety of the clubs, the stand bag is well constructed and offers comfortable carrying through a double shoulder strap.
Furthermore, this set comes for both the left and right hands orientation. The material quality is, without a doubt, appreciable, but at 5 pounds, it will be counted as weighty. Moderately priced, there cannot be a better choice for the little champions out there than this Confidence Junior Golf Club set.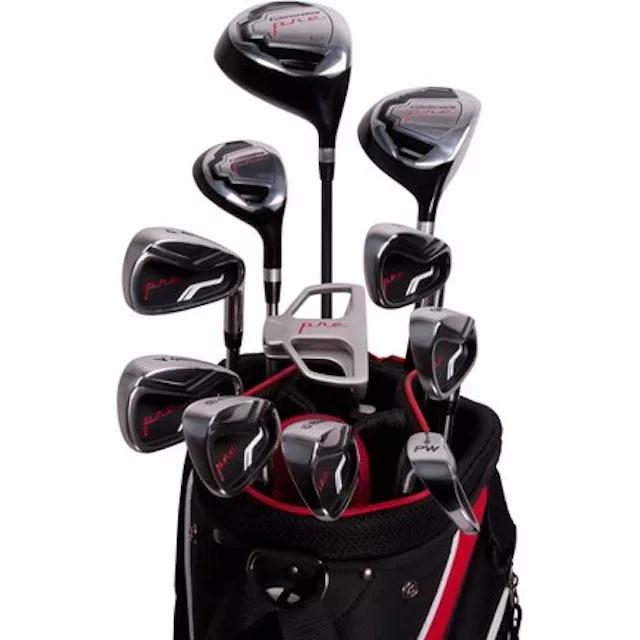 Best for Men: Pinemeadow PRE Men's 16-Piece Complete Golf Set
Men who are just starting to golf should check out the 16-piece PRE Men's golf set from Pinemeadow. In addition to a great stand bag with a kickstand and carrying straps, this set will give guys all the tools they need to start their golf games. Including a 10.5-degree titanium driver, a 3-wood and a 3-hybrid as well as irons 4 through 9, a pitching wedge and a putter, this set will allow new golfers to quickly play a whole 18 with the guys. Reviewers, who rate this set highly, repeatedly note how simple and effective these clubs are and that they are well worth the low price.
Q & A for buying beginner golf clubs
Beginner golfers tend to have many questions when buying golf clubs. In this section I have put together some answers to some common questions. Feel free to leave a comment with your
Best clubs for beginners: Should I buy left or right-handed golf clubs?
Let's start simple – if you're right-handed, best to buy right-handed irons. Left-handed irons are best for those who are left-handed, but this isn't always the case. There are a few great players who have a dominant left hand, but play right-handed. If you're not sure stick to the hand you use to play other sports – Throwing, Tennis, Baseball.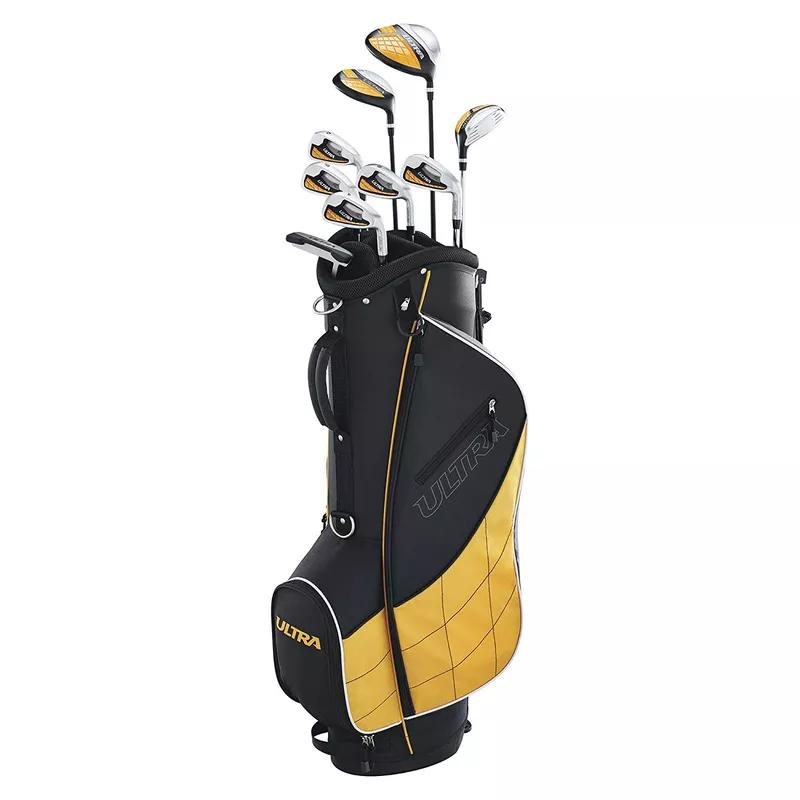 Best Value: Wilson Men's Ultra Complete Set – Quality Clubs for Starters

Wilson offers a complete, standard set of clubs, which gives beginners everything they need to play golf but doesn't require the investment of a top tier set. The Ultra set includes a driver, a 3-wood, a 4 hybrid, irons 5 through 9, a pitching wedge and a putter. This set uses steel shafts and standards grips and is designed for men shorter than 6'2". The clubs share a stylish black, gold and silver design that will make beginners look like pros on the course in no time.
The set is specifically geared to beginners. Although it may not have the versatility that more experienced golfers want, the durable Ultra set delivers a great return on investment and can last for a long time.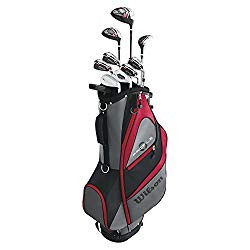 Wilson Men's Profile XD Complete Golf Set
In third place for the best golf clubs for beginners we have the Wilson's Profile XD golf set. They're good golf clubs at a seriously low price (check latest price from Amazon here). The complete set gives you: a driver, 3-wood, hybrid, four irons, two wedges and a putter. All you need to start playing golf.
This golf set gives you the option of a stand bag or cart bag and come in left and right handed options. The irons are really well designed and are very forgiving. The wedges provide excellent control for chipping and putting around the greens.
Why are they cheaper that the Tour Edge and Callaway golf clubs? We'll they don't quite match up when it comes to driver build quality. Don't worry the driver won't fall apart in your hands, but you may lose a little zip and distance when you hit your drives off-centre.
If you don't mind this, or you want to buy a separate driver, these clubs are still a great choice.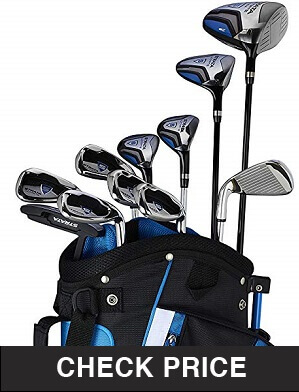 Callaway Men's Strata Ultimate Complete Golf Set – Best Value for Beginners
These are one of the best beginner's golf clubs available in the market.
The manufacturer has designed this set having focused ultimate distance and ultimate performance in mind.
The Ultimate 16 piece has been equipped with high-end features with the help of modernized golf technology to provide the tee to green coverage for their customers.
The full Titanium 460 cc lightweight driver is equipped with a huge sweet spot. It provides ample forgiveness to golfers who can easily hit the ball farther off the tee.
The 3 wood is yet another forgiving club that is built to generate long and high flying shots in more aerodynamic head shape.
The 4 and 5 hybrids prove to be a good replacement of long irons and golfers may use them confidently for longer shots. The stainless steel irons are robust and are constructed by applying high flight technology which provides distance and forgiveness.
These game-improvement irons help achieve greater consistency and more confidence, the attributes which all new entrants in the game so desperately love to attain.
Considering that so many positives are available at a low price, this is the best golf club set for the money. This is a great set of clubs for a price. These are game- improvement tools and thus serve the beginners for maximum benefits.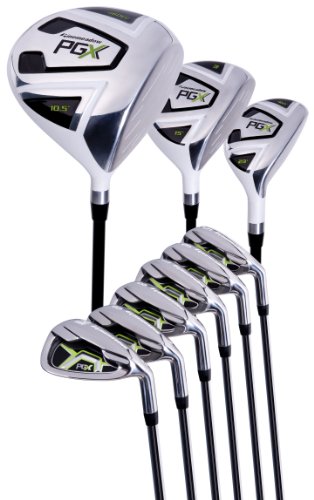 Best Basic: PineMeadow Men's Pgx Golf Set Driver – Specializes in Accuracy
Whereas most beginner sets include a stand bag, the Pinemeadow Men's PGX golf set strips away those frills for a simpler product that doesn't have those additional costs. Perfect for beginners who already have a golf bag or other accessories, but are looking for good clubs at a low price point, the PGX set only includes quality clubs.
Customers get a 460cc driver, a 3-wood, a hybrid, irons 5 through 9 and a pitching wedge. This set does not have a putter but does include head coverings. Although customers agree on the excellence of the Pinemeadow irons​, they disagree about how much they like the driver and woods.
Best women's (ladies) beginner golf clubs 2021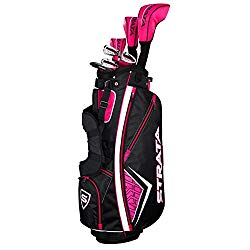 Callaway Strata Complete Golf Set
The women's Strata golf clubs are an excellent set for a beginner golfer. These clubs receive first place in our review of best golf clubs due to their high quality and ease of use.
As you can read in our 'things to consider' section further down in this article, women golf clubs are a little lighter and 1/2 inch short than mens golf clubs. This makes them easier to control and the lighter overall weight allows you to generate extra club head speed – meaning longer shots.
The Driver is really easy to use, and with 14-degrees of loft, it is ideal for a beginner set of golf clubs. This beginner set of golf clubs also includes: a 3 Wood, 4 and 5 Hybrid, 6 to 9 Iron, Pitching Wedge, Sand Wedge & Putter. This set up was another reason we voted these then best golf clubs for beginner women. The 3-wood, 4 and 5 Hybrid give you easy golf clubs to hit off the ground, which is a common issue beginner golfers struggle with.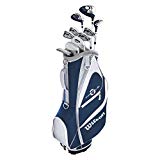 Wilson Women's Profile XD Golf Set
In second place for women's best beginner golf clubs we have Wilson's Profile XD golf set. They advertise these as a full set, but please note, you do get one less iron and one less hybrid than the Strata set above.
This is still a great option for any beginner, as you won't need all the different clubs to begin with, and it keeps the cost down!
Similar to the Strata set, these have a high-lofted driver and graphite shafts in all the clubs. This makes them light and easy to use. What is the trade-off from the more expensive Strata set? A touch of quality, the materials used to make the shafts are not quite a performance driven and there have been reviews suggesting the chrome finish can come off some of the clubs.
Although these minor defects are not ideal, neither will dramatically affect your golfing performance as you get into the game. If you want a great set of golf clubs at a slightly lower cost these out perform most other golf clubs out there.
What do the different clubs do for a beginner?
Driver
Your Driver is a big, low-lofted club that you hit off longer holes. Unless you're Tiger Woods it's probably best to only hit a Driver off a Tee. Drivers tend to hit the ball a long way, and are forgiving if you miss-hit them (if you have the ball on a Tee). If you want to learn more check out this article on the best driver for beginners.
Fairway woods & hybrids
These clubs are really useful for beginner golfers. They are used to hit the ball a long way off the ground (generally for the 2nd or 3rd shots on par 4's and par 5's. Fairway woods are a little longer than hybrids and have slightly bigger club heads, but essentially these both do a very similar job.
The key detail to look for is the loft of each club. Most beginner will only need one or two of each. I would recommend one club around 15-degrees and another between 19 – 24 degrees for an ideal beginner set.
Irons & Wedges
Your irons are used to hit shots off the ground towards the green. They don't go as far as your Driver but have more control. They are numbered 3 – 9, PW, SW, or sometimes 5 – 9, PW, GW (see below).
The number of the iron tells you the loft on the golf club – the higher the number the more loft a golf club has.
3-iron (21degrees loft) goes low and will travels a long way
7-iron (34-degrees loft) goes mid height, doesn't roll as much on landing.
Sand Wedge (56 degrees loft) Goes high, not very far, stops quickly.
The idea is to make roughly the same golf swing with each golf club and automatically the ball will go varying trajectories and distances.
Best clubs for beginners: Do I need to buy a 3 or 4-iron?
No, is the short answer. Most golfers find these clubs tough to use, and actually only require them one or two times a round. These days you'll find 5-woods, 7-woods and Hybrids as better replacements, as they are easier to hit.
Your Woods and Hybrids don't have to match your irons or other woods, so feel free to mix and match these into your golf set at a later date.
Best clubs for beginners: What is a Hybrid?
The clue here is in the name – it is a cross-over of an iron and a wood. It has the face and loft of a long iron (generally a 3 or 4-iron), but has a chunky wood shape on the back.
This design allows more of the mass to distributed low down and place further back away from the club face. All this means they get the ball up in the air and twist less for off-centre hits.
Here is an example of one to replace a 3 or 4-iron. Beginner golfers tend to hit them one club (around 10-yards) further than their iron equivalent.
What is the difference between mens, women and senior beginner golf clubs?
Women's clubs are 1/2 inch shorter and have slightly lighter shafts. They suit most women, but are also a great option for juniors in their teens and seniors.
Senior clubs are the same length as mens, but have a lighter shaft, similar to women. These too are a great option for taller juniors, who are not strong enough for mens clubs. They are also a great option for taller women (see next section).
Custom fit golf clubs for beginners
I'm tall/short do I need custom golf clubs?
When you're buying a beginner set of golf clubs, you'll nearly always be best with standard length clubs.
The key measure is not height, but rather wrist distance to the ground. If you are tall (6'2″+), but have long arms you may be best with standard, or even shorter golf clubs.
What are the best golf club brands for beginners?
There isn't one perfect brand for beginners. Below a certain price threshold you get poor quality equipment. Specifically, cheap metal alloys used to cast heads and low quality graphite shafts. Both of these lead to a golf club that just doesn't feel great when you hit golf balls. It will also lead to slightly more inaccurate shots.
Wilson and Tour Edge are two brands mentioned in this review that spend far less than the main brands on advertising. This means they can offer a high-quality product at a lower price. I've only included clubs in this review, that I would be happy selling to a beginner that I was personally coaching.
Are there any golf clubs I should avoid as a beginner golfer?
There is a cut-off in price, where you will go from good value beginner clubs, to poor quality. The Tour Edge complete set and Wilson Staff Irons featured in this beginner golf club review are the best value golf clubs on the market. Below this price-point we hit golf clubs with poor build quality. I would rather not pick on a single brand, but the following link is an example set to avoid.
Unfortunately the only way these can be made for the price you see is to use low-quality alloys. If you really are on a budget you can buy a set like this. However, I would recommend spending a bit extra for this full-set or settle for this set of irons.
Shaft options for beginner golf clubs
Beginners tend to worry too much about different shaft options. All good quality Drivers and woods will come with graphite shafts. Good beginner golf clubs will give you the option of graphite or steel shafts for irons.
All golfers will benefit from having graphite shafts in woods. These make the club lighter and allow you to generate more club head speed with the same amount of force.
If you're strong and swing the club fast, opt for steel shafts in your irons. If your swing is a little slower, you'll find a few extra yards with graphite shafts and they will be lighter to swing. The down-side is that graphite shafts do up the cost of beginner golf clubs by around $150-200.
Should I buy cavity back or blade irons?
CAVITY BACKS!! I've coached far too many amateurs who buy blades because they look cool. Cavity backs are far easier to hit. I've been a pro for 13 years and I play with cavity backs. A slight miss-hit with a bladed iron loses you around 6-10 yards (compared to 2-6 yards with a cavity back). Amateurs miss-hit around 70% of their iron shots.
Should I buy a new or used set of golf clubs?
Used golf clubs will save you money and golf clubs don't wear out (wedges need replacing every few years). However, don't save yourself $100 if they aren't suited for beginners. All the golf clubs in this review are ideal for beginner golfers. If you can find a second hand set with the ideal set up then go for it!
Best clubs for beginners: Summary
In summary, there are many great options when buying beginner irons. I would whole-heartedly recommend any of the golf clubs and sets covered in this list.
I would base your choice on cost and adaptability. If you want a full set and no further worries grab the Tour edge or Strata full sets. If you want to grab some irons and consider what woods and hybrids you want as you progress then begin with one of the iron sets featured.
I hope you've found this article of use. If you have any further question please comment below. And if you would like a free weekly golf article sent to your inbox, come join the golf insiders.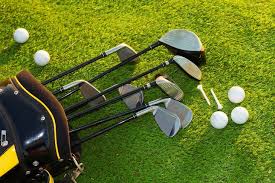 What to Look for in Golf Clubs for Beginners
COST
For most beginners, a first or even second set of clubs shouldn't cost an arm and a leg. Better, more expensive clubs can certainly affect your game, but a beginner will not be able to detect the nuances like someone with a little more experience. When evaluating the price, it's also important to factor in what is included in the club set. Take a look at which clubs the set comes with as well as whether or not a bag is included.
ADJUSTABLE OR STANDARD
Adjustable clubs have settings built in that allow golfers to shift the weight of the club up or down, which will help reduce or increase spin on the ball, and therefore time in the air. This ability to adjust will allow you to keep the same clubs as your game improves.
ADDED TECH
The engineering of golf clubs has really come a long way over the years, and it's not uncommon to see clubs that utilize special technology to aid where skills might not have developed fully. Some clubs enhance the spin they send the ball flying with, other clever tweaks zoom in on accuracy and distance.
How to Choose Best Golf Clubs for Beginners?
Golf is now a very popular game and its popularity is increasing with time. As many new players are entering the game at the entry-level, they face the problem of essential baseline equipment requirements of the game.
As beginners, they are unsure how to select the best possible clubs for their skill level. In the following guide, we have extensively described what features one has to look at in clubs before making a final selection.
Before proceeding any further, prospective customers need to understand some basic points:
The foremost important point is that the rules of golf put a limit on the number of clubs in the golf bag. Now golfers can carry no more than 14 clubs in their bags. The number 14 is not mandatory but it is the maximum limit. To understand clearly that one can carry any number of clubs in his bag, but that should not exceed 14
A baseline set consists of a driver, putter, an iron set, hybrid, fairway wood, and hedge
Drivers
Drivers have the largest club heads in a golfer's bag. Though they are made of titanium or steel but are traditionally referred to as 'woods'. This is because, throughout the history of golf, they were made from wood.
The drivers are designed to strike the ball off the tee. Nearly all club heads available in today's markets are in the range of 440 to 460cc. 460cc is the largest size a driver club head can have, and it is the most popular size among golfers also.
Driver's club heads with greater cc provide more forgiveness. A smaller cc, on the other hand, requires good shot-making skills and additional workability, making such club heads more attractive for golfers with polished skills.
The length of the shaft also matters. The longer driver's shafts allow more swing and farther distance on account of higher speed. Legally, the shaft can belong up to a maximum of 48 inches. However, the length of most of the drivers' shafts being used in golf today is 45 inches.
Irons
There are two basic types of irons, cavity back and muscle back. The cavity back as the name suggest has a large cavity on the back of club head whereas, muscle-back irons have full back on the rear.
For beginners, cavity back irons will be a better choice because they offer perimeter weighting for better forgiveness. The muscle back irons require enhanced shot-shaping capabilities that make them favorite of advanced golfers and professionals.
Cavity back irons with small cavities and thinner top line and soul are called game improvement irons and are the most popular among all.
An iron set usually consists of 4 to 6 irons with a wedge. It has 3, 4, 5, 6, 7, 8, or 9 irons and make-up of each iron set shows it listed in a particular manner like 3-PW, 4-PW, 5-PW, etc.
In each case, the listing name shows that all remaining are included. For instance, 3-PW means that all irons from 3to 9 are included along with pitching.
Wedges
There are mainly 4 types of wedges. These are pitching wedge, gap wedge (also called A wedge), sand wedge or lob wedge. The pitching wedge has the lowest loft (44 degrees to 49 degrees) whereas the lob wedge has the most (59 degrees to 65 degrees).
The lofts dictate the distance, the ball travels. Experts recommend that there should be a difference of 4 degrees among the wedges.
For instance, if a player has a pitching wedge with a 46-degree loft, he should have a gap wedge, sand wedge and lob wedge with 50,54 and 58 degrees respectively.
Putters
Being the most used club in a golfer's bag, the putter helps in sensing the depth and pace of the ball. It is the length of a putter that dictates the quality of a stroke. Though putters come in various lengths, the range of 32-52 is highly common.
There is however a golden recipe to select the putter's length. Stand in the address posture and let the arms hang naturally. Now ask someone to measure the length between ground and just above your hands. This will be the required length of your putter.
Hybrids
Hybrids are replacements of long irons. For many people, it is easier to hit solidly on a hybrid than a long iron. The hybrid loft angle should exactly co-relate to the iron you are replacing it with.
Amateur golfers often make a mistake of buying a hybrid whose flex and shaft type does not match with the rest of the clubs in their bag. This creates inconsistency in their golf swings.
Source: google.com