The 8 Best Golf Grips of 2020 – Your golf grips may be the most important part of your clubs that you aren't paying attention to. Commonly made of rubber and thermoplastics, golf grips can help you find the optimal grip on your clubs for a more accurate and comfortable swing. Many people even argue that switching from poor grips to better ones can drop your handicap by several strokes.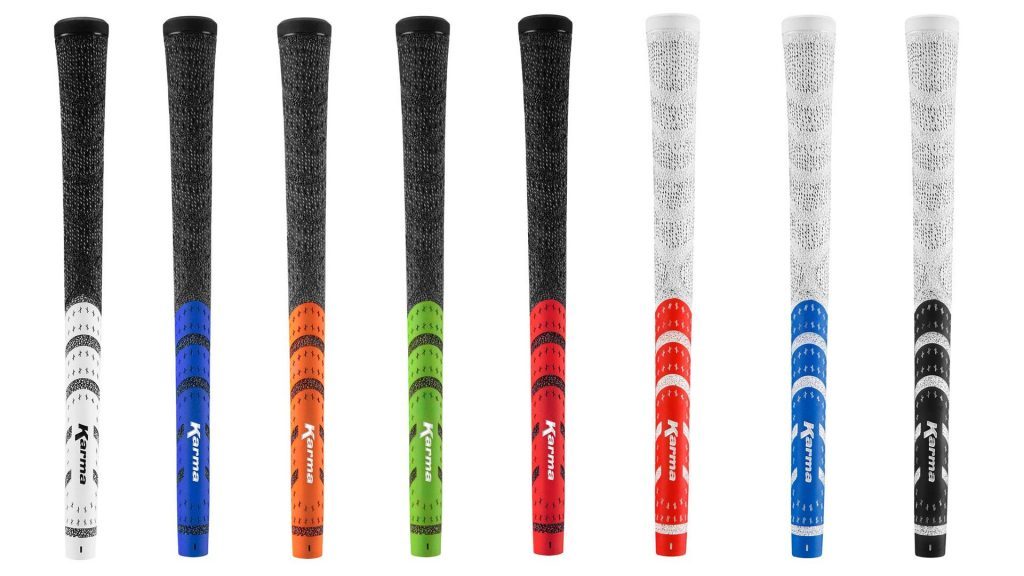 The 8 Best Golf Grips of 2020
There are several factors you want to look for in golf grips when you redo your clubs. Many people opt for soft or super-soft rubber grips, which absorb shock and add comfort. Senior golfers particularly like the softer grips that have become popular in the past few years. Additionally, you'll want to find a grip that matches your hand size. Undersize, standard, midsize and oversize grips are the most common sizes for grips, although custom tailoring is also an option.
Grips are available in a range of designs and tractions as well. Some people prefer a more textured grip, with ribs or cord, for wetter conditions. Others like the tack from smooth and simple rubber grips. Check out some of these best grips available today and see how you want to upgrade your collection.
Here are "The 8 Best Golf Grips of 2020" you can buy:
Best Overall: Winn Dritac Golf Grips
Best Value: Karma Velvet 13-Piece Bundle
Best Grips for Irons: Golf Pride Tour Wrap 2G Grips
Best Grips for Drivers: Golf Pride New Decade MultiCompound MCC Plus4 Standard Grips
Best Grips for Putters: SuperStroke Legacy 3.0
Best for Small Hands: Ping ID-8 Undersize Golf Grips
Best for Big Hands: Golf Pride CP2 Pro Jumbo Grips
Best for Sweaty Hands: Lamkin Crossline Golf Grips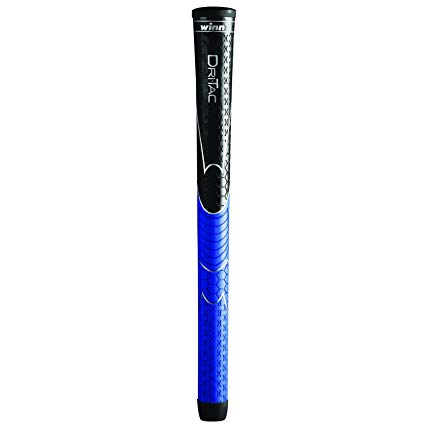 Best Overall: Winn Dritac Golf Grips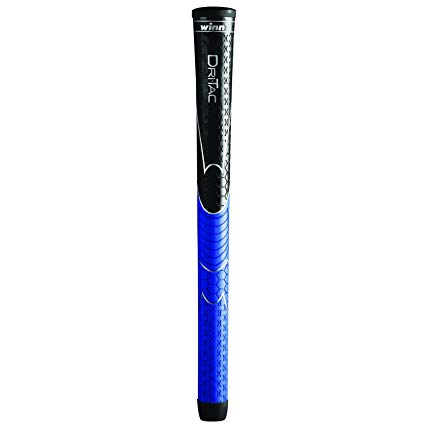 The Winn Dritac golf grips are among the most popular and best golf grips on the market. Available in standard, midsize and oversize, the Winn Dritac grips will fit most adult male hands. What really makes these grips stand out from the competition is that the Winn Dritac grips provide excellent traction and feel great while they do it. The grip's textured pattern features curved lines, X-marks and hexagons in just the right locations for an optimal grip and a stylish look.
Additionally, this product uses a WinnDry polymer material, which gives golfers effortless friction in sweaty or rainy conditions. These grips also feature top-notch shock absorption and the "classic wrap design." Golfers have given these grips a nearly perfect rating on Amazon, where the Winn Dritac grips come in red, navy, black, gray and blue.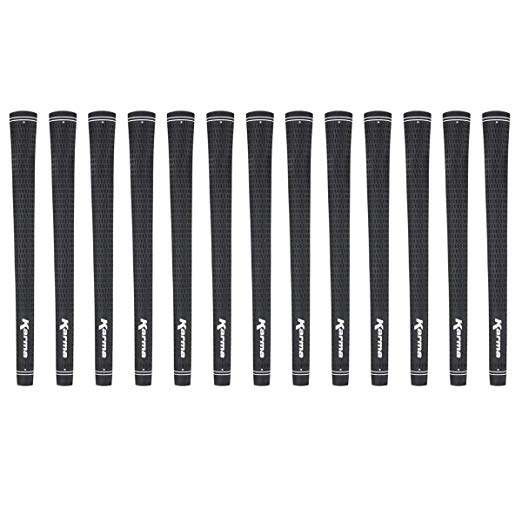 Best Value: Karma Velvet 13-Piece Bundle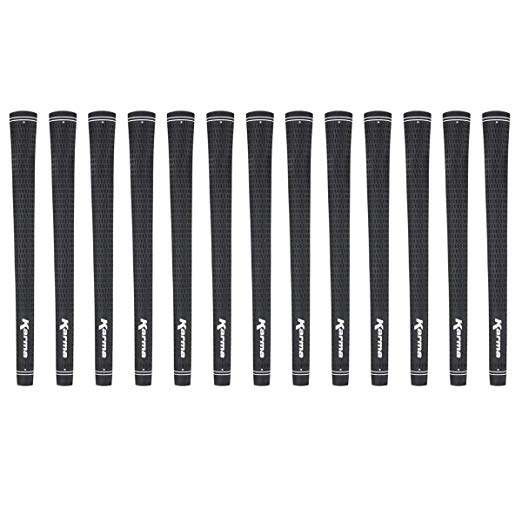 Karma Velour Midsize Black
Price: 25.95$ | From: Amazon
Bundle contains 13 grips (NOTE: does not include grip tape or grip solvent).
Want to regrip all of your irons in one swoop without breaking the bank? Try the Karma Velvet 13-piece golf grip bundle. This affordable option provides you with enough midsize, round-shaped grips to replace all of your peeling, tattered clubs with fresh grips that will work in the rain.
Each of these 13 identical, black, soft rubber grips has hundreds of small lightning bolt-shaped treads for optimized friction. Although this value option does not come with tape or solvent, and these grips will not last forever, if you're a frequent golfer, the Karma Velvet grips are an excellent budget-friendly choice.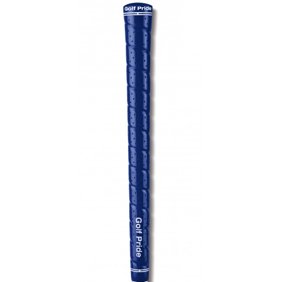 Best for Irons: Golf Pride Tour Wrap 2G Grip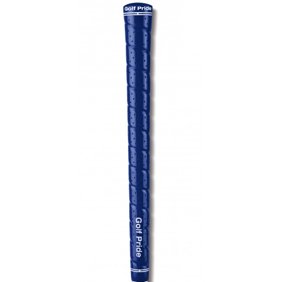 The Golf Pride Tour Wrap 2G golf grips are perfect for just about any golfer. These grips are made of a unique material that simulates the combined feeling (and benefits) of both leather and rubber. The result of this interesting material is a particularly high tack, letting you have precise control, especially in drier climates. Many people like the high-tack grip to help them loosen their hands for a better swing, without losing the club.
Additionally, this Golf Pride grip has a simple perforated, spiralized design for a classy looking club that feels good in your hands. This grip, although soft, may be firmer than others on the market, which is great for many golfers who want to feel some feedback when they hit their irons. Golfers can get the Golf Pride Tour Wrap 2G in blue, black and white.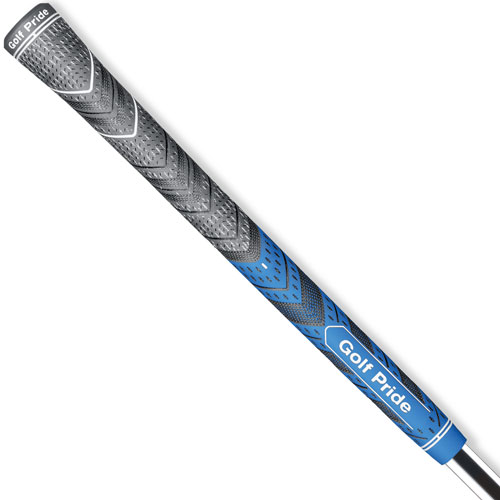 Best for Drivers: Golf Pride New Decade MultiCompound MCC Plus4 Standard Grip
This Golf Pride New Decade MultiCompound MCC Plus4 Standard Grip doesn't just give golfers the grip they want; it also makes a design statement. Available in red, green, blue, orange and gray, the Golf Pride hybrid grip can pop with color and add a distinctive look to your bag.
The New Decade MultiCompound MCC Plus4 Standard Grip is made for driving because of its hybrid material. Constructed with a brushed cotton cord and soft rubber, the MCC Plus4 grip has a comfortable handle and reliable tack. Golf Pride promises this grip can help improve downswing, increase power, reduce tension and work well in all weather conditions. However, what most golfers will notice right away is that the grip is larger on the bottom than the top. This may feel unnatural for many experienced golfers, but the larger handed bottom allows for a lighter grip of the club — ideal for drivers.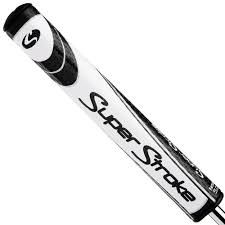 Best for Putters: SuperStroke Legacy 3.0
What is the No. 1 thing someone wants from a putter grip? Touch? Precision? Control? The SuperStroke Legacy 3.0 Putter Grip delivers all three.
Golfers will like how this thick grip aims to reduce tension on the wrists and forearms by allowing for parallel hand placement and a looser putt into the hole. The putter grip has a 1.3-inch diameter and has become the most popular SuperStroke grip on the tour. The design is bold, with "SuperStroke" written in stylized text across the handle on grips ranging in color from white and black to red, yellow or blue.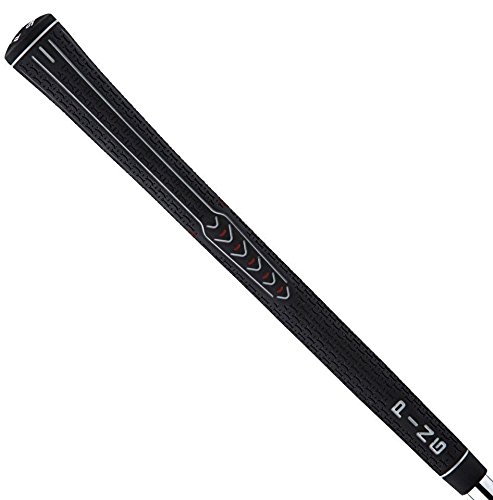 Best for Small Hands: Ping ID-8 Undersize Golf Grips
It's no fun to play with a grip that's the wrong size for your hands. Playing with grips that are larger don't just lead to more strokes on the scorecard, but may lead to pain and discomfort. If you use an undersize grip, try the Ping ID-8 grips. These grips are specifically designed for smaller hands, but the grip doesn't stop there. Ping also features 360-degree, tire-like treads densely packed all over the grip for even better control and tack.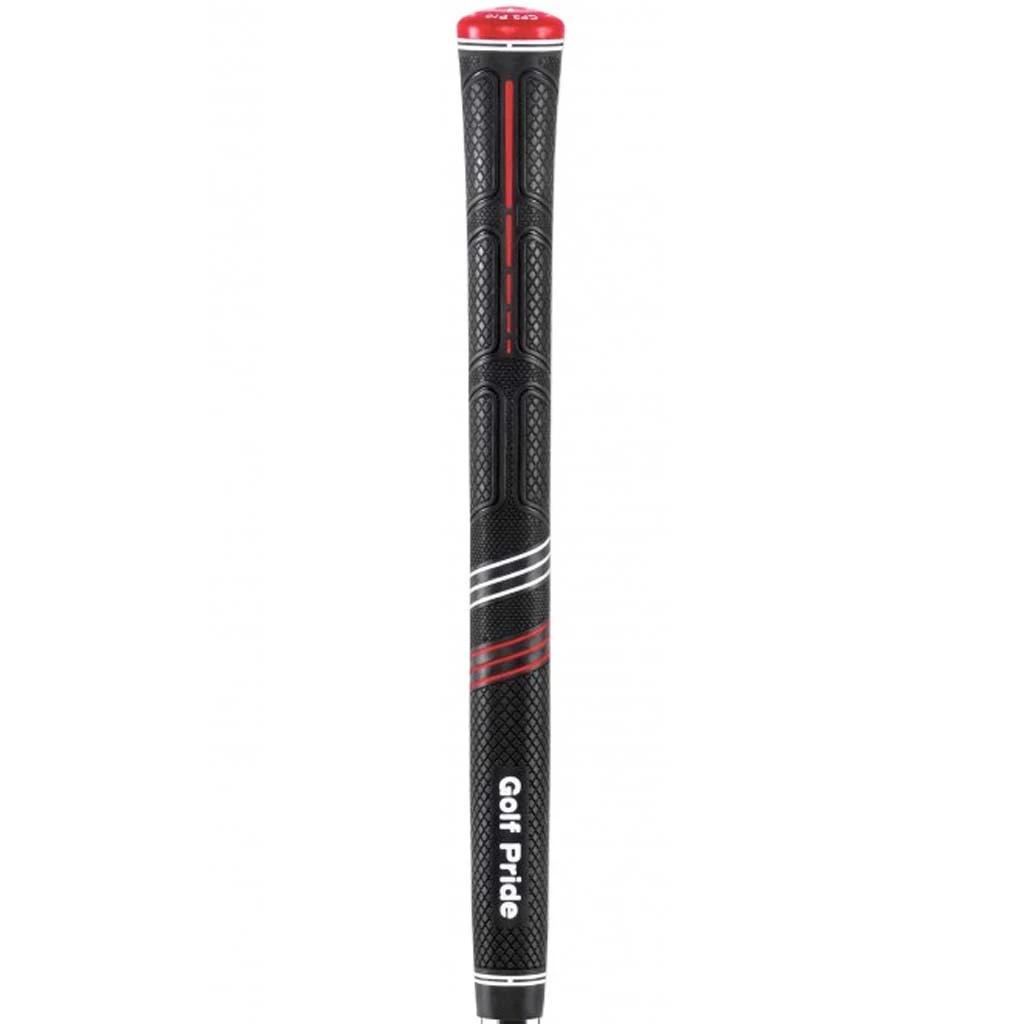 Best for Big Hands: Golf Pride CP2 Pro Jumbo Grip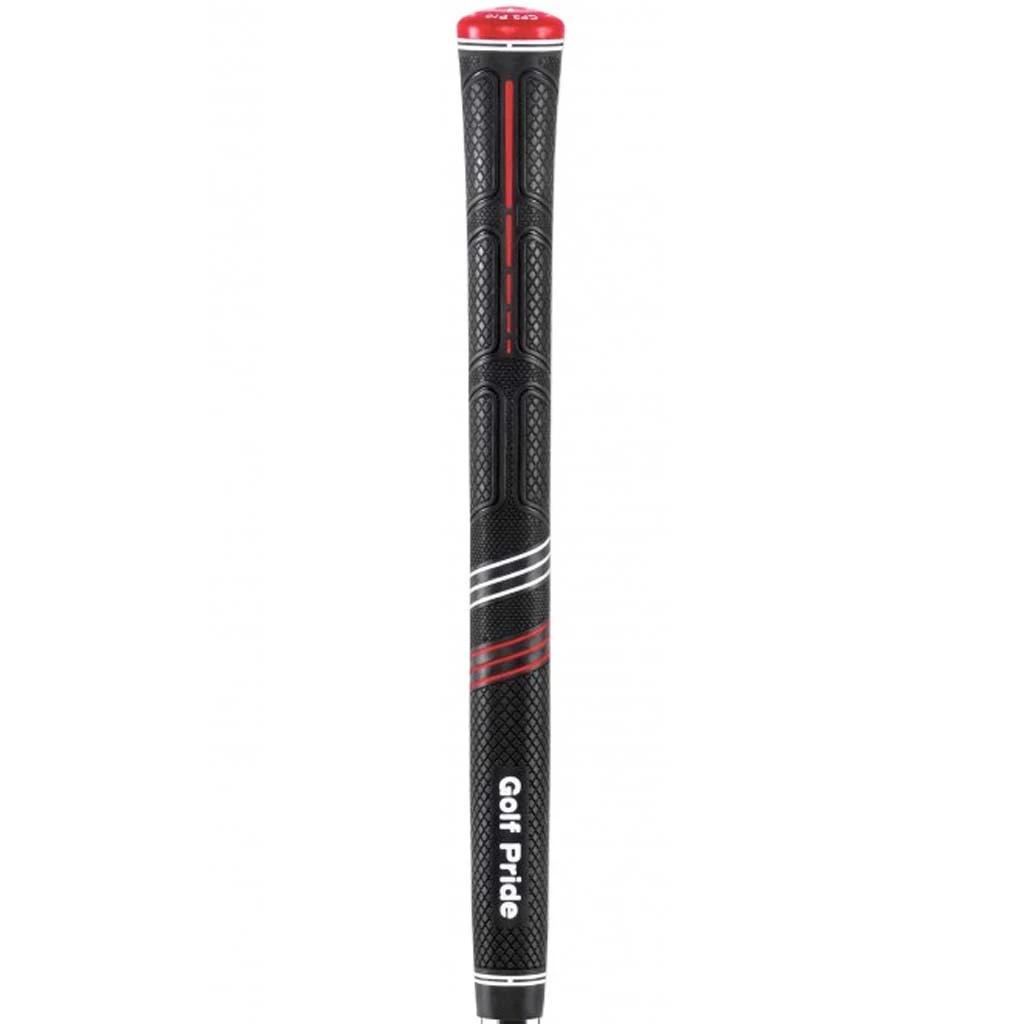 Control Core Stabilizer, Larger Lower Hand, Soft Feel
78 Grams In Weight
Grip Shape Round
Grip Size Jumbo
The Golf Pride CP2 Pro Jumbo Grip will comfortably fit your entire hands onto your club. Made with a rubber wrap that is soft and sticky in all the right ways, this oversize grip also features a 2.5-inch inner core that reduces torque. Golf Pride's grip also has reduced tapering and lesser treads all around so you can feel the same grip throughout your swing regardless of the size of your hands. Golf Pride focused on control when they made this grip, but many golfers say that the biggest benefit from the CP2 Pro is that you don't have to hold onto them so tightly that you impact your swing.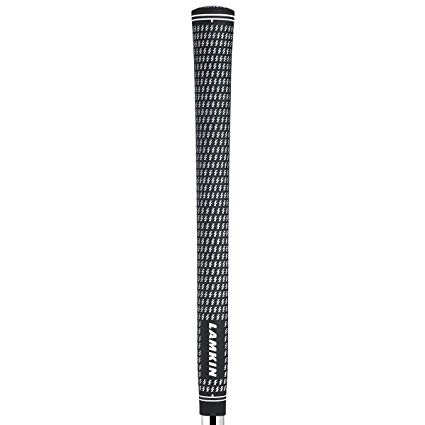 Best for Sweaty Hands: Lamkin Crossline Golf Grips
The surface of Lamkin's Crossline Golf Grips is tightly packed with grip designs that look like hashtags. Far from a viral marketing attempt, this surface pattern gives the grip stability and "lateral traction" that works well in rainy weather or sweaty hands. In addition to the dense pattern, the grip is made of a synthetic rubber that grips the hand and provides a firmer hold and more feedback when you make contact with the ball.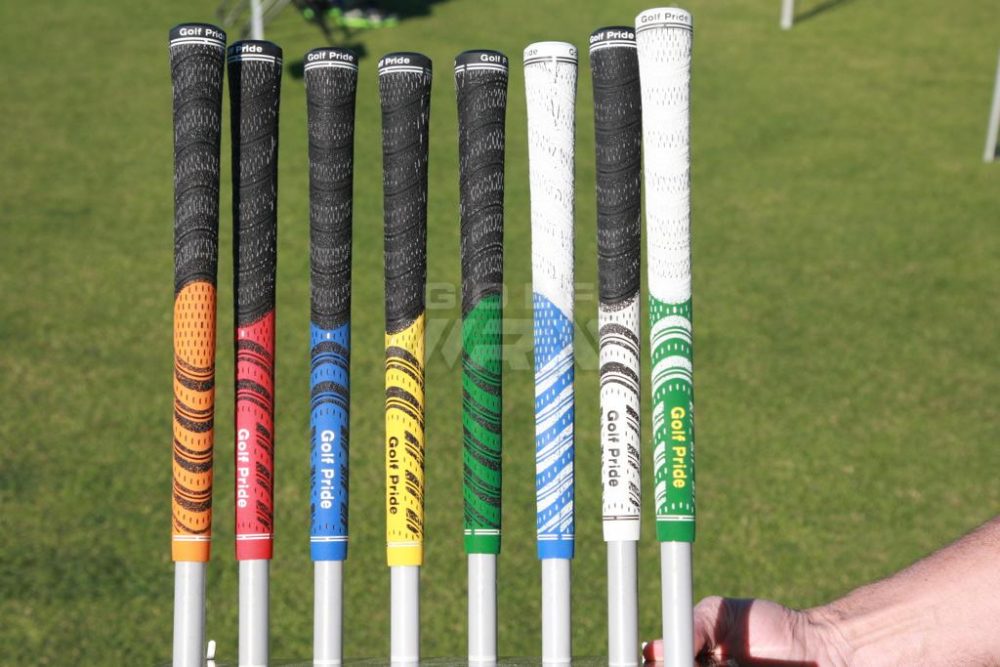 What to Look for in Golf Grips
SIZE
There are four different golf grip sizes—undersize, standard, midsize, and oversize—each of which can be added to with tape to refine how it feels in your hands. How the grip fits in your hands is extremely important as it can affect your swing significantly.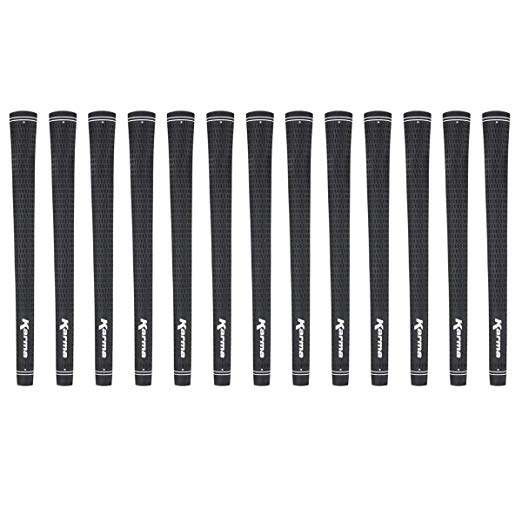 TRACTION
You'll want to test out the grip while swinging your clubs to make sure that it feels right. There are different types of traction a grip can provide, with ribbed, corded, and smooth options. The type you want ultimately comes down to personal preference.
MATERIAL
Grips are designed to perform best in certain conditions, and knowing what the weather conditions are generally like when you play will go a long way toward finding a great grip. Some grips use special material that's made to feel tacky for better holding power, which will be helpful in rainy or really humid conditions. Comfort and softness play a big role in your final decision, too.