Byeong Hun (Ben) An is a name you probably should know. Not just for the fact that in 2009, at 17, he became the youngest U.S. Amateur champion. And not because he won the 2015 BMW PGA Championship on the European Tour with a record score of 21 under par. Remember Big Ben because, now in his second full season on the PGA Tour, he's on the verge of becoming one of the game's elite players, says his coach, David Leadbetter.
"Definitely one to watch," says Leadbetter, who started working with the Korean-born golfer in 2005 when An's family moved to Florida. "He knows it's within his power to play world-class golf."
Ranked 76th in the world through October 2017, An can use his size (6-foot-2, 210 pounds) to overpower many golf courses. Though his putting needs improvement—he ranked 172nd on tour in 2017 in the strokes gained/putting stat—there's enough potential that An is drawing some comparisons to other brawny golfers in their mid 20s, such as Brooks Koepka and Hideki Matsuyama. "He really does have a great all-around game," Leadbetter says.
---
PRO-FILE: BYEONG HUN (BEN) AN
AGE: 26 / 6-2 / 210 pounds • Seoul, South Korea
IRONS: Titleist 716 MB, T-MB • BALL: Titleist Pro V1x
---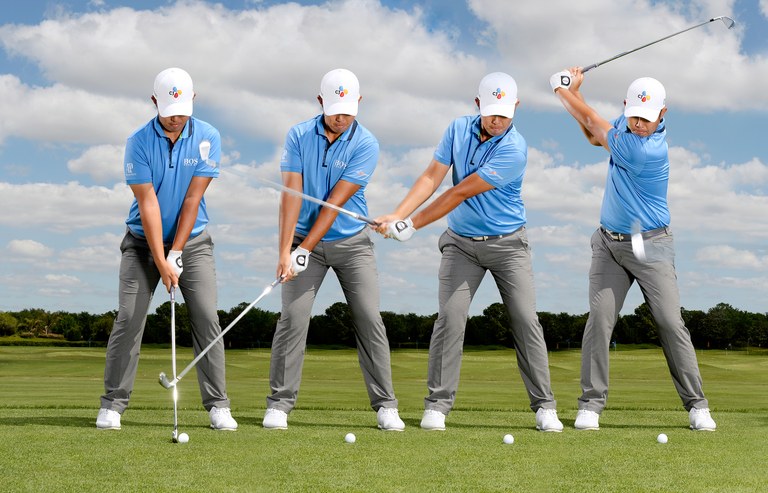 KEEP IT SIMPLE
Ben's swing is simple and efficient, says his swing coach, David Leadbetter. "We've worked to build a repetitive swing where he doesn't have to overthink," Leadbetter says. "It starts with a solid setup. His hands are fractionally behind the ball. That allows him to shift away with minimum fuss."
WIND IT UP
As the left shoulder moves down and away from the target, he's winding his core against his lower body. "It's a big winding of the core," Leadbetter says. "Part of what makes that possible is how stable his feet and knees are as he takes the club back." That torquing action against a stable base stores power.
GET SHORTY
"As his club reaches the top, this is where you really see how efficient Ben's swing is," Leadbetter says. "He's fully wound up with his core, but look at how short his arm swing appears. This is one of the things he's worked on the past couple years to build consistency. It's a move easier to repeat."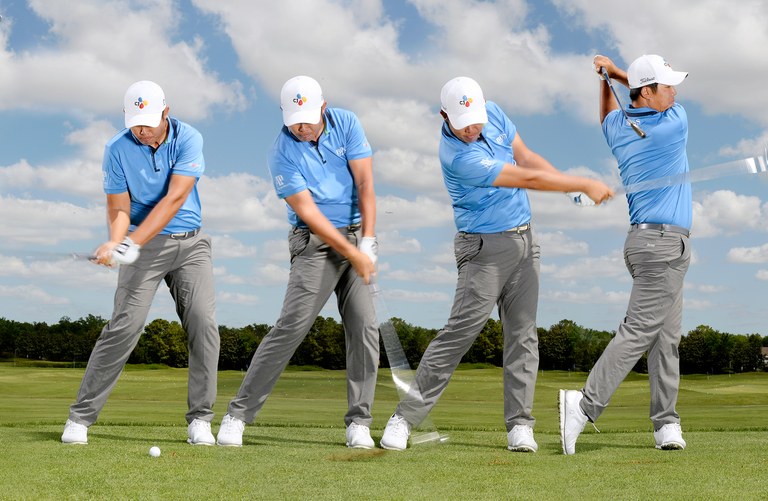 STOP SPINNING
A flaw An has worked hard to correct is how his body moves in the downswing, Leadbetter says. "He used to spin out early—that left side really opening." Now, thanks to the simple backswing, he can make a healthy lateral shift toward the target as the club starts down, Leadbetter says. No more spin out.
FIRE AWAY
"You can see he's really firing his right side into a braced left side," Leadbetter says. "It's a powerful move. He can do this because he's cleared his body and still has great lag between his hands and the clubhead," Leadbetter says. "Another thing to admire: His left arm and chest are connected." He's synced up.
REACH FOR IT
Maintaining full extension in the arms and club after impact is a sign of a well-hit ball. "He has wonderful extension," Leadbetter says. "He swings to a beautifully poised and balanced finish. He finishes like this with all his clubs. It's his trademark." A trademark made possible by the simplicity of his swing.
RELATED: Ben An Broke Rory Mcilroy's Long-Drive Heart By Two Yards
---
WATCH: GOLF DIGEST VIDEOS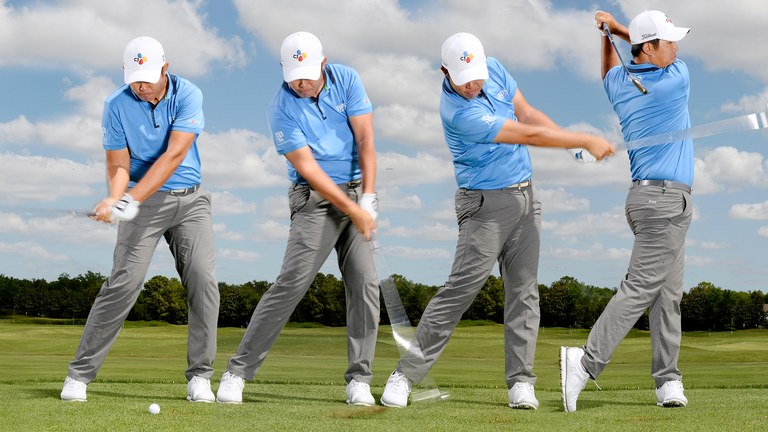 Source: Internet