Each week on GolfChannel.com, we'll examine which players' stocks and trends are rising and falling in the world of golf.
RISING
Jordan (+10%): Guts, tenacity, heart, a heightened sense of the moment – it was all on display during an instantly legendary stretch to steal The Open. Of the many titles Spieth has won in his life, the claret jug was the most rewarding.
Kooch (+5%): Now 39, he might not get a better chance to win a major, but the Smiling Assassin endeared himself to sports fans everywhere with his graceful handling of a crushing runner-up finish.
Branden Grace (+3%): Stats nerds will debate where Grace's round ranks all time in terms of strokes gained against the field, but can we not for a moment just stand up and salute a player who, for the first time, broke the 63 barrier in a men's major?
Cameron McCormick (+3%): Spieth's swing coach had himself an awfully good weekend, as he is also the instructor for Austin Connelly (T-14 at The Open), Noah Goodwin (U.S. Junior champ) and Karl Vilips (Southern Am winner). Oh, and women's world No. 1 So Yeon Ryu is in his stable, too. Studly.
Grayson Murray (+2%): The outspoken PGA Tour rookie got off the playoff hot seat with one of the most unlikely performances of the year at the Barbasol. Now exempt for the next two seasons, it'll be fascinating to see where Grayson goes from here.
Haotong Li (+1%): That Sunday 63 (the 32nd in history) not only gave the 21-year-old solo third at Birkdale, but it booked him trips to Augusta and Carnoustie in 2018.
---
FALLING
Rory (-1%): It looks good on paper – a closing 67 to tie for fourth – but McIlroy spotted the field five shots with an awful start to The Open. At least now there is renewed hope he can end his major drought at Quail Hollow.
Jon Rahm (-2%): The young Spanish star never seemed to recover from another rules controversy. That Lee Westwood – one of Europe's most respected and influential players – didn't back down afterward suggests this incident won't soon be forgotten.
DJ (-3%): His final-round clunker (77) – even more peculiar after a Saturday 64 – dropped Johnson into a tie for 54th and cemented this as his worst three-tournament stretch since 2014. Sadly, he hasn't been the same player since falling down the stairs before the Masters.
Blaming the draw (-4%): There's a built-in excuse at The Open, because the unpredictable weather and one-tee start means there's a good chance that players won't face the same conditions for two days. But the draw turned out to be a non-issue at this year's event – the early-late wave was 0.40 strokes harder – so guys will actually have to look inward this time.
Danny Willett (-5%): Struggling to find his game ever since he slipped into the green jacket, the Englishman said he would consider undergoing surgery if his back woes continue. Oy.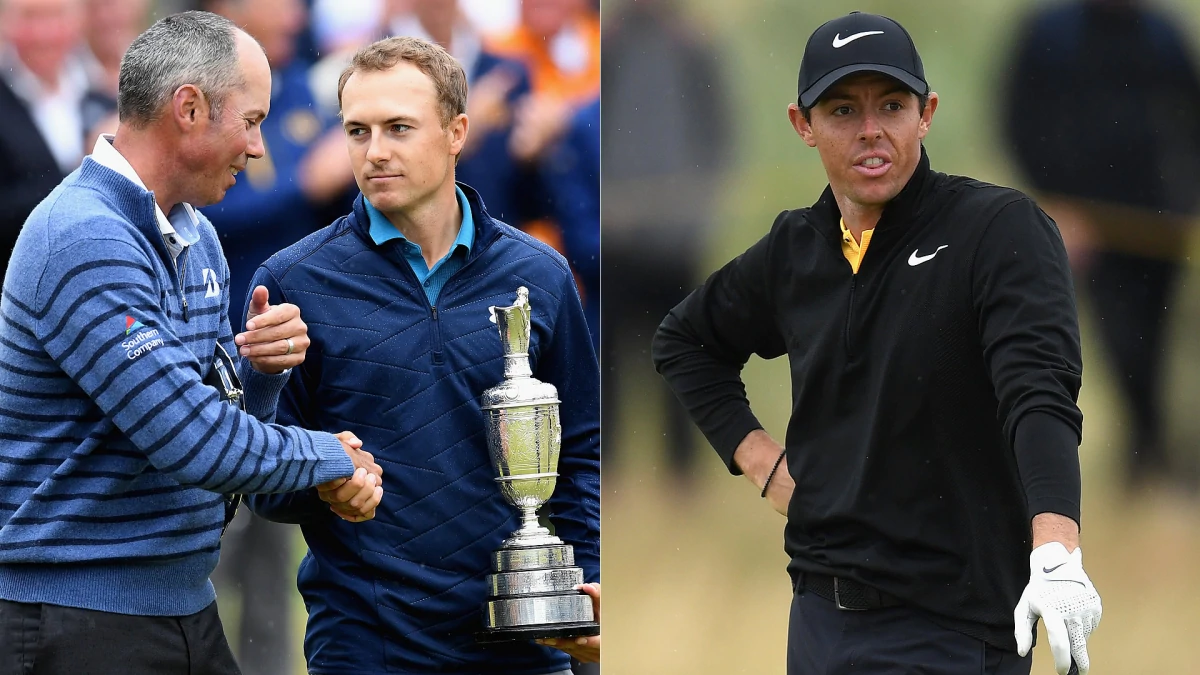 Source: Internet