OLD WESTBURY, N.Y. – What was starting to look like a mundane round for Jordan Spieth at The Northern Trust turned quickly when he rolled in 52 feet of birdie putts on his way to five consecutive birdies starting at the 10th hole.
Although it matched the longest birdie streak of Spieth's PGA Tour career, and moved him into a share of the lead at 6 under, it wasn't the key to his round.
"Going [Nos.] 15 through 18 in [even par] with the positions I was in, was a steal. That was more important than the five birdies," said Spieth, who finished with a 66 for a share of the lead. "I felt like I stole some strokes and got some good breaks coming in."
Fresh off his five consecutive birdies, Spieth allowed himself to go after a "sucker pin" at No. 15 and was lucky to escape with a bogey when his tee shot at the par 3 stopped just short of rolling into a water hazard.
At the next hole Spieth missed his drive in the right rough but rolled in a 41-footer for birdie, the longest putt at the 16th this week. He found a bunker at the par-3 17th but scrambled for par and two-putted for a closing par after hitting into a fairway bunker off the tee.
---
The Northern Trust: Articles, video and photos
FedExCup standings entering the playoffs
---
That grinding finish set the stage for a high-power showdown between Spieth, world No. 1 Dustin Johnson, Jhonattan Vegas and Rickie Fowler, who are all tied at 6 under.
"No surprise those guys are towards the top," Spieth said. "Rickie has been playing awesome. DJ has been trying to get his groove back, but for him it wasn't far off. It just needed to click. He seemed to be kind of using a couple different putters. Found one that's working well for him."
Spieth knows a thing or two about how finicky a putter can be, even a putter as consistent as the 24-year-old's. After a less-than-stellar day on the greens on Thursday when he opened with a 69, Spieth arrived three hours before his tee time on Friday to work on his alignment.
It's been a common drill this summer.
"Alignment for me has been the thing that's been more important. My speed's still been pretty good this year," he said.
Spieth rolled in 147 feet of putts on Day 2, including a 29-footer at No. 2, a 23-footer at the 12th hole and his bomb at the 16th hole, all for birdies.
Although statistically he's been among the Tour's best putters this season, it has been a strangely inconsistent year on the greens for Spieth. Friday at Glen Oaks was more of the same.
"On 9, I had just a standard, as-easy-a-putt as it gets. And I was so tentative to start the round today, left it short," said Spieth, who made the turn at even par for the day. "Finally on 10, one you need to be tentative with, I hit it with perfect speed and it just dived in the center of the hole. Once that lid came off, made one at 11.
"It's just been a bit streaky, and I got on the good side of the streak on the back nine today.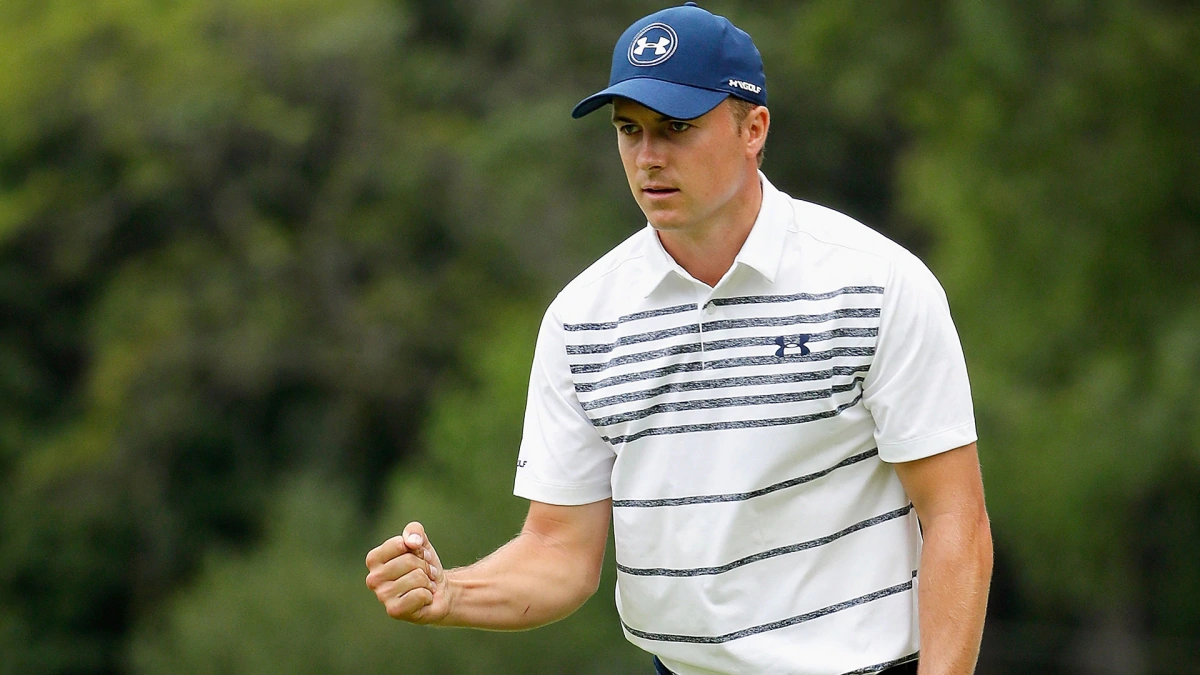 Source: Internet