SOUTHPORT, England – Jordan Spieth sat down with the assembled media, the claret jug sitting next to him, and didn't need to wait for anyone to ask him a question.
"We're going to skip the first 12 holes, right," he quipped.
Well, now that you mention it …
Spieth was already reeling from a poor start to the final round of The Open at Royal Birkdale when he sliced his drive way right off the par-4 13th tee. The ball was found, but it was in such a nasty spot that he opted to take an unplayable lie.
That's where the fun began.
It was not immediately clear where he would be able to take a drop. The practice range was right of the 13th fairway but, again, it took some time to sort out all of Spieth's options.
---
The Open: Full-field scores | Live blog: Day 4 | Full coverage
---
"I just asked the question, is the driving range out of bounds," Spieth said. "And I got the answer, no. I thought, 'Well, then, that's a much better location for me to hit the next shot because I can get it much closer to the green and it saves me almost a full stroke from going back to the tee.'
"The amount of time it took was trying to figure out where exactly the drop would be to where my nearest point of relief from the equipment trailers would be to the right side of the driving range instead of to the left side, where I wouldn't be able to get a lot of club on the ball."
Got that?
The whole ordeal took more than 20 minutes to sort out, while Matt Kuchar was waiting patiently in the fairway.
"I went ahead and played my second shot knowing that it was going to be awhile," Kuchar said. "I wanted to hit it while I was still somewhat fresh and in the mood of swinging a club. I hit a great shot and I knew there would be a big delay.
"We knew we were going to be there for awhile. We made ourselves comfy and told some stories. Certainly it was not anything I was ever going to be upset with. It's very understanding. It's a very difficult situation."
Ultimately, Spieth hit 3-iron short of the green and got up and down for bogey to fall one shot behind Kuchar.
He then played his final holes in 5 under to win by three strokes.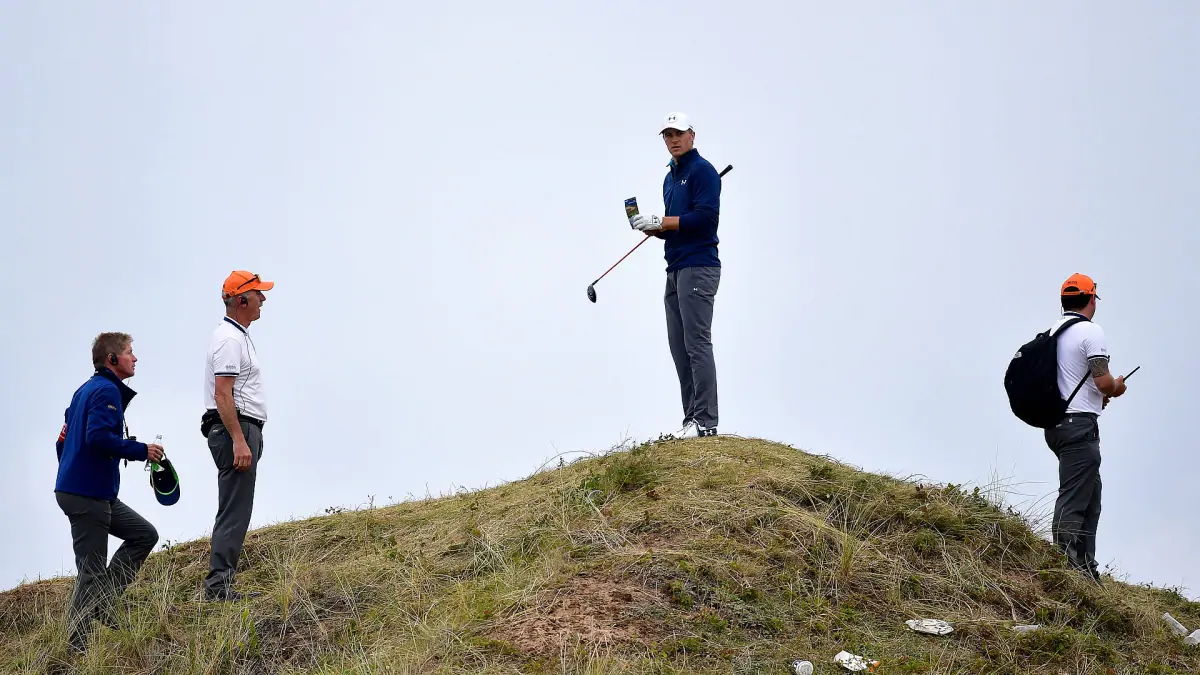 Source: Internet