Updated at 2:51 p.m. ET with weather forecast
SOUTHPORT, England – Jordan Spieth plans to watch the early coverage of The Open before his 2:48 p.m. (local time) tee time Friday.
He might not like what he sees.
Even if there's a slight advantage for the early or late starters, the forecast for the second round at Royal Birkdale is the worst of the week – rain (heavy at times) and wind gusts up to 35 mph.
---
The Open: Full-field scores | Live blog: Day 1 | Full coverage
---
"Everybody is going to have tough conditions," Spieth said. "And if it gets harder and harder, then I know how to adjust off of what we thought the morning wave was doing."
With a one-tee start and expanded TV coverage, The Open allows players a preview of the day ahead – hole locations, the best places to miss, which holes are playing the most difficult, etc. That could prove especially beneficial on Friday, even if it's just going to be a day of survival.
Spieth said mental preparation is key. He learned that last year at Royal Troon, as the second round was some of the worst weather he's ever played in. "It was like a sideways water faucet out there," he said. Playing in the worse side of the draw, he shot 75 and, just like that, had little chance to win. It was still possible to make par in those conditions, of course, but of even more importance was grinding on 10-footers, controlling the ball in the wind and keeping his hands dry.
"I'm expecting something like that tomorrow," he said. "I'm prepared for the worst, having experienced it before."
Added Henrik Stenson, last year's winner: "That combination of rain and wind is not always that pleasant to be out in. So we've got to keep our heads down tomorrow."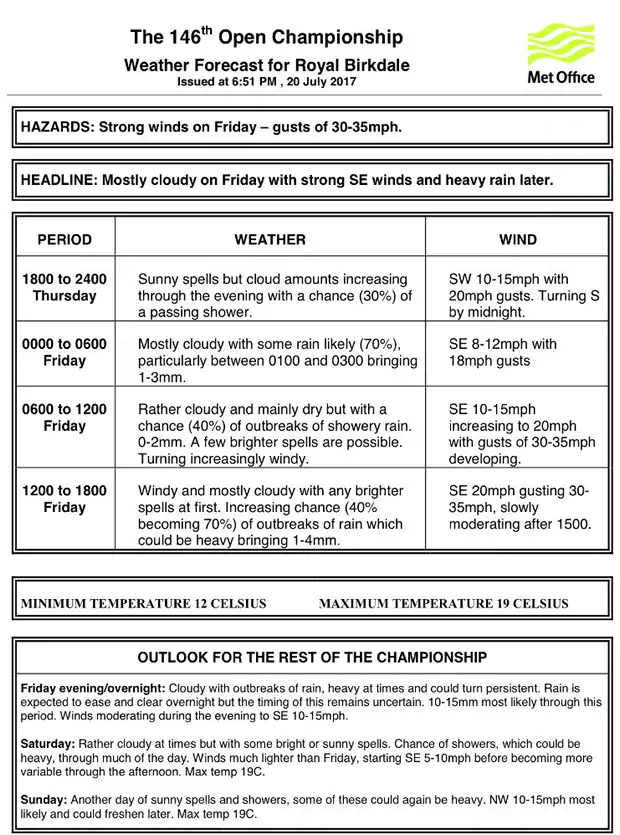 Source: Internet