SAINT-QUENTIN-EN-YVELINES, France – It remains, much to Webb Simpson's dismay, one of the more memorable shots in recent Ryder Cup history.
Simpson had the burden of the first tee shot for the U.S. the last time the Ryder Cup was played in Europe, paired with Bubba Watson in the first morning fourball session at Gleneagles in 2014. With thousands watching, his 3-wood went sky high and, to Simpson's generous estimate, 205 yards.
"Are you referring to the pop-up?" Simpson joked when a journalist asked him to revisit the moment.
It was the start of a regrettable match for Simpson and Watson, who never won a hole and were trounced by Justin Rose and Henrik Stenson, 5 and 4. But time heals all wounds, and given four years to reflect he's now able to crack a smile about a swing where the setting clearly got the best of him.
---
Ryder Cup: Articles, photos and videos
---
"That was a shot I had in my bag all year. It was like the fifth time I had done it," Simpson said. "I was losing my concentration a little bit and I teed it up a little too high. I had done it a few other times that year. Usually it goes straight down, and that one went straight up. At least it hit the fairway."
Simpson was relegated to a spectator for the 2016 matches, although he admitted he didn't miss a shot and that the Patrick Reed-Rory McIlroy singles match drew both he and wife Dowd off the couch in excitement. But thanks in large part to his breakthrough victory at The Players Championship in May, he's set to play on his third squad, in search of his first team win.
While it seems likely he'll reunite with Watson as a partner this week, American captain Jim Furyk could be well-served to slot them somewhere down in his morning lineup to avoid a Gleneagles duplicate.
"We're more nervous here than any other tournament, and it's not the fans. It's a good thing," Simpson said. "Everybody that made both teams can deal with pressure. But yeah, the first tee, that environment is fun and a little more – probably a little more nervous there than the second or third hole. That's why you might see me teeing off on the evens."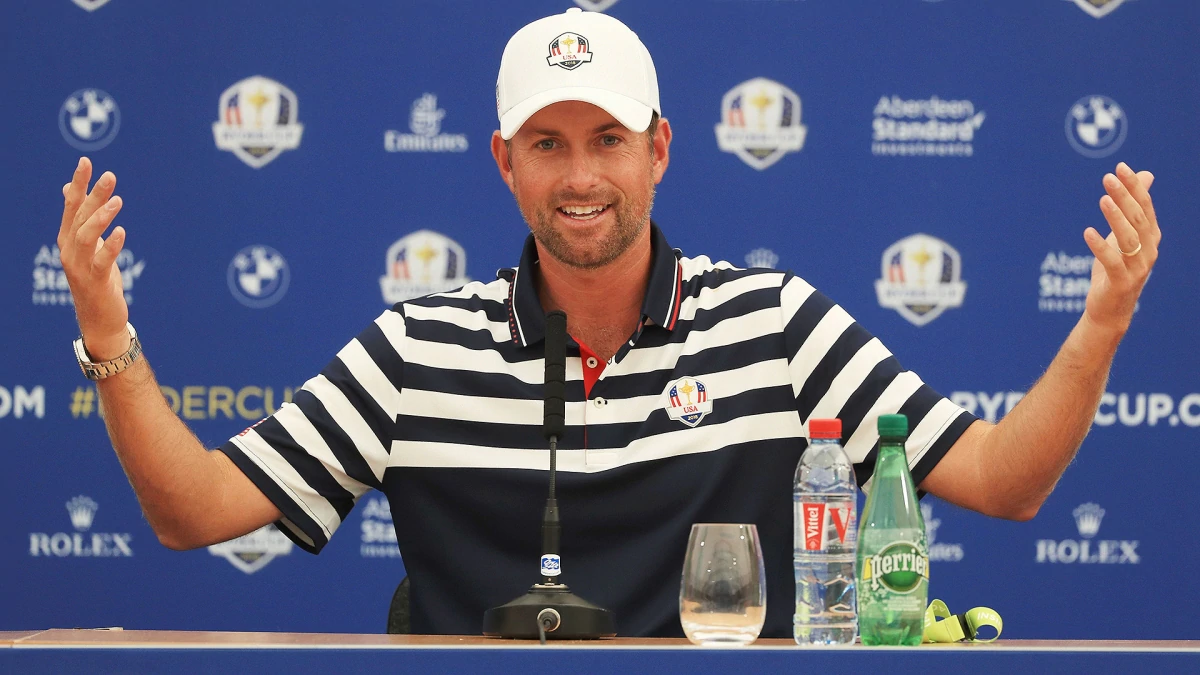 Source: Internet