SAINT-QUENTIN-EN-YVELINES, France – Both Ryder Cup captains clearly used the same philosophy with their respective singles lineups: Start with firecrackers and hope it spreads to the rest of the team.
Of course, since Europe has a 10-6 lead, the missions are completely different. Jim Furyk hopes his American team throws a bunch of red on the leaderboard early so that it can quickly build momentum in its attempt to match an all-time comeback. European captain Thomas Bjorn wants to win as many matches as he can early so the ones near the end don't much matter.
The first match? Rory McIlroy vs. Justin Thomas.
"We want to get out to a fast start tomorrow," Furyk said late Saturday at Le Golf National. "That's key. It's imperative. Everyone knows it. Any time a team's come back – now twice in this event from 4 points ­– it's been a fast start and a solid middle-to-late part of the lineup.
---
Match scoring from the 42nd Ryder Cup
Ryder Cup: Articles, photos and videos
---
"I don't know if there is any one match more important than the other. You've got 12 of them out there, and we have to win 8 points tomorrow to take the cup back home."
Eight points would allow the U.S. to retain the cup, with 8.5 to win it outright. Europe needs to win 4.5 points to win back the cup.
A few other matches of note include Jon Rahm vs. Tiger Woods (Match 4); undefeated Tommy Fleetwood vs. Tony Finau (Match 5); Ian Poulter vs. Dustin Johnson (Match 6); Thorbjorn Olesen vs. Jordan Spieth (Match 7); Sergio Garcia vs. Rickie Fowler (Match 8); and undefeated Francesco Molinari vs. Phil Mickelson (Match 9). Alex Noren and Bryson DeChambeau will face off in the final match.
"I went with this group of guys in this order because I think it covers all the way through the order," Bjorn said. "I'm happy with the way it looks. Listen, if you look at the right side of this, you know, that American lineup was always going to be extremely strong, and it doesn't matter. We need to win our points."
Here's a look at the Sunday singles lineup (all times ET):
Match 1: 6:05 a.m.: Justin Thomas (U.S.) vs. Rory McIlroy (EUR)
Match 2: 6:17 a.m.: Brooks Koepka (U.S.) vs. Paul Casey (EUR)
Match 3: 6:29 a.m.: Webb Simpson (U.S.) vs. Justin Rose (EUR)
Match 4: 6:41 a.m.: Tiger Woods (U.S.) vs. Jon Rahm (EUR)
Match 5: 6:53 a.m.: Tony Finau (U.S.) vs. Tommy Fleetwood (EUR)
Match 6: 7:05 a.m.: Dustin Johnson (U.S.) vs. Ian Poulter (EUR)
Match 7: 7:17 a.m.: Jordan Spieth (U.S.) vs. Thorbjorn Olesen (EUR)
Match 8: 7:29 a.m.: Rickie Fowler (U.S.) vs. Sergio Garcia (EUR)
Match 9: 7:41 a.m.: Phil Mickelson (U.S.) vs. Francesco Molinari (EUR)
Match 10: 7:53 a.m.: Patrick Reed (U.S.) vs. Tyrrell Hatton (EUR)
Match 11: 8:05 a.m.: Bubba Watson (U.S.) vs. Henrik Stenson (EUR)
Match 12: 8:17 a.m.: Byrson DeChambeau (U.S.) vs. Alex Noren (EUR)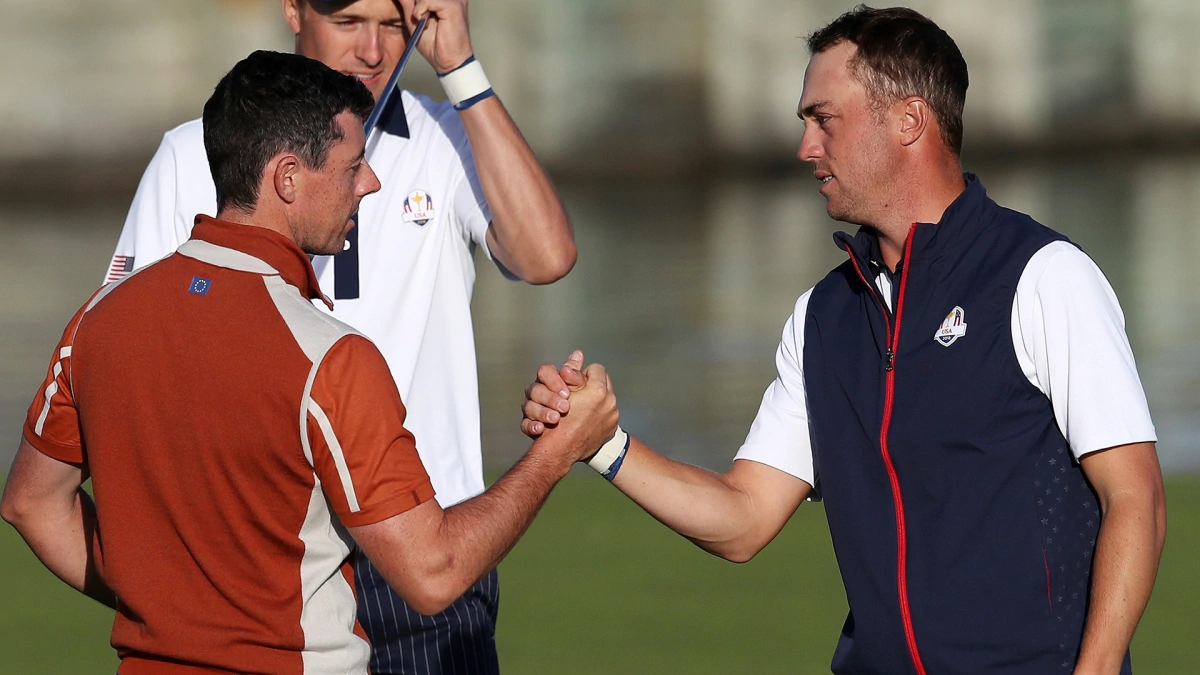 Source: Internet