Team USA
International Team
Jason Day (1-3-1)

Grade


D–

Skinny: The all-Aussie pairing with Marc Leishman seemed promising, but it didn't deliver results beyond an opening draw. Day appeared out of sorts for much of the week and is now 1-7-2 in the last two Presidents Cups.
---
Branden Grace (1-2-2)

Grade


C–


Skinny: Grace teamed with Louis Oosthuizen for a rare team point, and he was able to keep pace with Dustin Johnson in singles. While the International highlights were few and far between, Grace largely held his own.
---
Emiliano Grillo (0-3-0)

Grade


F


Skinny: Grillo was a rookie and a captain's pick, but he was also the only player on either team who failed to secure at least a half-point. What's more, two of Grillo's three losses failed to reach the 15th tee.
---
Adam Hadwin (0-2-1)

Grade


D


Skinny: Hadwin earned a half-point in his debut match against Spieth and Reed, but he didn't particularly stand out after that. It was an underwhelming week for the Canadian despite modest expectations.
---
Si Woo Kim (1-2-0)

Grade


D+


Skinny: The Players champ exhibited some uncharacteristic emotion, and he and Anirban Lahiri were the only reason the Americans didn't clinch the cup on Saturday. But he still eventually had the winning point scored on him by Berger.
---
Anirban Lahiri (1-1-1)

Grade


C–


Skinny: Lahiri did little to justify his inclusion as a pick during his opening loss, but he showed plenty of fire during his win with Kim and battled Kisner to a draw on Sunday. In so doing, he exorcised many of the demons from his 2015 performance in Korea.
---
Marc Leishman (0-3-2)

Grade




D

Skinny: Leishman was one of the few Internationals who came into the week with some form, but he still failed to register a full point. While those losses came against some of the strongest American duos, it was a rough week amid a career year.
---
Hideki Matsuyama (1-2-1)

Grade


D–


Skinny: When the top-ranked player on the team asks the captain to sit out a session, it's never a good sign. Such was the case with Matsuyama, whose sizzling singles win over Justin Thomas was the only thing keeping him from an F.
---
Louis Oosthuizen (2-2-1)

Grade


C+


Skinny: In the land of the blind, the one-eyed man is king. This week Oosthuizen wore the crown as the lone International to win multiple matches, including a takedown of Reed in singles play
---
Charl Schwartzel (1-2-0)

Grade


D


Skinny: Schwartzel played in the minimum number of matches, and he failed to adjust to Matsuyama's high-spin ball during a critical foursomes match. Other than that, the former Masters champ went largely unnoticed.
---
Adam Scott (1-3-0)

Grade


D–


Skinny: As the ranking member of the International squad, Scott failed to deliver. The Aussie paired with rookie Jhonattan Vegas, but while the Mickelson-Kisner combo flourished for the Americans, the Internationals came up empty
---
Jhonattan Vegas (1-3-0)

Grade


D+


Skinny: Vegas flashed some form during his early matches, but that shot-making didn't translate into any points. He deserves some credit for getting on the board by toppling Spieth in singles, a win that allowed him to wave the Venezuelan flag on the final green.
---
Nick Price, Captain

Grade


D–


Skinny: Price came into this armed with momentum from South Korea, and it turned into a disaster of epic proportion. His team was out-manned from the start, and nothing he tried seemed to slow the American momentum. Disappointing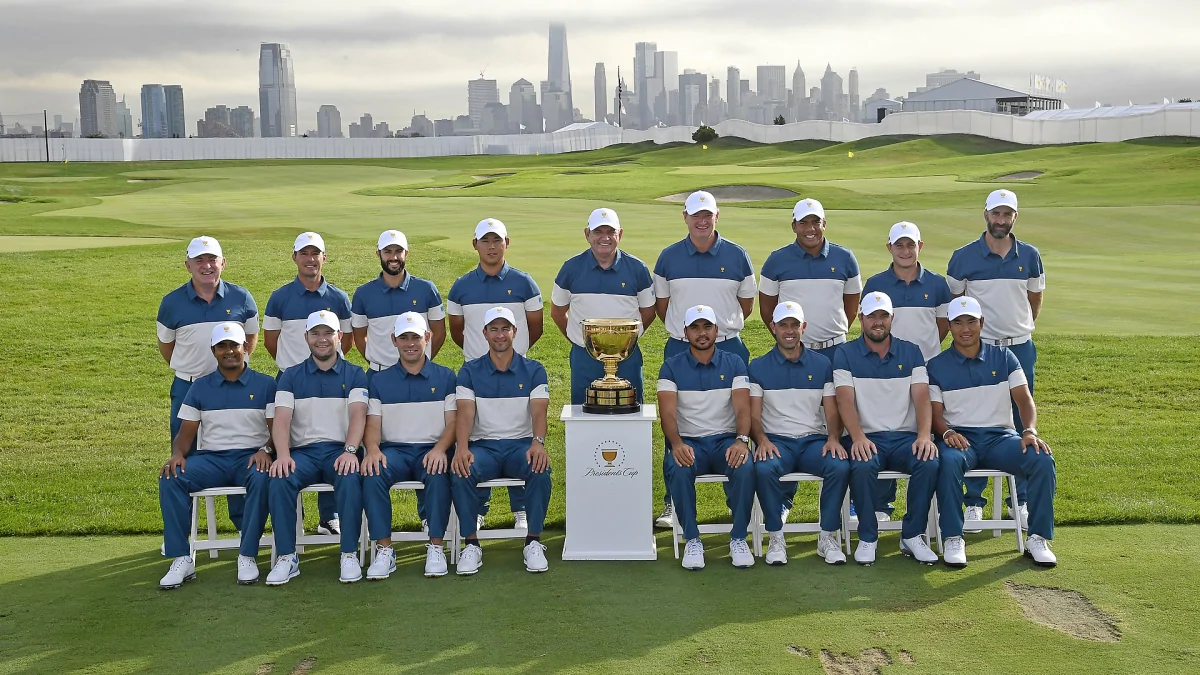 Source: Internet