Day 3
Sunday singles: U.S. 6, Europe 6
Overall: U.S. 16 ½, Europe 11 ½
MATCH 17: Lexi Thompson (U.S.) vs. Anna Nordqvist (Europe), halved: Difficult to find words to describe this match. Thompson was 4 down after four holes (and 4 down after nine) then went 8 under in a 7-hole stretch (Nos. 10-16) to take a 1-up lead. Nordqvist hit it stiff on 18 to win the hole and halve the match.
MATCH 18: Paula Creamer (U.S.) def. Georgia Hall (Europe), 1 up: Overshadowed because of what went on up ahead but this was another well-played match. Only thing that marred it was the way it ended with a Hall miss from 4 feet that would've halved the match.
MATCH 19: Cristie Kerr (U.S.) def. Mel Reid (Europe), 2 and 1: Kerr led the entire way but never had more than a 2-up advantage. Ultimately, her putter was just too much for Reid, just as it was for everyone in Kerr's way all week. She ended with 3-0-1 record.
MATCH 20: Catriona Matthew (Europe) def. Stacy Lewis (U.S.), 1 up: Another incredible match that, unfortunately, will get lost in the shuffle. Matthew was 3 down after 11 and just calmly plodded her way back for the victory. The Suzann Pettersen replacement compiled a remarkable 3-1 record.
MATCH 21: Angel Yin (U.S.) vs. Karine Icher (Europe), halved: This half-point essentially guaranteed that the U.S. would retain the Solheim Cup. Although it was only the 13 ½ point, Salas was 2 up with two holes remaining two matches behind, which would ultimately push the Americans over the edge.
MATCH 22: Caroline Masson (Europe) def. Michelle Wie (U.S.), 4 and 2: Wie was out of sorts from the beginning and Masson took advantage and built a fairly easy 4-up lead after 10 holes. Wie didn't make enough birdies and Masson cruised.
MATCH 23: Lizette Salas (U.S.) def. Jodi Ewart Shadoff (Europe), 1 up: This victory gave the Americans the Solheim Cup outright and this was another close match from beginning to end. Once Salas was 2 up with two remaining there was no way the U.S. could lose the cup.
MATCH 24: Charley Hull (Europe) def. Brittany Lang (U.S.), 1 up: Hull never trailed although she was never more than 2 up at any point. She battled a wrist injury that had her sit all day Saturday and came to play Sunday against Lang, who did not produce her best stuff.
MATCH 25: Carlota Ciganda (Europe) def. Brittany Lincicome (U.S.), 4 and 3: Sorenstam pointed out that Ciganda didn't perform her best the first two days, but she finally did in singles, although it was too late. More than a little surprising that Lincicome didn't make more birdies.
MATCH 26: Gerina Piller (U.S.) def. Florentyna Parker (Europe), 4 and 2: Piller saved the Solheim Cup for the Americans two years ago in Germany and she brought her best against an overwhelmed Parker in singles. Piller is now 2-0-1 in Solheim singles matches.
MATCH 27: Madelene Sagstrom (Europe) def. Austin Ernst (U.S.), 3 and 2: The rookie Sagstrom put her first point on the board and it came against Ernst, her former LSU teammate. Once Sagstrom got to 3 up after six holes she was in control the rest of the way.
MATCH 28: Danielle Kang (U.S.) def. Emily Pedersen (Europe), 3 and 1: Kang was an absolute rock star for the Americans all week and it's easy to envision the 24-year-old being on many Solheim Cup teams in the future. The match put a stamp on a 16 ½ to 11 ½ U.S. victory.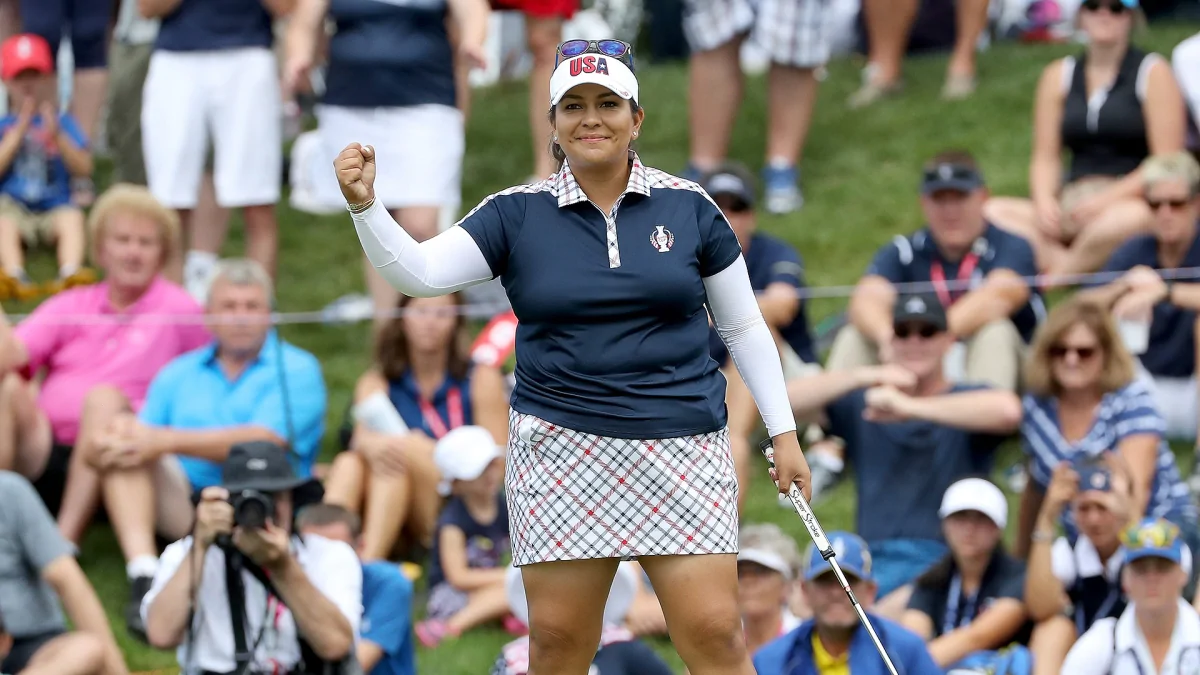 Source: Internet