After Black Friday's refunds were issued for The Match, Thanksgiving leftovers tasted much better.
Tiger Woods and Phil Mickelson didn't deliver the gravy we expected to top a year in which we watched both win PGA Tour events.
Charles Barkley spoon fed us the unappetizing truth.
"This has been some awful golf," Barkley said during the pay-per-view telecast.
Gratefully, there is something still to look forward to in golf this holiday season.
The Hero World Challenge.
It gives Woods the chance to put a prettier bow on his terrific comeback year, with his unofficial event in the Bahamas this week. He deserves a better ending than the Ryder Cup and The Match gave him.
Woods' tank was clearly on empty in Paris, going winless (0-4) in the American loss.
Emotionally, he looked gassed trying to follow up his electrifying victory at the Tour Championship, where he reignited so much promise over what he still has to offer.
---
---
In The Match, he was a guinea pig.
Woods and Mickelson were the subjects of an experiment, with the competition exciting only in what it appeared to offer the future of gambling.
You could almost hear slot machines dinging between shots.
The outcome, the entertainment value and the shot making in last week's match won't be remembered as much as the new frontier Woods and Mickelson helped open.
You won't remember how much Mickelson or Woods won next time they do that.
You'll remember how much you won (or lost).
Afterward, Mickelson said he was curious how drone shots and strategic mics worked, because "it's all about creating a better viewing experience as we continue down this road with sports."
Actually, the production felt like it was all about creating a better gambling experience.
With New Jersey winning a landmark ruling from the Supreme Court earlier this year, the door is open for every state to legalize sports gambling.
The PGA Tour limited Woods and Mickelson to four side bets during their match, but the shackles are coming off what you can win watching golf. The promise of prop bets is coming to a sportsbook near you sometime soon.
If you aren't a gambler, you don't have to wait to up the ante in your emotional investment in the game, whether you're rooting for or against Woods. The Hero World Challenge may be an unofficial event, but it offers the possibility of building on last year's best storyline.
If we're lucky, "The Matches" are coming, a series of unscripted PGA Tour showdowns between Woods and the young guard. That's what these young stars want. That's what Woods wants. And that's what he looked poised to give them with his remarkable rejuvenation, finishing T-6 or better in five of his last eight PGA Tour starts.
The best prop bets next year are going to involve Woods vs. Brooks Koepka, Dustin Johnson, Rory McIlroy, Justin Thomas, Jordan Spieth, Justin Rose, Jason Day, Patrick Reed, Rickie Fowler, Hideki Matsuyama, Jon Rahm and Bryson DeChambeau.
Forget that experiment at Shadow Creek in Las Vegas, the Hero World Challenge's limited field gives us a chance to see some of those prop bets unfold this week. Johnson, Thomas, Rose, Day, Reed, Fowler, Matsuyama and DeChambeau are in the field.
Woods shouldn't have worn his "blood red" and black ensemble for The Match last week.
He shouldn't have agreed to be mic'd up for it, either.
Or to do that silly photo opp faceoff with Phil Mickelson.
It's one thing for Woods to let down his guard on his public image, to share more of himself in interviews, but it's something different to let down his guard in competition.
The young 'uns are watching.
The man's mystique still matters.
Woods is rebuilding it between the ropes, with the fist pumps and Sunday runs into contention, and with the spirited legion of fandom marching noisily behind him. We may not see the huge galleries in the Bahamas, but we could see the continuing reconstruction of Tigermania, with another promising performance.
Hopefully, Barkley will see something more appetizing in the Bahamas this week.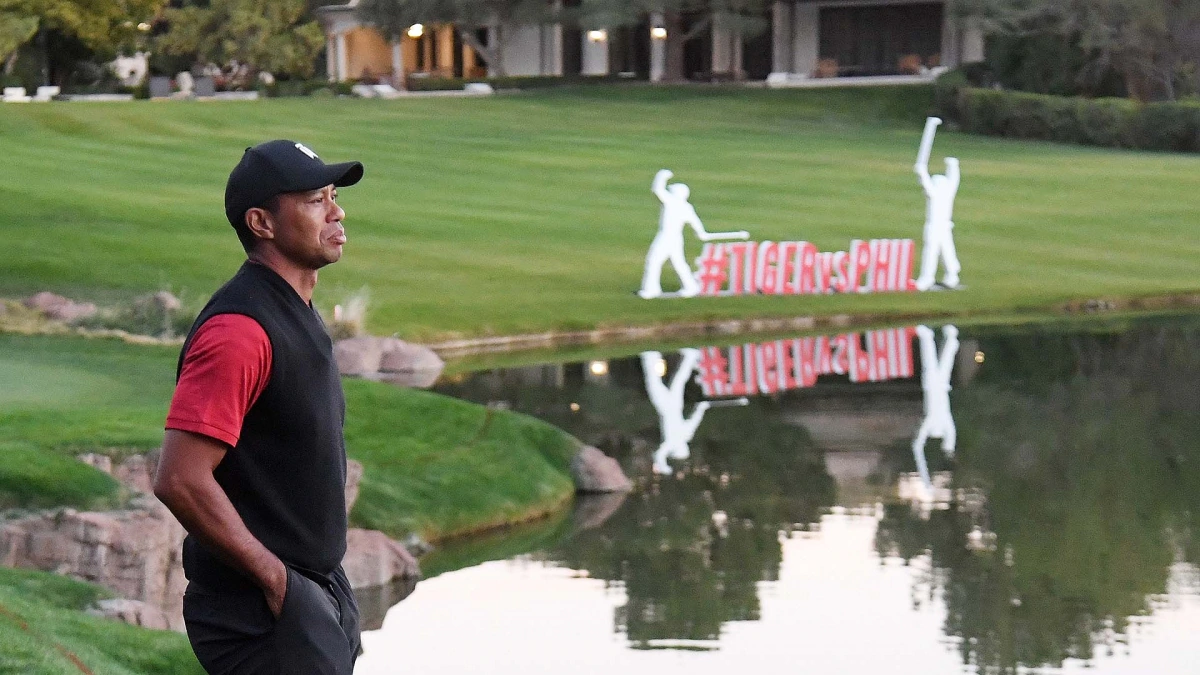 Source: Internet