SAINT-QUENTIN-EN-YVELINES, France – We're on the eve of the 42nd Ryder Cup, where the U.S. is looking to keep the cup and also win on foreign soil for the first time in 25 years. With that, our team at Le Golf National weighs in with answers to three key questions.
WHO WILL BE THE MAN OF THE MATCH?
REX HOGGARD: PHIL MICKELSON. The most eventful and, at times, most challenging year of Mickelson's career will end with the ultimate exclamation point in what will likely be the southpaw's last overseas Ryder Cup as a player. Although his play in recent weeks is best described as pedestrian, a campaign that concluded with a last-place finish at the Tour Championship, there's something about the matches that has brought out the best in Mickelson in recent years.
RYAN LAVNER: RORY MCILROY. Ticked off after being blown away Sunday at East Lake, motivated to snuff out this American resurgence, McIlroy is in form and ready to have a big week in Paris. Sure to go all five matches, he is the best bet to earn the most points for the Europeans. 
WILL GRAY: JON RAHM. Seve turned this event on its head four decades ago, and Sergio made a big splash in his debut at Brookline. Now it's Rahm's turn to show that the fire that sometimes derails him in stroke play will be his strongest asset in a team environment – especially if a pairing with Rory McIlroy comes to fruition.
JAY COFFIN: TIGER WOODS. It's not remotely a stretch to think that the same man who set the golf world ablaze last week at East Lake will do it again this week outside Paris. He's healthy, he's happy, he will have a new partner to rejuvenate him and he's playing as well as he has in a long, long time. Tiger is relishing everything about this week and it'll end with being his team's most important player.
---
---
WHO WILL BE A SURPRISE STAR?
HOGGARD: TOMMY FLEETWOOD. It's as much a part of the Ryder Cup as zealous fans and awkward foursomes moments, a European rookie defies conventional wisdom and emerges as a bona fide world beater. This year that fresh-faced super star will be Fleetwood, who has performed in plenty of high-profile moments this year including his runner-up finish at the U.S. Open.
LAVNER: SERGIO GARCIA. Don't look now, but the most-scrutinized captain's pick on either side has found a bit of form. Six of his past eight rounds have been in the 60s, and he's a combined 27 under par across his last two starts. Garcia gets up for the Ryder Cup more than any other event, and he'll bring a lot more to these matches than some team-room levity.
GRAY: ALEX NOREN. The Swede boasts the perfect game and demeanor for alternate shot, and he won here just three months ago. American fans might not be well-acquainted with his steely Scandinavian stare, but they'll be plenty familiar by the end of the week.
COFFIN: ALEX NOREN. The man won the French Open here in July and Le Golf National obviously fits his eye. Also, every time the Ryder Cup is played an unlikely European drops 20-footers for birdie all over the Americans with the greatest of ease. The focus will be on McIlroy, Rose, Poulter and Rahm, but Noren will be just as dangerous
---
---
WHO WILL WIN?
HOGGARD: UNITED STATES. It won't be easy – think last match, last hole on Sunday – but the U.S. team ends more than two decades of frustration and wins its first Ryder Cup in Europe since 1993. The Europeans will keep it close through the team sessions, but there will simply be too many holes in the Continent's lineup to survive Sunday singles.
LAVNER: EUROPE. Can't blame the task force for this: In a battle of strength vs. strength, the Europeans will rely on their bevy of unexciting, fairways-and-greens strikers (Alex Noren, Francesco Molinari, Justin Rose, Henrik Stenson, etc.) and benefit from playing at home to reclaim the cup in a narrow victory. 
GRAY: EUROPE. And I'll give you a score, 15-13. It'll be close, and both sides will have their moments. But the U.S. has brought strong squads on this side of the Atlantic before and come up short, and this will be no different against a Euro team that has both depth and local knowledge. The road drought continues.
COFFIN: UNITED STATES. Too much firepower. When there is a team that has Jordan Spieth and Bubba Watson as its weakest links, take that team to win every time. The 25-year drought will end for the red, white and blue in fine fashion. The matches will be close, but I just don't see a way where Europe can hang on late on Sunday. The Americans will win by 2 points, 15-13.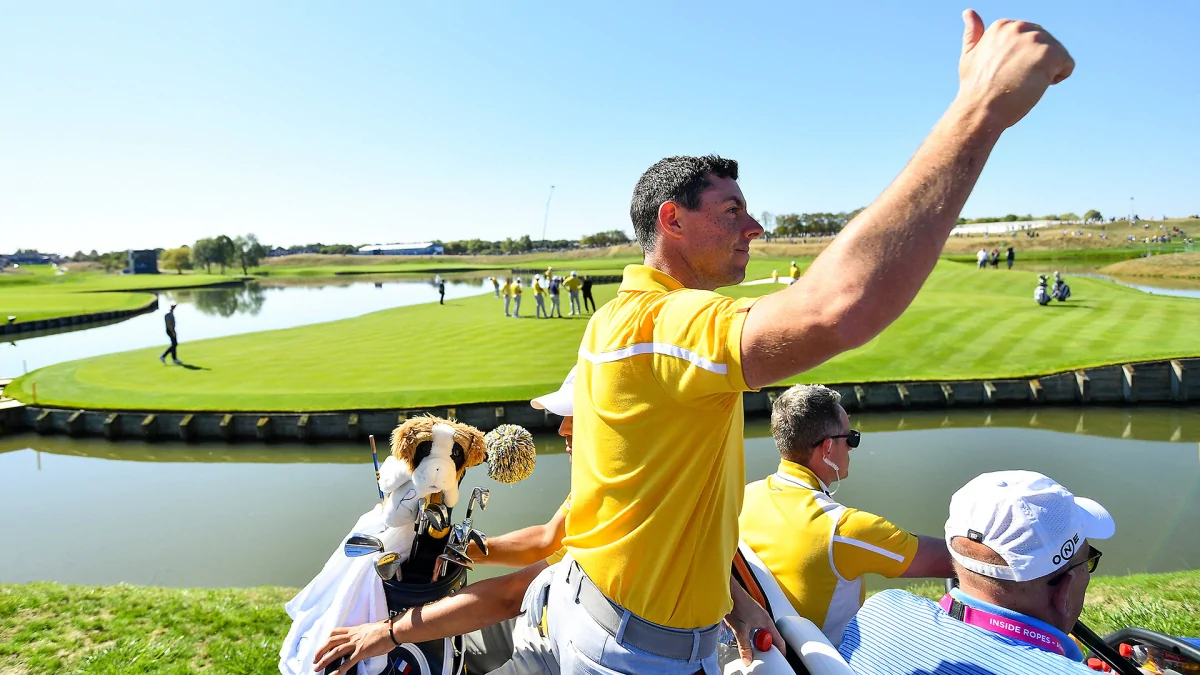 Source: Internet