With the season's final major ready to get underway, GolfChannel.com writers, using real-time messaging system Slack, offer up their thoughts to four big questions:
Moderator: The 99th PGA Championship is this week at Quail Hollow Club. Let's get right to it: Who's your winner and why?
Rex Hoggard: Have asked a dozen players this week what the key to playing Quail Hollow will be and have gotten a dozen different answers. The only common theme is length and the ability to putt on fast, Bermuda grass greens, so I'm going with Brooks Koepka.
Ryan Lavner: Quail Hollow has produced recent winners like Derek Ernst and James Hahn, but no player is more synonymous with this track than Rory McIlroy. He is obliterating his driver and trending in the right direction. If he can shore up his wedge game – it can't get much worse – he should win. By a lot.
Will Gray: Lavner stole much of my thunder, as I'm also siding with McIlroy. The glint in his eye is undeniable, and the advantage he enjoyed off the tee in Akron should be even more significant this week on a wet track he adores. He's had this one circled for a while, and a Kiawah repeat wouldn't surprise me.
Nick Menta: Rain has made Quail Hollow soft, and more is on the way, meaning distance off the tee is going to come in handy with so little roll. Justin Thomas has already fired a 59 this year on the PGA Tour and a 63 at the U.S. Open. Give him his first major.
---
Moderator: Let's go a bit down the world rankings, outside the top 25: Who is your dark horse pick who could win this week?
Rex Hoggard: Always a bit of a debate over what we all consider a "dark horse," but I'll go with Branden Grace. He always plays well at the biggest events and it was just last month that he made major championship history at Royal Birkdale by becoming the first player to shoot 62 in a major.
Ryan Lavner: I'll take Tony Finau as my sleeper, for what feels like the third consecutive major. (Someone look that up.) The winner this week will be among the driving distance leaders, and few can send it like Finau. Three top-7s in his last five starts, too, so he's coming in hot.
Will Gray: Guy that shot 62 last month? Real bold, Hoggard. Xander Schauffele was a surprise at Erin Hills, but he shouldn't be that much of a shocker this time around. The rookie has exceeded expectations since bursting onto the scene with a T-5 finish at the U.S. Open, including a win at Greenbrier and a T-13 finish last week at Firestone. The good form will continue.
Nick Menta: And Will just stole my pick as I also like young Mr. Schauffele. As with Thomas, his prodigious length should give him a leg up. That and he's got a Max Power kind of name.
---
PGA Championship: Tee times | Full coverage
---
Moderator: Not everyone will leave Charlotte happy. Give us one name, in particular, who will disappoint this week.
Rex Hoggard: Dustin Johnson. The world No. 1 hasn't been the same since taking a tumble at Augusta National, missing the cut at the Memorial and U.S. Open and posting a pedestrian T-54 at Royal Birkdale. On paper, DJ is an easy pick, but for the fourth consecutive major he'll be a non-story.
Ryan Lavner: It's wildly unfair, of course, but wouldn't anything but a victory this week feel somewhat disappointing for Jordan Spieth? I just don't see it happening. He's ranked 100th in strokes gained-off the tee, and 130th in driving accuracy, so unless he starts hitting the big stick on a rope he's going to be hacking out of the thick, juicy rough all week. Perhaps that's why he doesn't feel stressed – he's not expecting to win.
Will Gray: I'm not sure what exactly has derailed Jason Day's season, but I don't think he'll find the solution this week. Day has gone 1-2 in the PGA the last two years but has now dropped to seventh in the world and seemingly out of relevance when discussing the game's biggest names. The playoff loss at the Nelson didn't prove to be a spark, and 2017 is shaping up as a year to forget for the Aussie.
Nick Menta: Hideki Matsuyama has been known to get hot, but it seems like a big ask to follow a tournament-winning 61 with his first major victory. Hideki will get his – probably sooner rather than later – but his balky putter may struggle on Quail's quick, grainy, Bermuda greens.
---
Moderator: And one final question: What's the story line everyone will be talking about on Monday?
Rex Hoggard: Although my head went with Koepka to win this week, my heart says it's Rory McIlroy's week to get back on the major board. The Monday story will be: Who will win the PGA Tour Player of the Year award – Spieth, Johnson, McIlroy, a TBD champion at East Lake?
Ryan Lavner: Golf is longing for a rivalry, and if the Boy Wonder wins, we'll finally have one: Spieth vs. Rory, a pair of telegenic 20-somethings who have ambition, swagger and loads of talent. Here's hoping, anyway.
Will Gray: Quail Hollow's questionable standing as a top-tier venue. The spotlight will return here for the Presidents Cup in four years, but reviews of the recent overhaul have been mixed at best and soggy conditions will prevent the course from playing as firm and fast as officials had hoped. I don't think players will be in a rush to see a major return to Charlotte.
Nick Menta: We'll wind up with another first-time, 20-something major winner and we'll continue to be in awe of the post-Tiger era. We'll also expand golf's top tier to the Big Ten, but we'll have an 11 in the logo and 14 guys.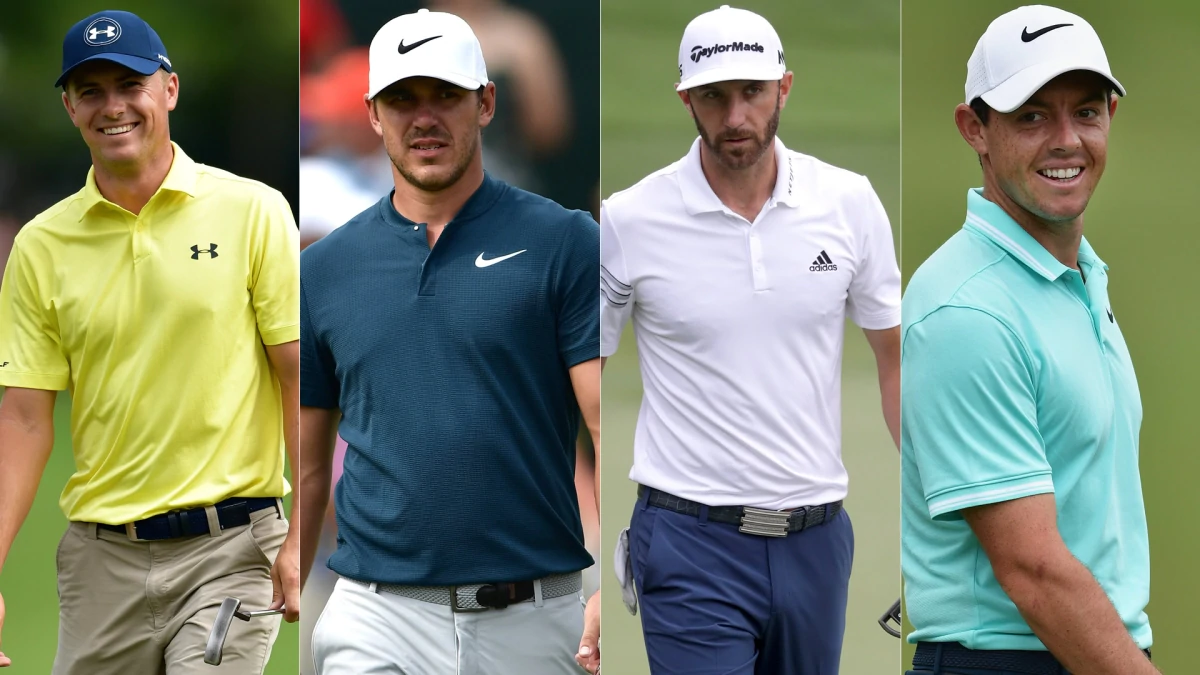 Source: Internet