WEST DES MOINES, Iowa – Plain and simple, Annika Sorenstam frontloaded her Sunday singles lineup and went straight down the list of who she feels is playing the best on her team.
"I think if you look at the names you can understand our strategy," Sorenstam said. "We need a ton of points, so we're loading it literally with who is playing the best. And because this is all we've got."
Sorenstam is sending out Anna Nordqvist first, who has mononucleosis but still has collected a 3-0 record for Europe. She will face Lexi Thompson.
Rookie Georgia Hall, the only player from either side who will play in all five matches, will go out second against Paula Creamer, who is 2-1 this week while paired with Austin Ernst.
U.S. captain Juli Inkster feels like she could've put her lineup out in any order and it would perform, especially needing only 4 points to win the Solheim Cup outright. But she opted to go with four steady veterans – Thompson, Creamer, Cristie Kerr and Stacy Lewis – before sprinkling in rookie Angel Yin.
"I like my lineup," Inkster said late Saturday. "In fact, I love my lineup."
---
10:31AM ET: Anna Nordqvist (Europe) vs. Lexi Thompson (U.S.)
10:42AM ET: Georgia Hall (Europe) vs. Paula Creamer (U.S.)
10:53AM ET: Mel Reid (Europe) vs. Cristie Kerr (U.S.)
11:04AM ET: Catriona Matthew (Europe) vs. Stacy Lewis (U.S.)
11:15AM ET: Karine Icher (Europe) vs. Angel Yin (U.S.)
11:26AM ET: Carolina Masson (Europe) vs. Michelle Wie (U.S.)
11:37AM ET: Jodi Ewart Shadoff (Europe) vs. Lizette Salas (U.S.)
11:48AM ET: Charley Hull (Europe) vs. Brittany Lang (U.S.)
11:59AM ET: Carlota Ciganda (Europe) vs. Brittany Lincicome (U.S.)
12:10PM ET: Florentyna Parker (Europe) vs. Gerina Piller (U.S.)
12:21PM ET: Madelene Sagstrom (Europe) vs. Austin Ernst (U.S.)
12:32PM ET: Emily Pedersen (Europe) vs. Danielle Kang (U.S.)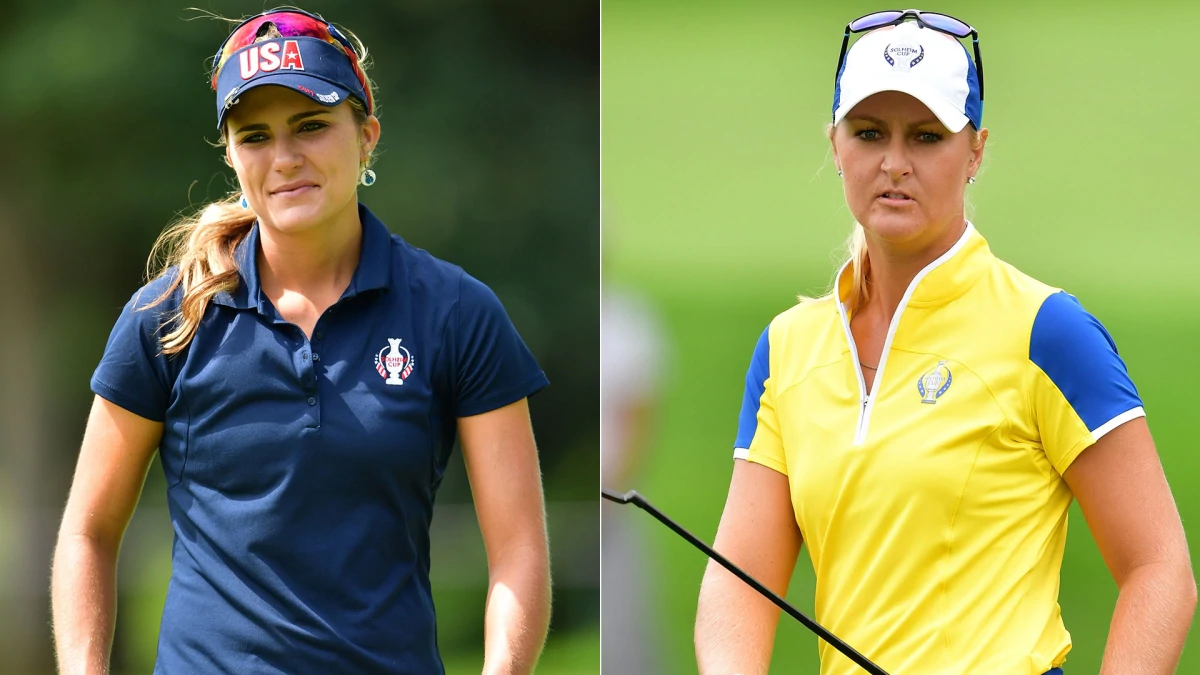 Source: Internet