AUGUSTA, Ga. – Jack Nicklaus and Gary Player were introduced on the first tee as having won a combined 10 green jackets.
They actually won nine – Nicklaus with six, Player with three – and that prompted a chuckle from Nicklaus, especially after Player edged him with their ceremonial tee shots at Augusta National.
"You could tell what that tee shot meant to him," Nicklaus said. "They gave him another one."
The Masters got underway Thursday morning amid bright sunshine and brisk, 45-degree temperatures. Striding toward the first tee, Nicklaus brought his wife, Barbara, out of the crowd, and Player, after spotting a Japanese journalist, exclaimed "Konnichiwa!" as the patrons offered a hearty applause.
---
Watch the complete 2018 Honorary Starters ceremony. #themasters pic.twitter.com/SpY5NNCY7y

— Masters Tournament (@TheMasters) April 5, 2018
Masters Tournament: Scores | Live blog | Full coverage
Photo gallery: Jack and Gary's ceremonial tee shots
---
Serving as the honorary starter for the first time at the Masters, chairman Fred Ridley introduced, at 8:14 a.m. ET, "men whose legacies will live forever throughout the history of Augusta National Golf Club." 
Player, 82, was up first, piping his drive down the left side of the fairway. After a practice swing, Nicklaus, 78, groaned and said, "That hurts. I guess that's why we're teeing off at this time, right?"
Settling over the ball, Nicklaus gave his ball some final instructions: "OK, ball, get out there a long way."
But his drive stopped short of Player's ball. Nicklaus pointed toward him and laughed, then embraced his longtime friend. "I told Jack: 'Don't worry about me outdriving you now,'" Player said. "'You outdrove me for 50 damn years!'"
Nicklaus still holds the ultimate trump card, of course – his green jacket total.
Turning toward the new chairman, Player said with a smile: "Make it 11 next year!"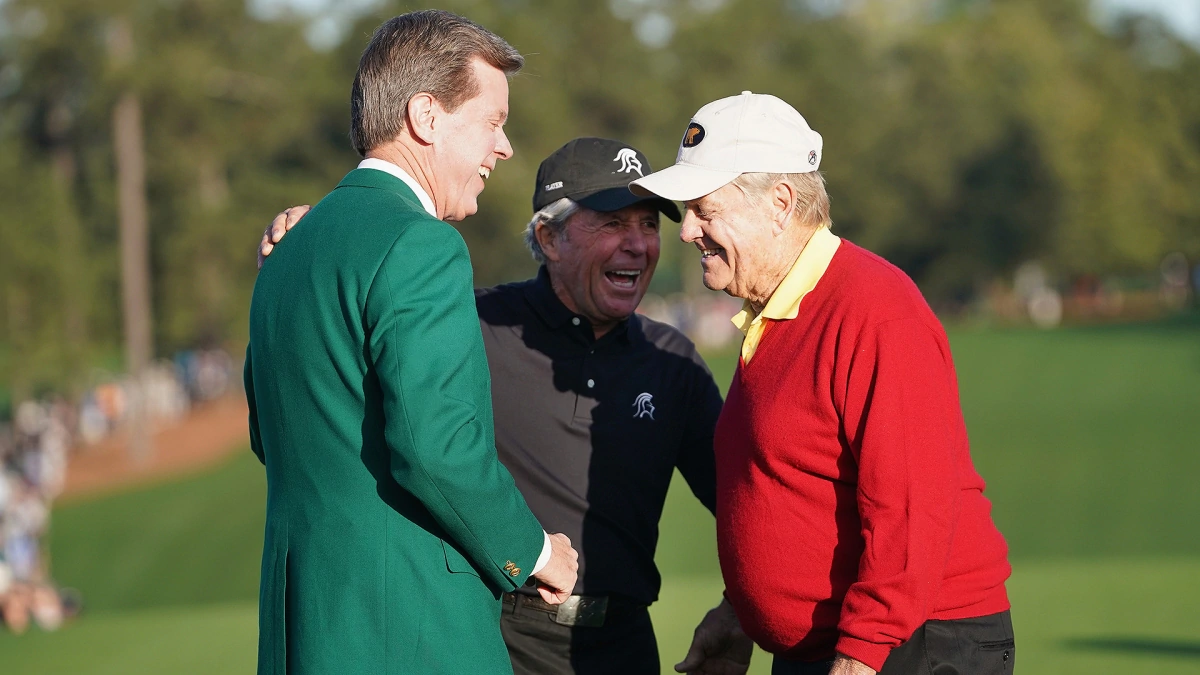 Source: Internet