The Sister Act is playing across the LPGA stage in Singapore.
Nelly Korda set herself up for a Sunday run at winning the HSBC Women's World Championship just a week after her older sister, Jessica, won the Honda LPGA Thailand.
Korda, 19, caught fire Saturday to overtake Danielle Kang as the leader on Sentosa Golf Club's Tanjong Course. With a 7-under-par 65, Korda moved to 15 under overall, a shot better than Kang (70).
Brooke Henderson (65) and Minjee Lee (68) are four shots behind.
Jessica (68) is only five shots back along with Michelle Wie (66), Jin Young Ko (67) and Marina Alex (70).
If Nelly can break through to win her first LPGA title, the Korda sisters will join Annika and Charlotta Sorenstam as the only sister combo to win LPGA titles. Annika won 72 times on tour, Charlotta once. They won in back-to-back weeks in 2000.
Like the golf world at large, Nelly marveled watching Jessica win in Thailand in Jessica's first event back after a painful and complex surgical reconstruction of her jaw in the offseason. Jessica underwent the procedure to alleviate severe headaches.
"I'm definitely inspired by her win," Nelly said. "It definitely motivated me a bunch. It was the first tournament of the year and for her to come and crush it the way she did, it was definitely inspiring, and, hopefully, we'll see where tomorrow takes me. She's still there. So she still has a chance. Everyone does."
---
Full-field scores from the HSBC Women's World Championship
---
Nelly will take a 54-hole lead into the final round of an LPGA event for just the second time in her young career. She had the lead going into Sunday at the Marathon Classic last year, shot 74 and ended up tying for eighth.
"I'll definitely be a little nervous," Nelly said. "I'm just going to take it shot by shot, really. There are so many great girls bunched up on the leaderboard, close to my score. It's going to be a tough one tomorrow."
Nelly came from four shots back at Saturday's start to overtake Kang, the 36-hole leader. Nelly did so with a hard charge in the middle of her round, making five birdies in a six-hole stretch. She was playing alongside Kang in what turned out to be an entertaining back-and-forth duel on the back nine.
"She's a great player," Kang said. "She shot really well last week, too. I think she made six birdies in a row last week. But, yeah, at the end of the day, I worry about my own game. It was fun, though."
Fun for fans in Singapore.
Korda tied Kang with a birdie at the 11th, dropped a shot back with a bogey at the 12th, matched birdies with Kang at the 13th and 14th and then tied Kang for the lead again when Kang made bogey at the 15th. They took turns with the lead coming home after that, until Kang dropped a shot at the last.
"I got unlucky on the last hole, hit it in the fairway and end up in a patch of sand, and it plugged," Kang said.
Korda was asked if she would seek any advice from her sister with Jessica also still in the mix.
"I just usually talk to my dad and mom about this," Nelly said. "Jess is still right there on the leaderboard. I see her. But she'll definitely give me a piece of advice."
The Kordas are quite the athletic family.
Nelly and Jessica's parents were tennis stars. Their father, Petr, won the Australian Open in 1998. Their mother, Regina, was also world-class tennis player. Their younger brother, Sebastian, 17, won the Australian Open junior title in January on the 20th anniversary of Petr's title.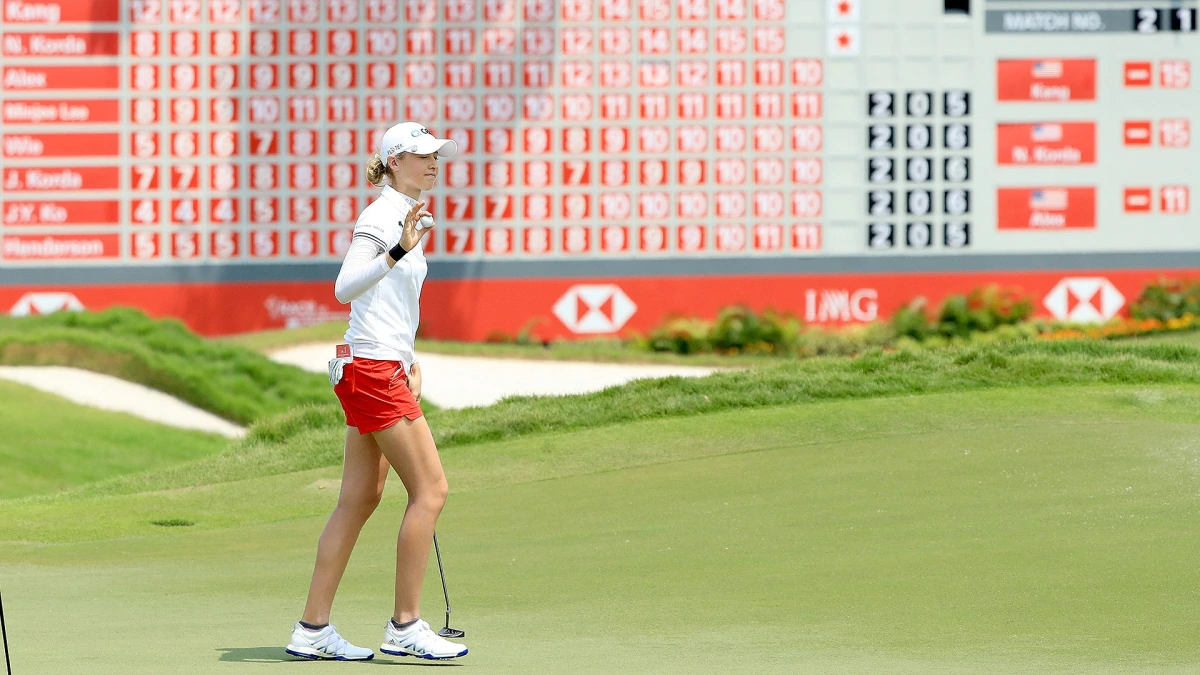 Source: Internet