Muni He isn't teeing it up at the Blue Bay LPGA in China this week, but she'll be looking to play her way to her homeland next year.
He, who goes by the first name "Lily," is the newest Chinese player to break through and earn LPGA membership, coming through Q-Series last week.
But she may already be the most popular, if you are judging solely by Instagram followers.
Shanshan Feng is the highest ranked and most accomplished LPGA player from China, but He's 161,000 Instagram followers dwarf Feng's 4,000 followers.
With her cover-girl looks, He's regular Instagram glamor posts have helped the LPGA rookie-to-be build an Instagram following greater than most of the tour's proven stars. He doesn't have as many followers as Michelle Wie (489,000) or Lexi Thompson (371,000), but she already has more than Paula Creamer (158,000), Jessica Korda (111,000) and Danielle Kang (107,000), and she's just shy of catching Natalie Gulbis (180,000).
---
View this post on Instagram

summer 2000 news?
---
Make no mistake, though, He also has game.
A former USC standout, He won on the Symetra Tour earlier this year and finished T-27 at Q-Series to earn LPGA membership. She advanced along with China's Jing Yan and Xiyu Lin, who reclaimed their LPGA status. Ruixin Liu will join He as an LPGA rookie next year after becoming the first Chinese player to win the Symetra Tour money title this season. 
While He was born in Chengdu, China, she truly is one of the LPGA's global players. She attended elementary school in Vancouver, Canada, and then moved to the United States, where she attended Torrey Pines High School in suburban San Diego. She now lives in Los Angeles.
Her father is in the hotel and restaurant business.
He advanced through Q-Series with the help of Ted Oh, her swing coach, whose LPGA clients include Lydia Ko and Ayako Uehara.
"Ted really helped me gain the confidence to take my game up a few levels," He said.
A novel approach helped He make it through Q-Series. She said she didn't look to see where she stood on the leaderboard before, during or after any of the eight rounds of the final stage of the LPGA's qualifying tournament.
"I didn't know I made it until everyone started congratulating when we were all done," He told GolfChannel.com just moments after she came off the course Saturday at Pinehurst No. 7. "It's the first time I've ever done that, not look where I stand on the leaderboard.
"I came feeling anxious, and I think not looking helped me."
How difficult was that? With family and friends around her after every round?
"I told everyone before Q-Series that I didn't want to know where I stood, but it was hard, with everyone looking at their phones after every round to see the scores," He said. "I just had to look away."
Halfway through Q-Series, He said her father slipped up and told her where she stood.
"I had to remind him, and he said, 'You are right, I will respect your decision,'" He said. "Both my parents have been so supportive."
In Oh, He gets a coach who rolls up his sleeves and actually shows his players how to hit shots. She loves it.
"I was with Lily in practice from morning to dark for weeks getting ready for Q-Series," Oh said. "I told her it takes discipline, hard work and focus to get to the next level.
"I told her [after arriving at Q-Series] that other girls may be bigger than she is, more talented, but nobody would be more prepared."
Or have more Instagram followers, for that matter.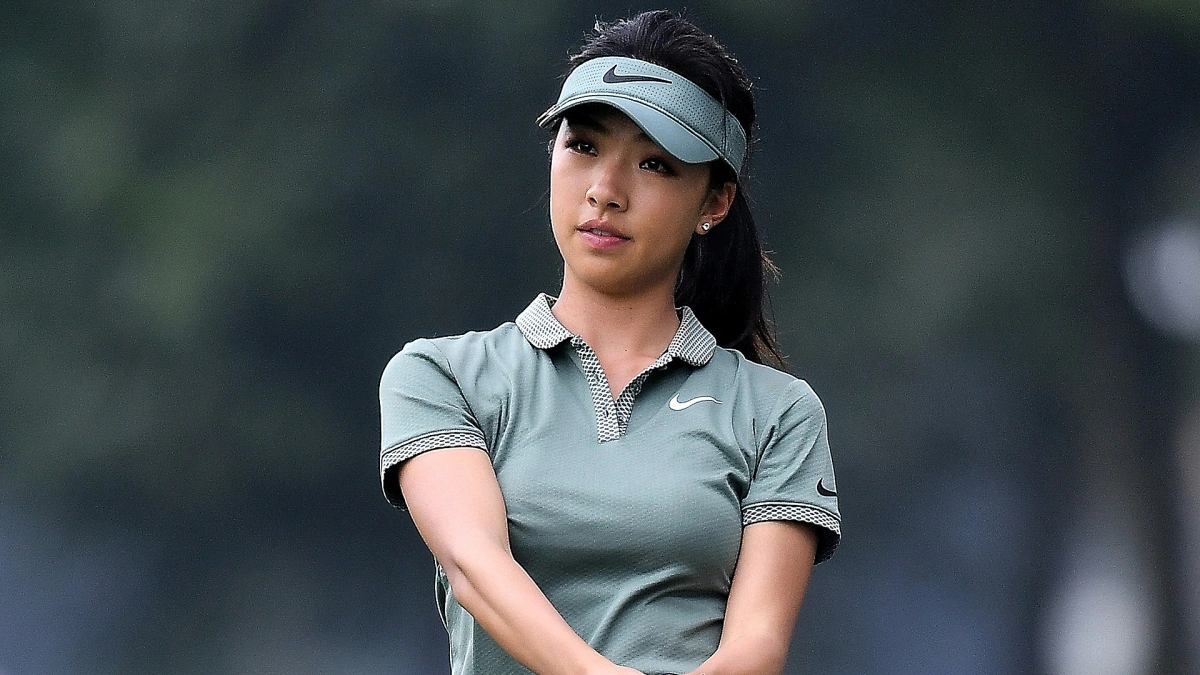 Source: Internet