Remember when the idea was making the rounds that Michael Jordan was going to play the PGA Tour-Champions which of course didn't go by that name at the time)? Obviously that never happened, but Jordan's love for the game never diminished, either. And since His Airness has more money and time than he knows what to do with, he's free to indulge his passions.
Playing golf and smoking cigars.
In a series of videos, Jordan recently told Cigar Aficionado that he plays 36 holes "almost every day," smokes up to six cigars a day and has a "bad 4" handicap. An unabashed fan of the PGA Tour – he's been a presence with the U.S. team in the Presidents Cup and Ryder Cup – he offered his take on some of today's top young players:
Jordan Spieth: "I just played with him four weeks ago in Cabo. Great kid. Very polite. Very talented. Grinder. He has heart. He has determination. He finds a will to win. That's Jordan. He doesn't hit it long. He's a great putter. A lot of that comes from his hard work."
Rory McIlroy: "Very talented … For someone that small, to generate that much power, is truly amazing. I'm fascinated that with my massive size, these guys can blow it past me."
Rickie Fowler: "Rickie is coming into his own. Real talented. He's a phenomenon in that he resonates with the consumers and the kids."
Justin Thomas: "Talented. I met him when he was 12 years old."
Jordan also took issue with interviewer Marvin R. Shanken's claim that the debate about who is the greatest golfer of all time – Jack Nicklaus or Tiger Woods – is over (presumably with Nicklaus the winner because he still leads Woods in majors, 18 to 14).
"I beg to differ," Jordan said. "First of all, you're never going to say who the greatest of all time is. I think that's more for PR and more for selling stories and getting hype. Jack and Tiger never played against each other. … I won six championships. Bill Russell won 11. Does that make Bill Russell better than me or me better than him? … I think (Nicklaus and Woods are) both great. I would never say one is greater than the other."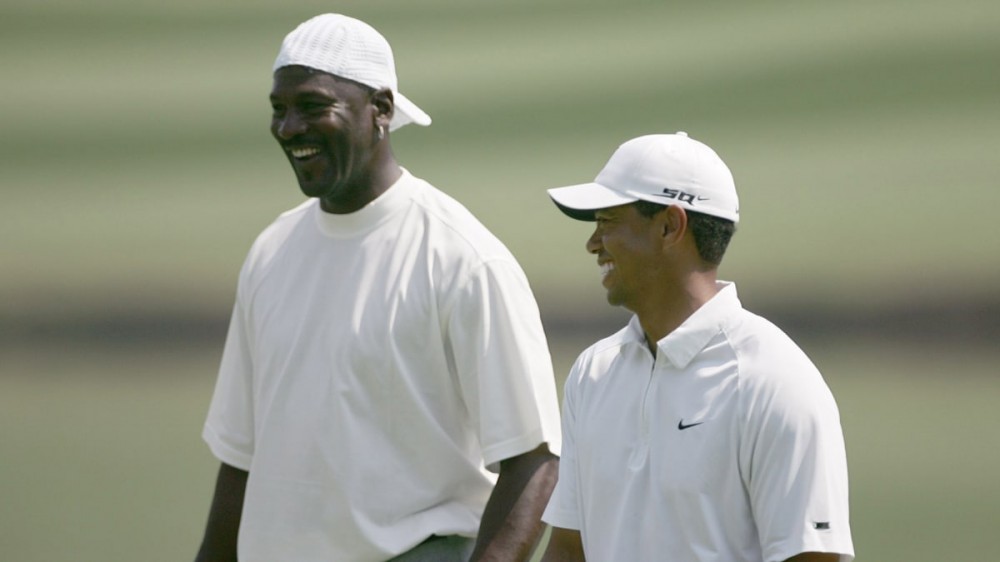 Source: Internet