The men's Open Division was whittled down to eight, while four women remain at the Volvik World Long Drive Championship.
Sixteen men battled on Tuesday night for a spot in the quarterfinals at WinStar Resort and Casino in Thackerville, Okla., where an inch-and-a-half of overnight rain created a very slow grid [460 yards long, 50 yards wide], putting a premium on carry distance.
Players were allowed three minutes to hit eight balls, with the longest, single drive counting. Balls had to land and finish on the grid to be official. If the first player failed to hit the grid, the second player had to hit his/her drive at least 270 yards [on the grid] to advance.
---
Volvik WLD scoring, brackets: Men's Open Division | Women's Division | Masters Division
---
Here's a summary of how the men's Round of 16 played out:
Match 1: Will Hogue def. Teemu Pitkanen
Hogue hit the first shot of the night 394 yards and that was plenty long enough to move on as Pitkanen failed to get a ball on the grid.
---
Match 2: Justin Moose def. Kevin Shook
The 40-year-old Shook blasted one 396 yards, but, on his penultimate swing, Moose clobbered a drive 404 yards, the only shot over 400 yards in the quarterfinals.
---
Match 3: Jim Waldron def. Kyle Berkshire
After Berkshire went 0-for-8, Waldron hit a big cut over the required 270-yard mark for the win.
---
Match 4: Ryan Steenberg def. Ben Tuaone
Steenberg hit his first shot 372 yards and then watched as Tuaone, who is Tony Finau's first cousin, couldn't do better than 366.
---
Match 5: Josh Cassaday def. Ryan Reisbeck
Cassaday's third drive went 390 yards. Reisbeck came within four yards of matching that, but that was the best he could do.
---
Match 6: Tim Burke def. Stephen Kois
Kois got on the board with a first drive of 382 yards, which proved to be his longest. But it wasn't long enough. After going 0-for-6, Burke, a two-time WLD champion, blasted his seventh drive 397 yards.
---
Match 7: Mark Costello def. Jeff Gavin
The 50-year-old Gavin popped a rib in preparation for the Round of 16. Despite the obvious pain he was in, Gavin hit his fifth shot 368 yards. But Costello's second shot went 372 yards, and he moved on.
---
Match 8: Maurice Allen def. Bryan Kelly
Allen got three on the grid and his longest of 382 yards was juuuuust long enough to get him into the quarterfinals as Kelly's longest was 380.
---
On the women's side, Heather Manfredda exacted a bit of revenge and advanced to the semifinals by knocking off Sandra Carlborg, who defeated Manfredda in last year's finals.
Phillis Meti now seeks revenge of her own. She lost to Manfredda in last year's semis and will face her again on Wednesday night.
The other semifinal match features Emily Tubert, the LPGA player who won an event in her World Long Drive debut last month, against veteran Chloe Garner.
---
Gavin, still ailing from his popped rib, took on Eddie Fernandes in the finals of the Masters Division [age 45 and over]. Gavin defeated last year's champ, Jeff Crittenden, to advance to the finals. Fernandes beat David Mobley with a drive of 350 yards.
Going first, Fernandes' seventh ball went 373 yards. Meanwhile, a laboring Gavin could only muster 348 yards.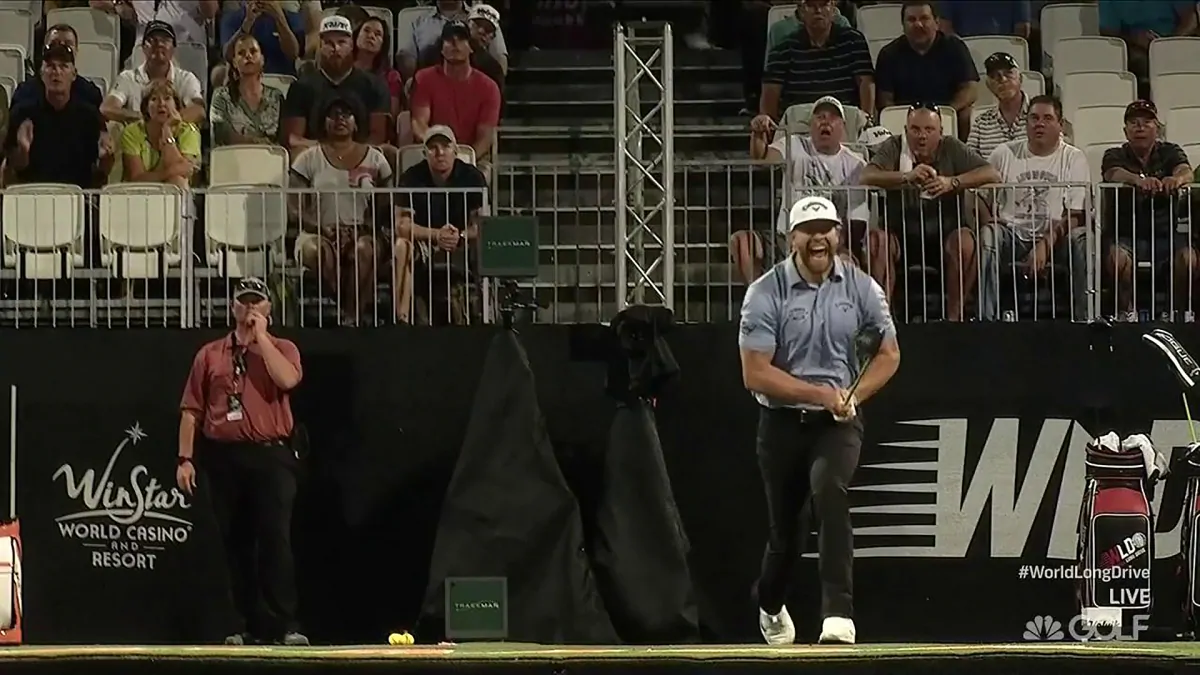 Source: Internet