PHOENIX – The Korda sisters have been close to taking the start of the LPGA season by storm.
A week after big sister Jessica won the Honda LPGA Thailand, Nelly nearly won the HSBC Women's World Championship, tying for second after a last birdie try just missed.
Jessica, by the way, tied for 10th in Singapore.
They're both looking to get in the mix together again this week at the Founders Cup. It would be quite the story if they played their way into the final pairing come Sunday.
"I really wanted to be in the same group with her in Singapore," Jessica said.
Nelly, 19, said she was deeply moved watching Jessica, 25, win in Thailand, in Jessica's first start back after undergoing a painful, complex jaw surgery in the offseason.
"It definitely motivated me for the next week," Nelly said. "Seeing her go through all of that in the offseason, for her to come out the first week and completely crush us all, was amazing. It's definitely going to make me work a lot harder this year, just to get that first win."
The Korda sisters are close, and Jessica's ordeal recovering from a painful and complex surgery to repair her jaw's alignment tightened their bond. She needed the operation to relieve recurring headaches.
Jessica had her upper jaw broken in three places during the procedure, her bottom in two. She has 27 screws in her skull and is still feeling the surgery's effects.
Afterward, Jessica depended heavily on her family.
---
Full-field scores from the Bank of Hope Founders Cup
---
"To change my ice, give me medication," Jessica said. "I was throwing up blood. I couldn't breathe, couldn't go to the bathroom by myself, couldn't shower by myself, couldn't put my shoes on, walk, anything.
"It was like having a six foot baby, but worse."
In Singapore, it was Jessica who was stepping up to do the comforting after Nelly's near miss at the last. Jessica was there in the end putting an arm around her sister.
"Nelly played so great," Jessica said. "That shot she hit into 18 shows some real guts right there. Everyone else would be going 30 feet left, and then trying to make a long putt, but not her. She kind of showed what she is made of.
"Nelly didn't lose that tournament. Michelle Wie made an amazing putt on 18. She played great that whole day. You can't beat a score like that. It's really difficult. Being in that position for the first time, Nelly handled herself really well."
The sisters would love to be there together in the end with a chance come Sunday in Phoenix. It would be a heck of a story.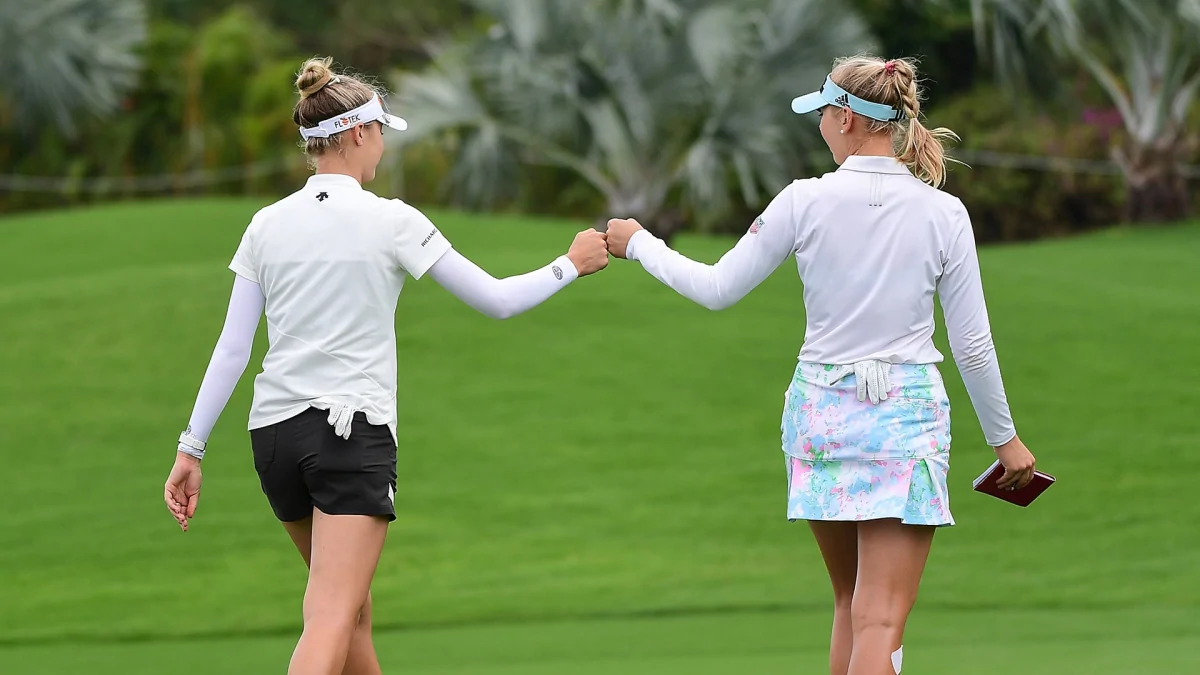 Source: Internet