Jessica Korda's rebuilt smile is getting a workout in Singapore, while Danielle Kang is successfully following a "grin and bear it" formula after breaking a tooth there.
They both opened with 4-under-par 68s to get on the leaderboard Thursday at the HSBC Women's World Championship.
They are three shots behind Jennifer Song, the former brilliant amateur looking to break through and win her first LPGA title nine years after claiming both the U.S. Women's Amateur and U.S. Women's Amateur Public Links championships.
Michelle Wie is two shots off the lead.
Ariya Jutanugarn, In Gee Chun, Brooke Henderson and Sung Hyun Park are with Korda and Kang three back.
Rolex world No. 1 Shanshan Feng opened with a 70 while world No. 2 Lexi Thompson struggled to a 75. Thompson is just .098 behind Feng in the Rolex world ranking averages.
---
Full-field scores from the HSBC Women's World Championship
---
Korda is in early position to try to claim back-to-back titles. She won the Honda LPGA Thailand last week in a remarkable return to the tour after having 27 screws inserted into her skull in a painful and complex double-jaw surgery in the offseason.
Korda, who turned 25 on Tuesday, said she had to relearn how to smile after the surgery successfully realigned her jaw to alleviate severe headaches.
"My cheeks actually do still hurt," Korda said of all the smiling she did winning in Thailand. "The muscles are still a little tired."
Kang, 25, had plenty to smile about in the first round despite a broken tooth. She said she fell asleep stretching before the first round and woke up discovering she had broken molar.
"No idea how I chipped it," Kang said.
Kang called her dentist, who told her as long as the tooth wasn't bothering her that she should not worry about it. He'll fix it when she gets back to the United States.
It didn't take Kang long to get herself in the mix with a bogey-free round. She devoted herself to some hard work in the offseason in a bid to add to her breakthrough victory last season. She made her first LPGA title a major championship winning the KPMG Women's PGA Championship last June.
"I worked harder than I ever worked during the offseason," Kang said. "I've put on muscles. I've put on weight, and I'm hitting it farther, and I'm definitely feeling that my game is there and I trust my game more.
"I want to be in the winner's circle again. I got a little taste of it, so I want more, obviously."
Kang showed at Olympia Fields last summer what she can do with a lead on a big stage, closing out strong in the final round. Her offseason work was about giving herself more chances to win.
"Playing more consistent," Kang said. "That's what I wanted at the end of the day, more than just about winning. My goal was definitely to be in contention more."
Song finished well Thursday, taking sole possession of the lead in a bogey-free round. She shot 31 on her final nine holes, with birdies at three of her last four holes. She hit all but two fairways on the round, and all but one green in regulation.
Back in the summer of '09, Song was a big deal in amateur golf. She was low amateur at the U.S. Women's Open and then won the U.S. Women's Amateur and U.S. Women's Amateur Public Links championships. She went on to win two Symetra Tour titles – it was the Futures Tour back then – but has been waiting for her LPGA breakthrough victory.
"At times, it has been a great struggle, because I know I can win out here, but I just never have been given that chance yet," Song said. "But I've kept believing that someday it will happen."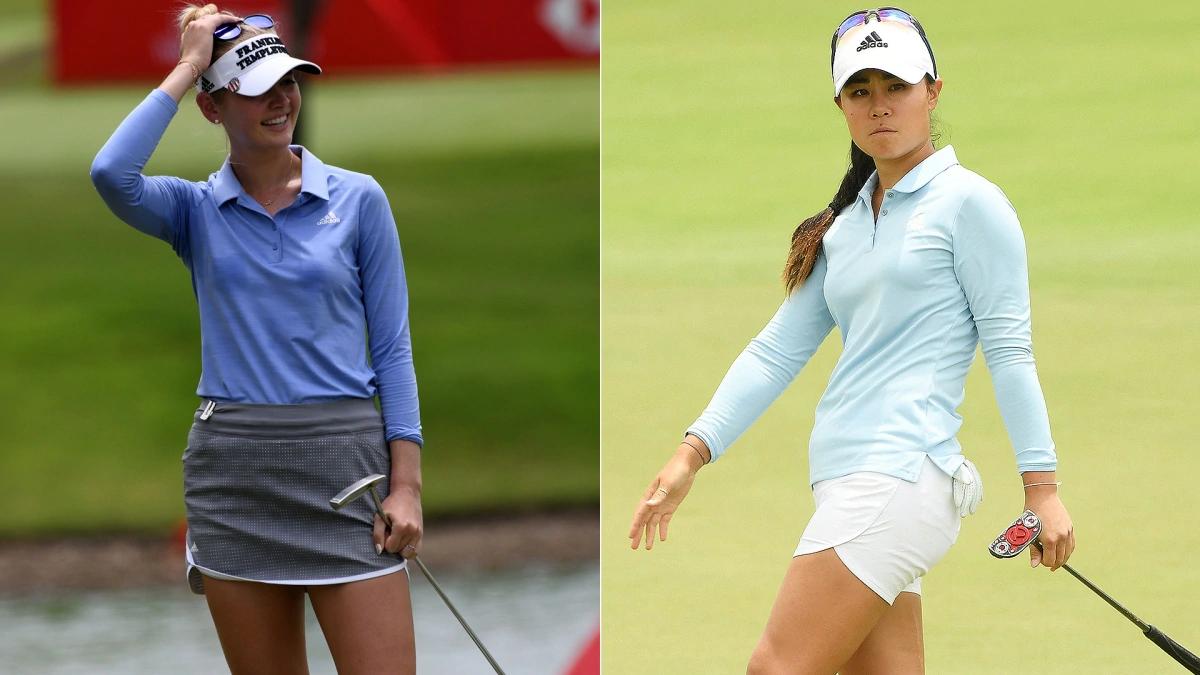 Source: Internet