On Thursday PGA Tour legend and fan favorite John Daly revealed that he had been diagnosed with bladder cancer.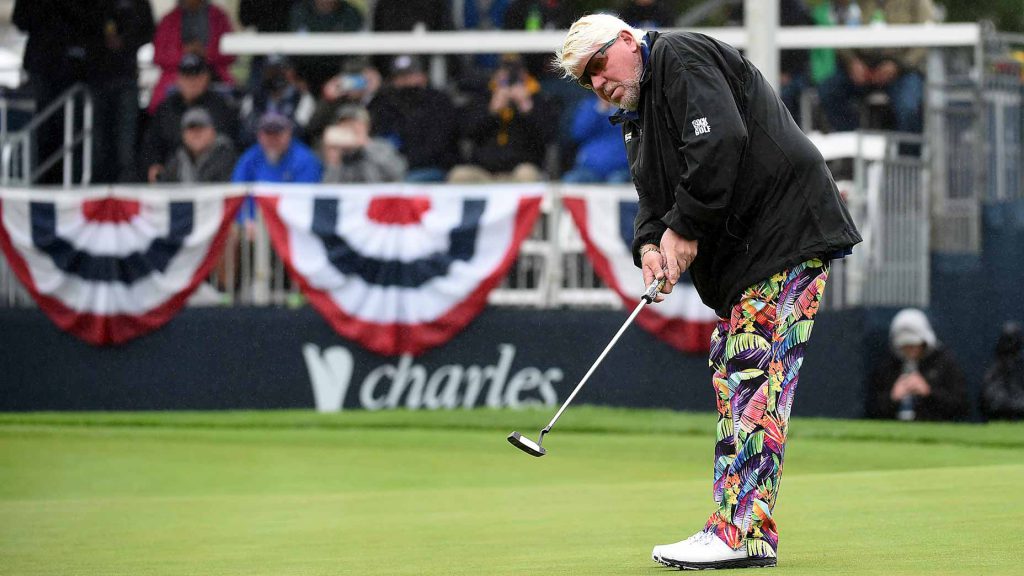 John Daly shoots 68 on Champions Tour days after revealing cancer diagnosis
Not long after he underwent a successful surgery to remove the tumor, Daly decided to tee it up this weekend at the PGA Tour Champions' Sanford International in South Dakota.
"I figure I can't just sit at home," Daly said on Friday following the opening round. "It's just going to get in my mind and it's going to make me feel worse, so going to try to keep playing as much as I can."
Daly did more than just take his mind off his dire medical situation, he went out and shot a two-under 68 to get within three shots of the lead. In his post-round press conference, Daly revealed more about his diagnosis and the subsequent treatment.
"Well, doctors are pretty cool how they explained it. Dr. Mooney [Daly's urologist] was great. He said, 'You've got bladder cancer, but you've got the one that we can beat. If you change some things in your life, you can beat it, but it's going to be pretty painful.'"
The 54-year-old explained that he underwent "brutal" chemotherapy treatments in addition to the surgery.
"I did it for eight straight days. I took the medicine and they had chemo in it when they did the surgery as well. It was a pill, three pills I had to take," Daly said. "It's weird, peeing cowboy blue, so that was kind of weird."
As for what the future holds for his health and his playing career, Daly said there's a strong chance the cancer returns, and his doctors will make the decision in November as to whether another surgery is required.
"I'm going to go back home after this week and go see the doc again. I hate missing PURE Insurance and Pebble," Daly said, referring to next week's PGA Tour Champions event at Pebble Beach, "but he wants to go and sit down with me and go through everything and set up an appointment sometime early November, right after the season, and go back in and check it out."
He added, "That chemo going in there, it's pretty tough. But I'll see what happens in November. But those are eight days after that surgery that are just brutal, it's a brutal feeling, but I am tired."
Daly tees off for the second round of the Sanford International on Saturday at 1:50 p.m. ET.
Source: https://golf.com/news/john-daly-68-champions-tour-cancer-diagnosis/