The World Golf Hall of Fame announced Wednesday its newest inductees for the Class of 2019.
Retief Goosen, Peggy Kirk Bell, Billy Payne, Dennis Walters and Jan Stephenson will be enshrined at the induction ceremony at Pebble Beach next June. Those five (of the 15 finalists) received at least 75 percent of the selection committee's vote, a 16-person group that included Jack Nicklaus, Gary Player, Nancy Lopez and Annika Sorenstam.
"The 2019 induction class is one of the most well-round groups we've had to date," said Jack Peter, president of the World Golf Hall of Fame. We are excited to begin working with them as we gear up for the induction ceremony in Pebble Beach this June."
Two of Goosen's seven career PGA Tour titles came at the U.S. Open, in 2001 and '04. The 49-year-old has won 36 times around the world and is a two-time European Tour Order of Merit winner.
"It was a little bit of a shock," Goosen said. "You forget maybe what you've done over the game through the years, and I'm glad that what I've done for the game has gotten me into this position."
Bell, who passed away in 2016, was honored in the lifetime achievement category. She won a major, in 1949, but she was known more for her strong advocacy of women's golf. In 1990 she received the USGA's Bob Jones Award, the organization's highest honor, and in 2002 she became the first woman voted into the World Golf Teachers Hall of Fame.
---
Photo gallery: World Golf Hall of Fame, Class of 2019
---
"She was really one of the pillars of building the LPGA as an organization," Peter said. "She'd been around the game so long. She'd been an accomplished teacher, accomplished player. It's great. She finally gets her due in the Hall of Fame."
Also being voted in through the lifetime achievement category was Payne, who retired as the chairman of Augusta National in 2017. During his tenure, Payne, 70, pushed the boundaries of one of the world's most powerful clubs, admitting the first female members and developing several grow-the-game initiatives, including the Drive, Chip & Putt Championship and amateur tournaments in Asia and Latin America.
"Whenever anybody is placed in the environment of being chairman of Augusta National, with all of the wonderful infrastructure and the intellect and the experience of the staff and incredible membership, to be quite honest it's not really difficult to do some good things if you try hard," Payne said. "And my job was to try to have a pretty good idea every now and then and then turn it over to the staff and the members, and I'm very proud of what they then did."
Walters is a renowned trick-shot artist who wowed crowds while being able to hit balls from his wheelchair. Walters was paralyzed from the waist down in 1974, when he rolled his golf cart after playing in a pro-am, but he parlayed his love for the game into an entertaining career, performing more than 3,000 shows with a dazzling array of golf shots. He was the only USGA Bob Jones Award and PGA Lifetime Achievement Award winner not already in the Hall of Fame.
"I tried not to think about it," Walters said. "I've had my speech researched for not getting in – the odds were so low. I didn't think of anything to say if I've actually gotten in. This is the top of the mountain here. I'm still in a state of shock and disbelief, but I'm just really happy."
Stephenson, 66, was selected from the female competitor category. She won 16 times on the LPGA, including three majors, and became one of the first players to make women's golf glamorous, with her unique blend of athleticism and sex appeal.  
"I haven't slept at all," Stephenson said. "Every time I woke up I was like, Why am I so happy? And it's because I'm in the Hall of Fame! It's so amazing."
The five inductees will be honored on Monday, June 10, 2019, at the start of U.S. Open week at Pebble Beach.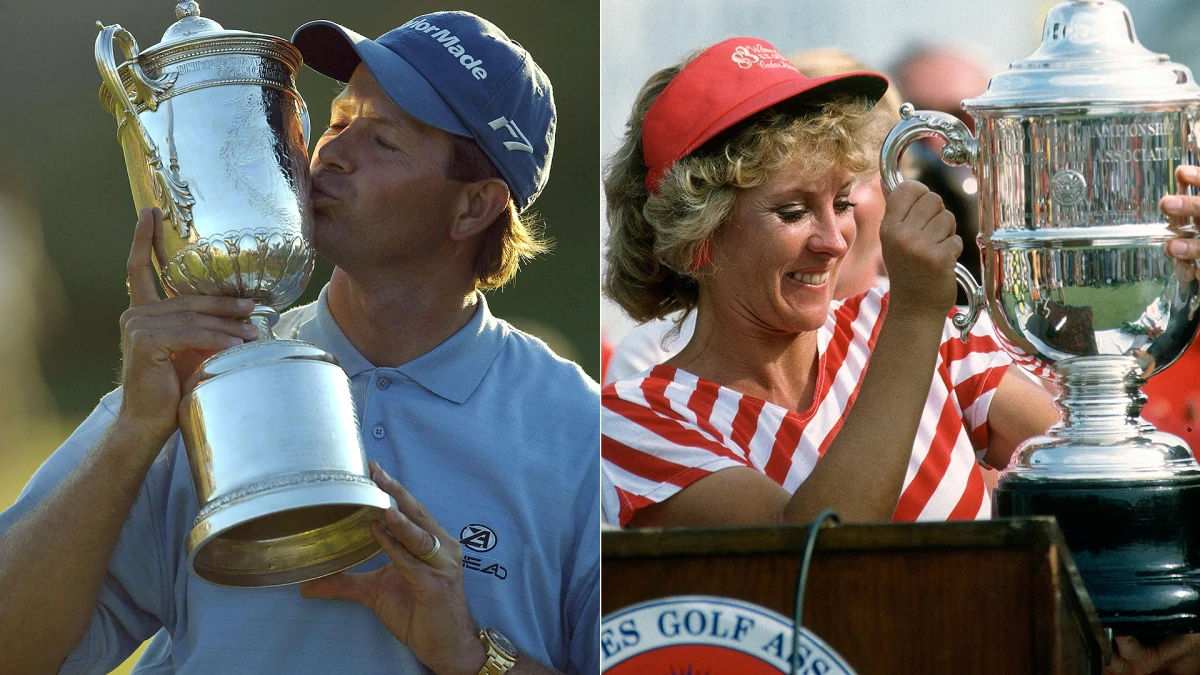 Source: Internet