ANDOVER, Kan. – Noah Goodwin rallied to beat Matthew Wolff 1 up in 100-degree heat Saturday in the U.S. Junior Amateur final to become the third player to win a year after losing the title match.
The 17-year-old Goodwin, from Corinth, Texas, was four holes down with eight to play at Flint Hills National before pulling off the second-biggest comeback in tournament history.
"It's every junior's dream to win the U.S. Junior," Goodwin said. "It's the most prestigious junior event in the entire world. Everybody knows about it, and to add my name among the greats like Jordan Spieth and Tiger Woods just means everything to me."
Goodwin works with Spieth's instructor, Cameron McCormick, and the noted teacher was quick to send his pupil a congratulatory text message.
"That just means a lot," Goodwin said. "He's done so much for my game. I can't really express my gratitude for Cameron. I wouldn't be where I am without him."
The match ended when Wolff conceded Goodwin's 6-foot birdie putt on the par-5 36th. Wolff drove left into the water hazard and was facing a putt for double bogey.
Goodwin plans to graduate from high school early and enroll at SMU in January. The 18-year-old Wolff, from Agoura Hills, California, will be a freshman at Oklahoma State.
"It's tough to come out on the bottom, but I played great all week," Wolff said.
Goodwin dropped 4 down when Wolff took the par-3 28th with a birdie. Goodwin won the par-5 29th with a 35-foot birdie putt and took the par-4 30th, par-3 32nd and par-4 33rd with pars to pull even.
The only larger comeback came two years ago when Phillip Barbaree edged Andrew Orischak in 37 holes at Colleton River Plantation Club after trailing by five holes with eight to play. Andy Hyeon Bo Shim, in 2012 at The Golf Club of New England, also rallied from 5 down at the start of the afternoon 18 in beating Jim Liu, 4 and 3. The USGA lengthened the final from 18 holes to 36 in 2005.
Last year, Goodwin fell 2 and 1 to Australia's Min Woo Lee at The Honors Course in Tennessee. Mason Rudolph (1950) and Tim Straub (1983) also won a year after falling in the title match.
"It's a feeling that I'm still kind of trying to grasp," Goodwin said. "A lot of emotions are going through me right now, and I'm guessing it's all going to come out in the car ride back. More than anything, I'm just extremely blessed and grateful to be given the opportunity to be back in the final again and to be able to have a little bit different outcome."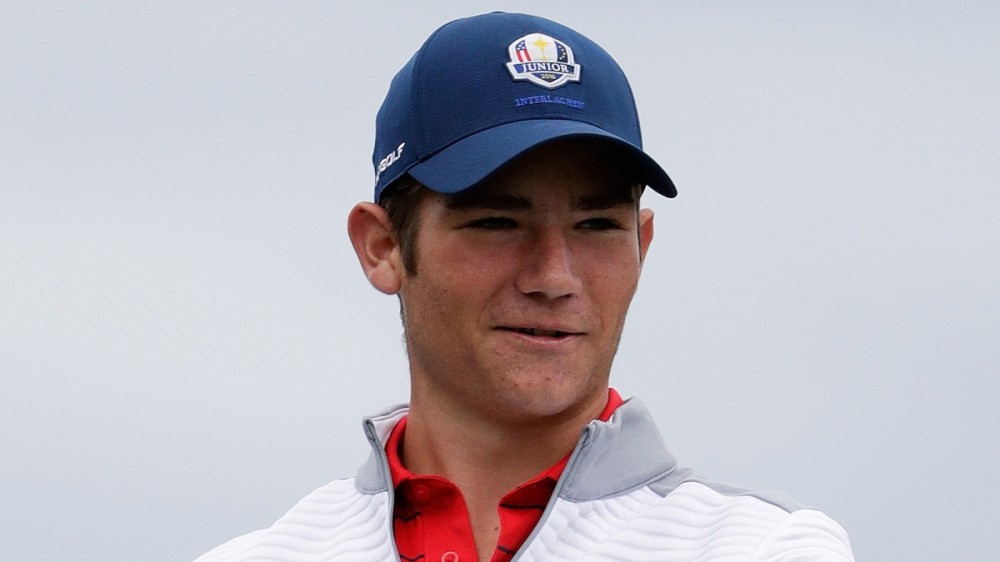 Source: Internet