NASSAU, Bahamas – It was Tiger Woods who was wearing his signature red and black on Sunday, but it was Rickie Fowler who produced a Tiger-esque performance at the Hero World Challenge.
Only a 59-watch could have wrested away the enormous attention heaped on this week's host, and only Fowler has the celebrity to share the spotlight with Woods, who was making his competitive return following fusion surgery on his lower back in April.
For most of the week, the actual competition was very much an afterthought, with Woods' return dominating the conversation; but on Sunday, Fowler quickly altered the narrative with a torrid start.
After starting the day seven strokes off the lead held by Charley Hoffman, Fowler birdied his first seven holes and added another at the ninth to turn in 28 and move into solo possession of the lead.
"He just made me look like I was playing absolutely horribly," said Patrick Reed, who was paired with Fowler on Sunday at Albany. "Once he got his speed down on the first hole, making the first putt, it just seemed like the hole was about the size of a dinner plate. It was awesome to watch."
Fowler extended his lead to three shots with a birdie at the 13th hole and his focus drifted from winning the 18-man challenge season event to something else – shooting a 59.
"I knew when I got in there on 13 that was going to be a bonus, and I knew if I made that putt that 59 was a chance because 14 and 15 ahead are birdie holes," said Fowler, who conceded he didn't know where he stood in relation to the rest of the field as he made his way toward the finish. "I was definitely happy with the way I played the last six holes or so, not really knowing the situation. Obviously [I had] a little bit of that 59 thought in there but I wasn't going to necessarily press for it."
---
Hero World Challenge: Articles, photos and video
Full-field scores from the Hero World Challenge
---
Fowler added another birdie at the par-5 15th hole to move to 11 under par for the day before playing his final three holes even for a closing 61 and a four-stroke victory over Hoffman, who closed with a 72.
Still, Fowler's course-record-setting round and commanding victory couldn't escape the long shadow cast by Woods' comeback.
Earlier in the week Woods had talked of playing practice rounds with the likes of Fowler, Justin Thomas and Dustin Johnson to prepare for his first competitive start in 301 days.
"These guys are awesome, they want to play almost every day," said Woods, who closed with a 68 to tie for ninth. "They want to compete, they want to see me back out there, and it's really nice to have that type of camaraderie."
Of course, Fowler found some inspiration of his own alongside Woods.
After played just once since the Presidents Cup in late September – albeit in a runner-up showing at the OHL Classic – Fowler figures he played five casual rounds with Woods before Thanksgiving to stay sharp. It wasn't a stretch to see that the rounds also provided some extra motivation for the four-time PGA Tour winner.
"I think he sharpened me up a little bit. I've gotten a little scared of how good he was playing at home, thought I needed to start playing a little bit better or something," Fowler smiled.
Although the Hero isn't a PGA Tour event, the Official World Ranking points he picked up in at Albany will boost Fowler's status, moving him to seventh in the world. And others, like Jordan Spieth in 2014, have used a victory at the Hero World Challenge as a springboard to a breakout season.
For Fowler, a "breakout" would need to include a major championship.
"We only get four chances a year, so there's four big weeks that we always think about it," Fowler said. "But I put myself in position to be in contention at majors so we're just going to keep knocking at the door."
Whether his success this fall translates into a major breakthrough remains to be seen, but he did accomplish a major feat on Sunday by compelling the golf world to pay attention to a player not named Tiger, at least for a few moments.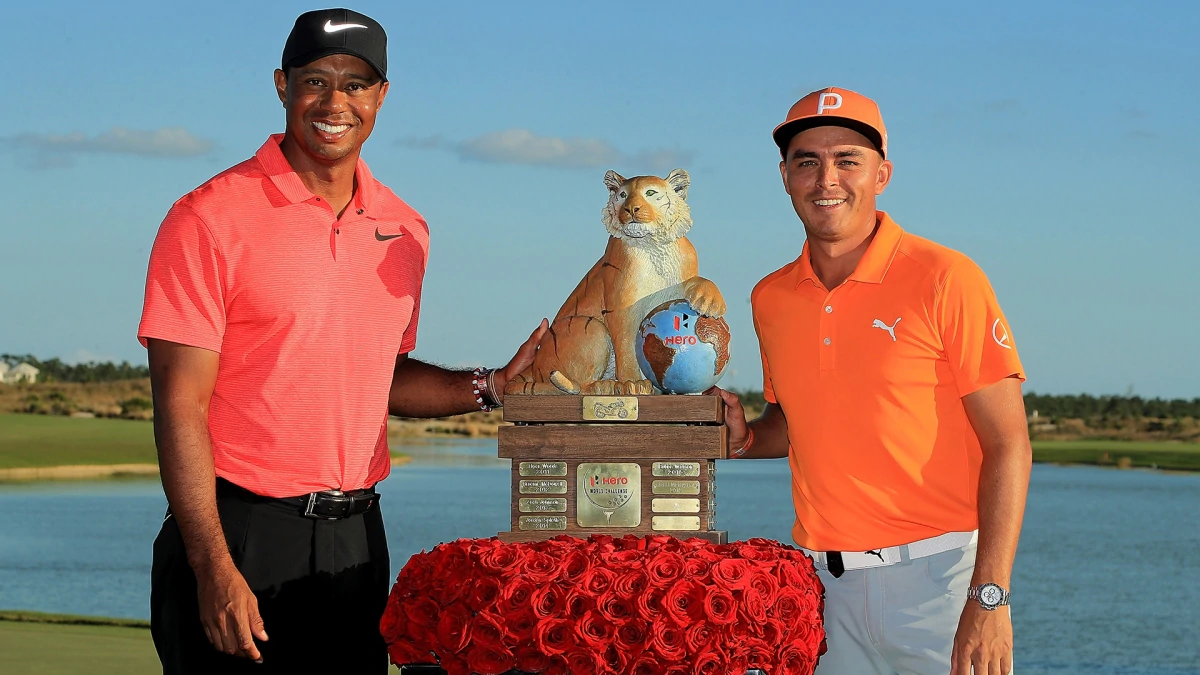 Source: Internet