SAINT-QUENTIN-EN-YVELINES, France – Many times Ryder Cup rookies are seen but not heard, blending into the background while the veterans lead.
Jon Rahm is not one of those rookies.
The youngest player on the European Ryder Cup team – by three years – the gregarious 23-year-old has been particularly active in the team's group chat.
"I've been pleasantly surprised at Jon's input into it," said Rory McIlroy, who will likely be paired with Rahm at some point at Le Golf National.
---
Ryder Cup: Articles, photos and videos
---
"To see how much he wants this and how he cares about the Ryder Cup and how proud he is to be European and Spanish and to really be a part of this, it's been really cool to see. I wasn't quite as vocal in my first Ryder Cup as he's been, but I wasn't as good a player my first Ryder Cup as he is."
Rahm seemed surprised that his healthy amount of input caught McIlroy's attention – "I'm just being myself," he said – but he quickly has learned how to fit in with the rest of his teammates.
By poking fun at himself.
After a Tuesday practice round with McIlroy during which he said he was outdriven by about 50 yards, Rahm retired to the physio table for some acupuncture treatment.
"Because of jetlag, I was completely asleep," Rahm said. "So Rory, he decided it was a perfect time to take a picture of me in my underwear and post it in the chat and say I couldn't handle him hitting it past me every single drive. Obviously you have to protect yourself and respond to something like that, and I said whatever came to mind."
With Rahm's passion and outgoing nature, he's sure to be one of Europe's most vocal players, even as the least experienced.
"At first I was a little bit hesitant on what to say," he said. "I didn't want to piss anybody off, but once I realized what the tone was going to be, within 30 seconds, OK, here we go, it's pretty much freewheel to say what you want to anybody, which is obviously a great thing because we all have a lot of fun."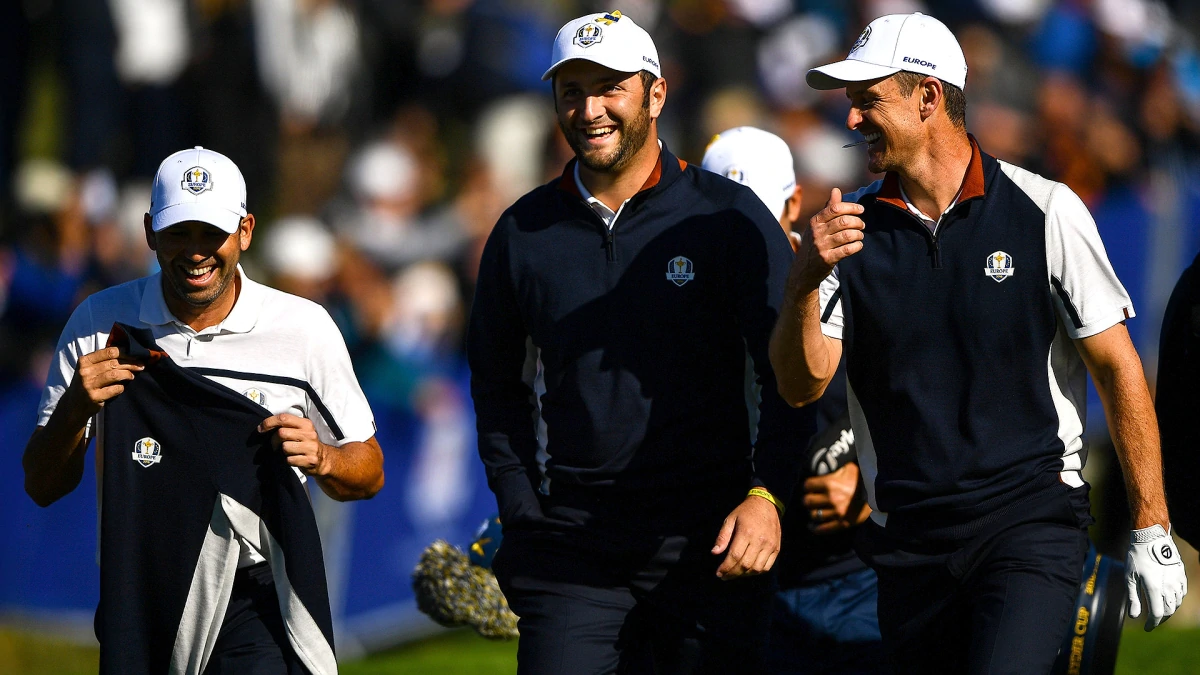 Source: Internet