Two bad holes derailed Brittany Lincicome in her historic start Thursday at the Barbasol Championship, but they couldn't wipe the smile off her face afterward.
It might have been the most fun she ever had shooting a 78.
Lincicome joined Babe Zaharias, Shirley Spork, Annika Sorenstam, Suzy Whaley and Michelle Wie as the only women to tee it up in a PGA Tour event when she striped her opening tee shot down the middle Thursday at Keene Trace Golf Club in Nicholasville, Ky.
A double bogey at her ninth hole and a triple at her 16th might have spoiled her chances at joining Zaharias as the only women to make a 36-hole cut in a PGA Tour event, but it didn't spoil her experience.
"I did what I wanted to do, with having fun," Lincicome said. "I think I nailed that part pretty well.
"I love playing with the guys. It's so much fun, being inside the ropes with them. Hopefully, I can get a good one tomorrow."
Lincicome, 32, held her own for 16 holes, playing them in 1 over par, but those two big numbers left her tied for last place when she signed her scorecard, though other players remained on the course.
At 6 over, Lincicome is 13 shots behind the leader, probably seven or eight shots off the projected cut line, but she savored the experience. She arrived wanting to inspire young girls to dream big, and to bring some extra attention to a title sponsor who means so much to her. She represents Pure Silk, part of the Barbasol family.
Sam Ryder, who joined Conrad Shindler playing alongside Lincicome, was impressed with the way Lincicome carried herself.
"I would play with her every day if she wanted to," said Ryder, who opened with a 68. "She's just a great person.
---
Full-field scores from the Barbasol Championship
---
"Even though I know she's probably a little disappointed with her final score, she had a smile on her face all day."
Lincicome, an eight-time LPGA winner, made her first birdie at her 12th hole, dropping a 30-foot putt, but she wasn't happy with her putter much of the day. She missed three other good birdie chances, a 4-footer at her eighth hole, an 8-footer at her 10th and a 12-footer at the last.
"Pretty happy with my game overall," Lincicome said. "I had two bad holes, but I drove it well. I did all the things I said I needed to do, but my putter let me down today."
After piping her first drive, Lincicome opened with three consecutive pars.
"I was actually calmer than I thought I was going to be," she said. "I thought I was going to be a nervous wreck. After the first tee shot, I was pretty happy that I found the fairway."
Lincicome said Ryder and Shindler made her feel welcome. So did the crowds.
"It was great," she said. "I could feel the energy of the crowd support me. Every time I hit a good driver or good shot, they would cheer for me, which was great.
"Conrad and Sam were so nice. I couldn't have asked for a better pairing. They were very welcoming, and we were interacting, they were asking me questions, and it was great."
On Tuesday, Lincicome said a key to her play would be hitting fairways. She did that, hitting 10 of 14, but she was taking in longer clubs than she does in LPGA events, with Keene Trace set up at 7,168 yards. That's 600 yards longer than she played last week at the LPGA's Marathon Classic, where she finished second. She hit just 8 greens in regulation in this PGA Tour start.
Lincicome is nicknamed "Bam Bam." She is one of the LPGA's longest drivers, but she was typically 30 to 40 yards behind Ryder and Shindler after hitting her driver. She averaged 259 yards per drive, Ryder 289 yards.
"She had a couple birdie putts that she could have made," Ryder said. "If she made a couple of those, might've been a little bit different, just to get a little bit of momentum. Who knows?"
Lincicome's biggest challenges were the par 3s.
At the 18th, playing 195 yards, she mis-hit her tee shot, knocking it in the water, short of the green. She took a penalty, moved up to a forward tee, dropped and hit into a right greenside bunker. She got up and down from there for a 5.
At the seventh, playing 198 yards, she missed wild right and deep. From a tough spot in the rough, she left her pitch short of the green. She chipped her third past the hole and to the fringe, where she took three putts from 20 feet.
Afterward, Lincicome wasn't dwelling on the bad shots. She was focused on going to sign autographs for all the fans waiting for her, including all the little girls who came out to see her.
"I need to go back over there and sign," she said. "Any time I can influence a child, especially a girl, obviously I want to get them involved with the LPGA, as much as possible."
Her overall assessment of her day?
"It was a great experience," she said.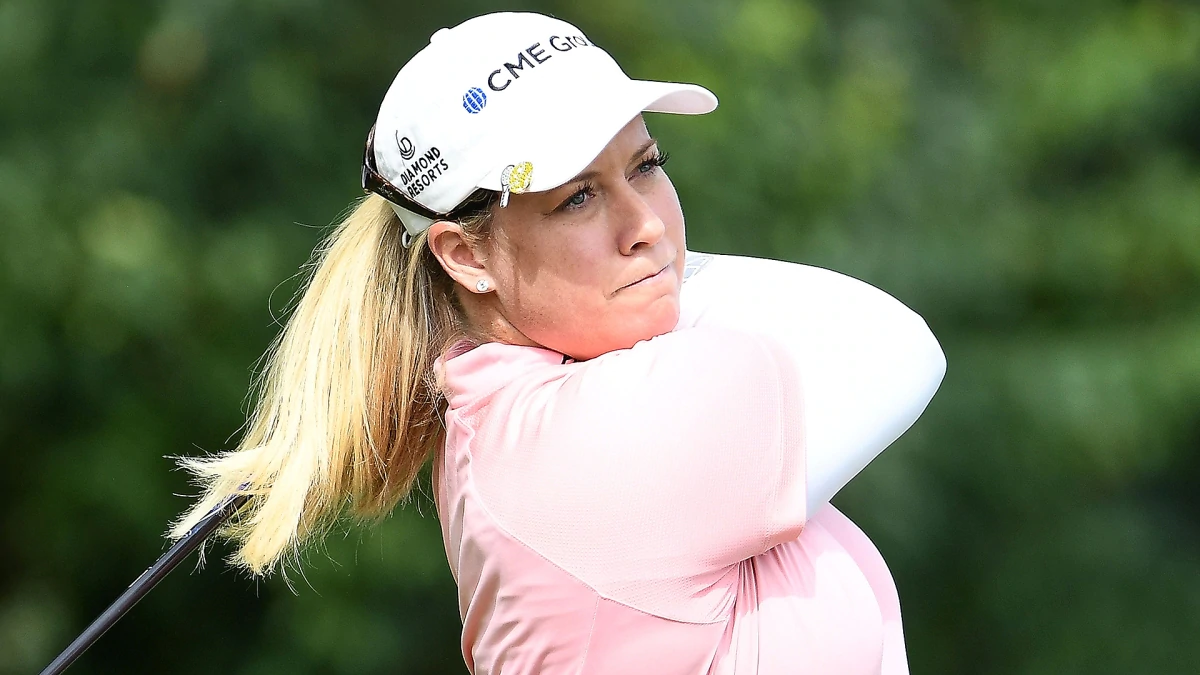 Source: Internet