SAINT-QUENTIN-EN-YVELINES, France – After months of buildup and four days of speculation, the pairings have finally been set for the opening fourball session of the 42nd Ryder Cup.
Here's a look at the first four matches at Le Golf National, where the defending champions will look to win their first road game since 1993 (all times ET):
2:10 a.m.: Brooks Koepka/Tony Finau (U.S.) vs. Justin Rose/Jon Rahm (Europe)
The U.S. will lead off with the presumptive Player of the Year, as Koepka makes his second Ryder Cup appearance alongside fellow bomber Finau. They'll take on a decorated pair of Europeans, as Thomas Bjorn has opted to split up the reliable duo of Rose and Henrik Stenson to pair the FedExCup champ with Rahm.
Bjorn noted that many of his rookies are "itching to go," but he tabbed the fiery Spaniard for the day's first pairing alongside one of the team's steadiest influences. "You know, it's not every rookie in the world you take and put them on the first tee of the first match of the Ryder Cup," Bjorn said. "But this one is pretty special."
For their part, the Americans are fully cognizant that they will face a difficult task in trying to notch the morning's first point against a pair of Europeans ranked inside the top eight in the world. "You want to do it against (their) two best players, and that's kind of how we'd love to do it," Koepka said. "We're excited for the challenge, and we'll be up for it."
---
2:25 a.m.: Dustin Johnson/Rickie Fowler (U.S.) vs. Rory McIlroy/Thorbjorn Olesen (Europe)
Johnson returned to world No. 1 earlier this week, and he'll pair with fellow Jupiter resident Fowler to create another potent American combo. But they'll be asked to take down perhaps Europe's biggest star, as McIlroy is paired with rookie Olesen two years after he successfully played alongside another rookie, Thomas Pieters, at Hazeltine.
While it wasn't a combination that received much early-week speculation, Bjorn explained that the McIlroy-Olesen duo came about when both players asked to play with each other. "They get on really well, and they spend a lot of time together," Bjorn said. "They are both really keen on it, and once they were both keen on it, I started looking at it."
This will mark another rendezvous for Fowler and McIlroy, who have already squared off five times over the last two Ryder Cups with McIlroy holding a 2-1-2 edge thanks in part to his singles victory at Gleneagles in 2014.
"I feel like getting matched up against Rory in a lot of the team matches," Fowler said. "I'm confident in my partner going head-to-head with those guys. We're going to have a good time out there, and I think there's going to be a lot of good golf."
---
Match scoring from the 42nd Ryder Cup
Ryder Cup: Articles, photos and videos
---
2:40 a.m.: Jordan Spieth/Justin Thomas (U.S.) vs. Paul Casey/Tyrrell Hatton (Europe)
Gone are Spieth and Reed, and in their place we have the "good friends" pairing of Spieth and Thomas who combined had the career Grand Slam under their belt before age 25. Thomas is making his Ryder Cup debut, and he'll face another rookie right out of the gates as Hatton draws another Englishman in Casey, who is making his first appearance since 2008.
Furyk noted that Spieth and Reed were a good pairing over the past two Ryder Cups, but by splitting them up and adding the new options of Thomas and Woods, he was able to create another equally potent combo.
"I felt like we came out of, in the past, having our most successful pairing in the Ryder Cup," Furyk said. "I think we came out of it with two very good pairings. The idea was to double up and try to get two."
The Casey-Hatton pairing follows what Bjorn explained was a deliberate decision to pair a veteran with a rookie in each of the four matches Friday morning. "I've looked at these guys and I think there's obviously the obvious guys out there in the sense of people that you would all expect to be there, and then there's a new guy in every group," Bjorn said.
---
2:55 a.m.: Tiger Woods/Patrick Reed (U.S.) vs. Francesco Molinari/Tommy Fleetwood (Europe)
Six years after facing Molinari in singles at Medinah, Woods will again square off with the Italian in the final match of the opening session. He'll play alongside Captain America in a group that will draw plenty of eyeballs (and a few jeers), while Molinari will be joined by Fleetwood who won the French Open at Le Golf National last year.
This was the other consequence of Furyk splitting up Spieth and Reed, as he explained that he had "a lot of options" when it came down to who to pair with Woods. Friday morning it will be Reed, who elicited some playful boos at the opening ceremony and will surely hear more once play begins.
"Tiger and I are going to play our own game, going out there and enjoying ourselves, feeding off of the crowds and going out and just having a lot of fun," Reed said. "Just kind of one of those things where it didn't matter who they threw out. Their 12 guys, they are all high quality and great golfers."
These pairings mean that Bryson DeChambeau, Phil Mickelson, Webb Simpson and Bubba Watson will sit out the first session for the Americans while Ian Poulter, Sergio Garcia, Henrik Stenson and Alex Noren will sit out for the Europeans.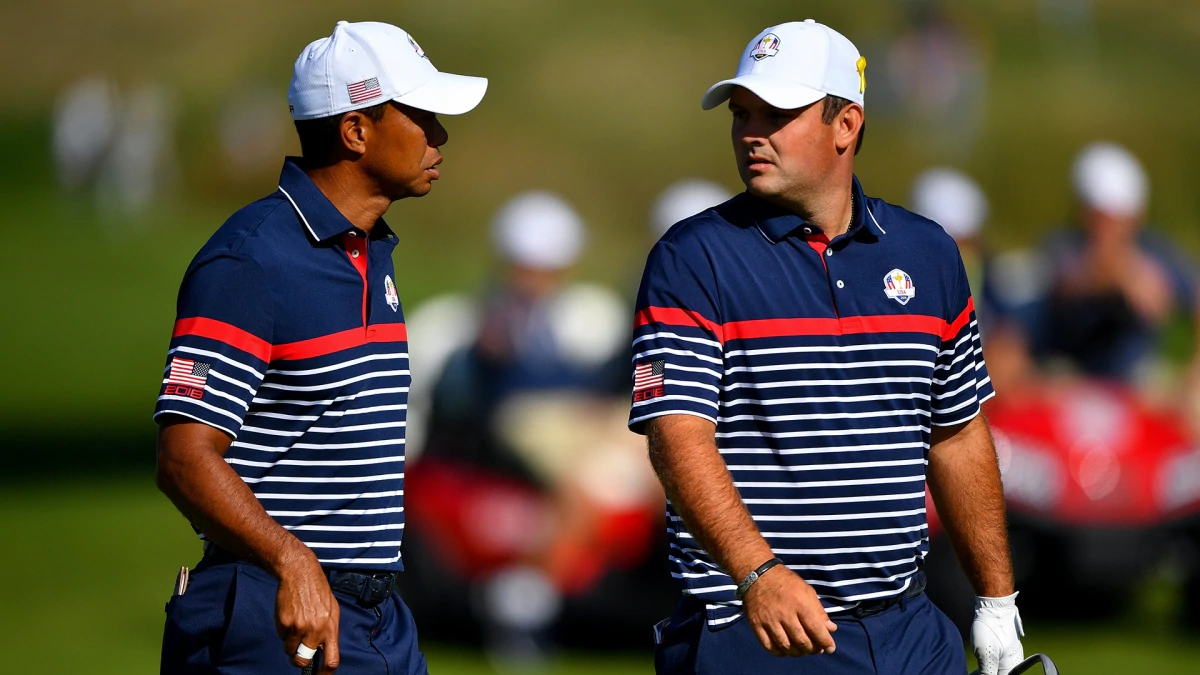 Source: Internet