POTOMAC, Md. – After nearly five hours in the heat, in front of constantly moving crowds, and alongside arguably the most popular golfer who has ever lived, there was only one thing left to say.
"On 17, we're walking off [the tee], and my caddie Geno yells … 'This is so f—ing awesome!"
"Geno" is Geno Bonnalie, the caddie for Joel Dahmen, who shot a 1-under 69 Saturday while paired with Tiger Woods in the third round of the Quicken Loans National.
Dahmen is a 30-year-old journeyman fighting to avoid a return trip to the Web.com Finals.
But on Saturday, he was also a fan, or as he termed it, "a sideshow."
"No one really cares what you're doing, and it's almost better that way," Dahmen said, describing what it's like to play with Woods. "Where I normally play in the last group on Thursday and Friday, ShotLink guys are in the way, people picking up trash are in the way, and there's one person out there. My girlfriend watches and maybe a parent or something. [This was] such a commotion where there's no point in saying anything. If everyone moves at once, it's fine, and you just play through it.
"You're just in your own little world. You forget what's going on. You almost forget you're playing golf sometimes. You get kind of stuck watching, watching him, the circus around him."
Luckily, Saturday wasn't the pair's first encounter. That came last month at the Wells Fargo Championship.
"He said, 'Please go ahead,' a couple weeks ago at Charlotte when he was grabbing a Coke and I was grabbing a beer. So that was the first time. [Today], shook his hand on the first tee, and off we went."
The road Dahmen took to that first tee no doubt played a role in his ability to simply enjoy the experience. After losing his mother to cancer and watching his brother beat it, Dahmen was himself diagnosed with cancer in 2011.
Through surgery and chemotherapy, he eventually resumed his professional career, winning PGA Tour Canada's Order of Merit in 2014. After two years on the Web.com Tour, he secured the 25th and final PGA Tour card off the regular-season money list in 2016. Back in Web Finals a year later, he snagged the second-to-last postseason card to ensure a sophomore campaign here on Tour.
Relatively unknown, Dahmen woke up to some extra attention this morning after Twitter users dug up a tweet he sent out a few weeks prior about Woods' driving at the Memorial.
"Yeah! I'm a huge Tiger fan! Of course," he said, laughing. "And I don't know man, I'm watching, and I'm like, 'Geez, man, if he could just get this ball in play, he'd be unbelievable.'
---
Full-field scores from the Quicken Loans National
Quicken Loans National: Articles, photos and videos
---
"I'm throwing stuff out there, because literally it's two different worlds. Like, I'll never see Tiger. I'll never talk to him, and I never thought about it. And it wasn't like it was critical, it was correct. But it's funny how people jump on that.
"So I went to bed and I woke this morning with hundreds of notifications, like, what is going on? … I think [Tiger] Tracker is the one who kind of exploded it. I was like, 'Well, thanks,' but then he had a couple tweets after that that helped me out a little bit and told my story and I think it brought a few more guys on my side. Everyone thought it was me against him, but I wanted him to shoot 60 and I wanted to shoot 61."
Bonnalie achieved some minor Twitter fame of his own last year after he openly campaigned to become Rory McIlroy's new full-time caddie.
"He actually has a great Twitter," Dahmen said. "It's just amazing what social media will do."
Dahmen entered the week 133rd in the FedExCup points race and through three rounds at Quicken is currently projected to move to 124th, just inside the cutoff, just like he was the last two years on the Web.com Tour.
Dahmen has two seasons of unique Tour experiences under his belt, but none of them really prepared him for what he encountered Saturday.
"The wildest thing was walking to the tee, and I looked at my caddie like, 'Holy cow, this is unbelievable.' I played with DJ last year. I've been around 16 at the Phoenix Open. But it was nothing like this.
"It was cool. He couldn't have been nicer."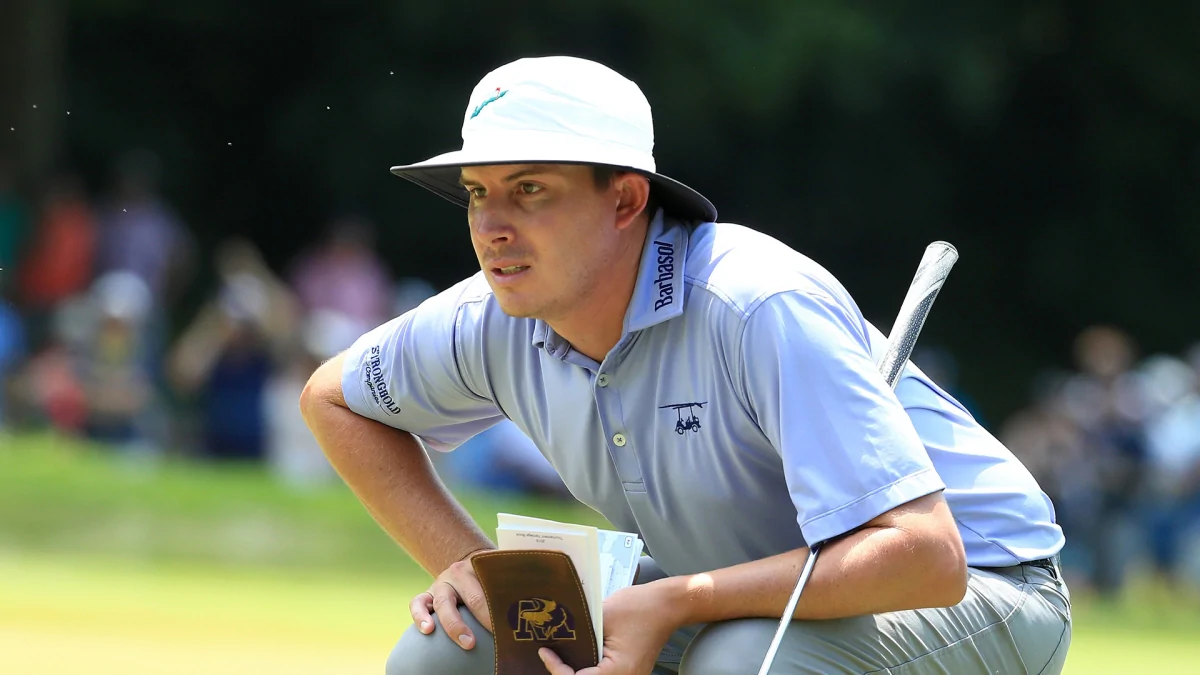 Source: Internet