In this year-end edition we applaud Tiger Woods' comeback, agonize over Phil Mickelson's curious year and criticize trouble in the U.S. Ryder Cup team room.
Made Cut
The comeback. Like an iron shot from deep rough, there really was no telling where this could have gone.
In retrospect, Tiger Woods had acknowledged that he had no idea how 2018 was going to play out following his return from fusion surgery on his lower back. Could he physically handle the rigors of four days of competition? Could he piece together a game in time to become competitively relevant? Could he keep pace with the younger generation?
Slowly each question was answered.
He endured 72 holes at Torrey Pines, played back-to-back weeks (on both coasts) in February and found himself in contention in March at the Valspar Championship.
At The Open and PGA Championship he proved he could still contend in majors, and the final piece to the comeback puzzle fell into place at the Tour Championship, where he cruised to a two-stroke victory.
"This entire year has been amazing," Woods said on Sunday at the Hero World Challenge. "Just been so blessed to have the opportunity. To come from where I came from last year at this point to have the ability to actually play and compete again in the game and do it consistently is quite amazing."
How long Woods can sustain this level of play will always be a question and he did show signs of aging toward the end of the season. But considering how far he came in '18, it was a comeback for the ages.
---
---
A new path. It was clear from the beginning of his tenure as PGA Tour commissioner that Jay Monahan was going to be a different kind of leader.
Monahan was young and forward-thinking when he took over for Tim Finchem in January 2017. This season he put those skills on display in what turned out to be a year of profound change for the Tour.
The revamped schedule was a Herculean challenge for Monahan and his leadership team, but there were plenty of other areas where he proved to be a savvy leader.
Following years of bitter legal battles with Vijay Singh and a group of Tour caddies, the new commish found a way to smooth over hurt feelings and settle both lawsuits.
Monahan also opened the door for sports betting in golf, a move many believe could be a boon for the game, and earlier this month announced a leadership change at the World Golf Foundation, which was in desperate need of a facelift.
All things considered, it was a good year for the new boss.
---
Made Cut-Did Not Finish (MDF)
Extreme makeover. To be clear, next year's revamped Tour schedule was desperately needed.
The dramatic makeover – which includes the PGA Championship's moving to May and The Players heading to March – addressed many of the circuit's biggest issues, including a finale that annually was an afterthought on the sports calendar behind football and a points-based season-long race that left many fans confused.
With that change, however, came some unsavory compromises. The strokes-based scoring system that will be used starting next fall at East Lake is sure to create plenty of issues (it's worth noting that had the system been used in '18 Woods would not have won the finale) and the new condensed schedule will be a challenge for both players and fans.
The new schedule isn't perfect, but that option didn't really exist.
---
---
Left field. Phil Mickelson's 26th full season on Tour was by far his most eventful.
The season started well enough with a run of four consecutive top-10 finishes that concluded with his playoff victory in March at the WGC-Mexico Championship, his first triumph since 2013. But that's when things got weird.
In June at the U.S. Open, Lefty celebrated his 48th birthday by losing his mind on the 13th green at Shinnecock on Saturday. As Mickelson's slick, downhill bogey putt from 18 feet began to race past the hole, he inexplicably ran after his ball and hit it while it was still in motion on the green.
"Look, I mean no disrespect by anybody," Mickelson said. "I know it's a two-shot penalty, and at the time I just didn't feel like going back and forth and hitting the same shot over. I took the two-shot penalty and moved on. It's my understanding of the rules. I've had multiple times where I've wanted to do that. I just finally did."
Things got even stranger a few weeks later when Mickelson was featured in a commercial for a new clothing sponsor sporting some unorthodox dance moves, and at the Ryder Cup (well, we'll get to that later).
Mickelson has always been adept at creating headlines, but 2018 was next level.
Tweet of the year:
I got this @Twitter thing down pic.twitter.com/gUx8XjNrez

— Phil Mickelson (@PhilMickelson) August 22, 2018
Lefty joined the Twitter-verse in August and immediately flashed the kind of self-deprecating humor that's made him a fan favorite for years, and his handle has quickly ballooned to over 250,000 followers.
Of course, Mickelson also got a chance to experience the less-glamorous side of social media when reaction to his bout with Woods in November was largely panned.
Welcome to Twitter.
---
Missed Cut
New task. To be fair, no one who was involved in the U.S. Ryder Cup task force, formed following the American team's loss in 2014, claimed the system was fixed. But the seven-point blowout in September in Paris proved just how fragile things are for the red, white and blue.
Getting boat-raced by a touchdown was bad enough, but the fallout created by Patrick Reed has sent the American leadership back to the drawing board.
Reed criticized captain Jim Furyk for his decision to break up his pairing with Jordan Spieth and for only playing "Captain America" twice in the team format.
"The issue is obviously with Jordan not wanting to play with me," Reed told the New York Times, adding, "For somebody as successful in the Ryder Cup as I am, I don't think it's smart to sit me twice."
It's obvious that both Reed and Spieth will be a part of U.S. teams for the foreseeable future. It may not take a task force to mend the rift between the two American stars, but it will take leadership.
The long ball. The distance debate has been ongoing for years in professional golf, but 2018 may turn out to be a tipping point for some.
Although rule-makers have been slow to dig in on distance, this season on Tour was a bomber's paradise. Sixty players averaged 300 yards or better off the tee – that's a dramatic bump over '17 when 40 players averaged 300 yards or better.
If the fall portion of the 2018-19 schedule is any indication, don't expect the trend to stop. Tour rookie Cameron Champ is leading the Tour with a 130 mph clubhead speed. To put that in context, Keith Mitchell led the Tour last season with a 124 mph clubhead speed.
Rule-makers will undoubtedly be watching closely in '19, but unless they plan to make the gym out of bounds this is the new normal.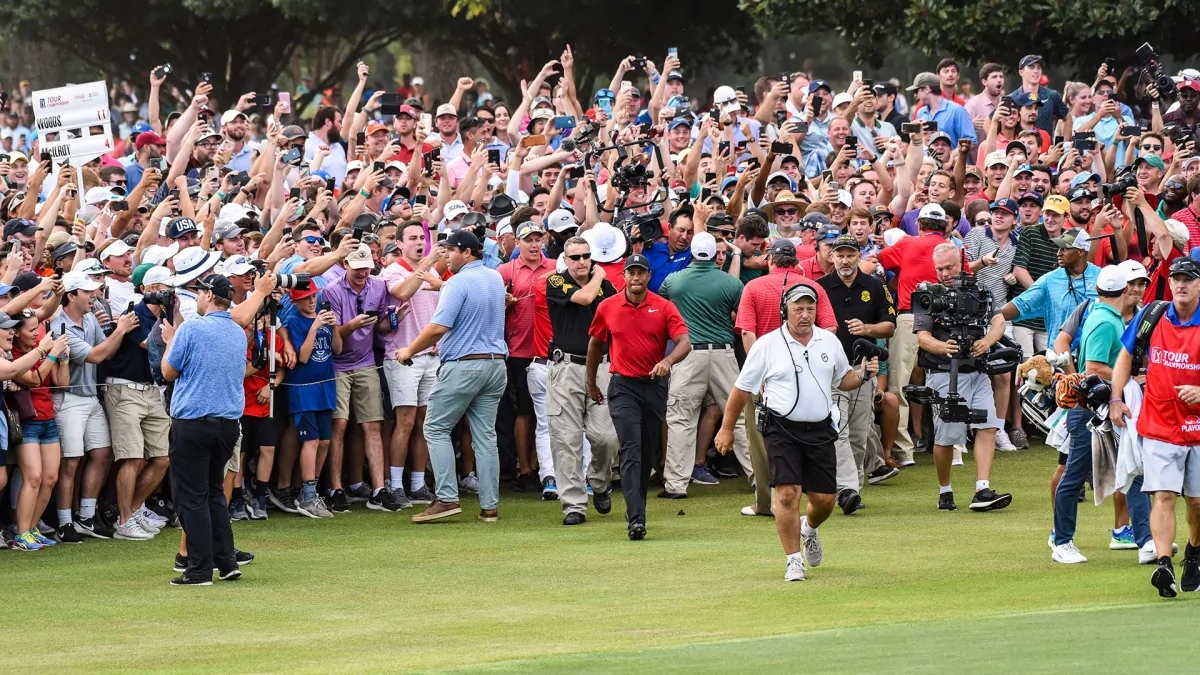 Source: Internet