There's no cut this week as the PGA Tour endures its annual playoff intermission, but there's still plenty to cover in what will be the final "bye"-week edition of Cut Line.
Made Cut
The envelope, please. This was a foregone conclusion for some time, but with just a single playoff event remaining it's time to end the pretense and ship the Jack Nicklaus Award to Brooks Koepka, the only two-time major winner on Tour this season.
Just as clear is the race for the Rookie of the Year Award. Aaron Wise won the AT&T Byron Nelson in May and is the only rookie to qualify for the Tour Championship (he's 21st on the points list). Austin Cook also won this season (RSM Classic), but failed to qualify for the finale.
Voting begins after the Tour Championship and concludes on Oct. 1, but the Tour may want to save the postage and just call this race now.
Bye "bye" week. This will be the final year for what has turned into an awkward lull in the Tour lineup.
This week's "bye" on the schedule following three consecutive playoff events was built in originally to give players a breather before the final postseason stop but has become the victim of the circuit's move starting next year to finish before Labor Day weekend and just three playoff events.
In theory, the bye week made sense considering the top players rarely played four consecutive weeks, but the pause evolved into a momentum-killer for an organization trying desperately to keep fans engaged during a busy part of the sports calendar.
Everybody loves a week off, but as Phil Mickelson explained, when it comes to golf's postseason, less really is more.
"Since Day 1, years before it started, I was hopeful it would only be three, because it's easy to go one, two, three, play three events. It's hard to play four," Mickelson said earlier this month. "So we are taking five weeks to play four as opposed to just three weeks. I think it's a great thing."
Keeping it simple. The USGA and R&A announced this week that more than 30 changes to the Rules of Golf will be implemented on Jan. 1.
Among the changes are new procedures for dropping the ball when taking relief, the elimination or reduction of several penalties, relaxed putting green and bunker rules, and rules that encourage improved pace of play.
Although Cut Line will stop short of claiming that golf's rulebook is now simple, it's certainly been simplified and that's a start.
---
Made Cut-Did Not Finish (MDF)
Short-sighted. For the first time in Jordan Spieth's professional career he did not qualify for next week's Tour Championship. As if that wasn't bad enough, the 11-time PGA Tour winner also finds himself in violation of the circuit's strength-of-field requirement.
Under the rule that began last season players are required to add an event they hadn't played in the last four seasons if they didn't play in at least 25 events in the previous or current season. Spieth will finish with 23 starts (24 counting the Ryder Cup) and did not add a new event to his schedule.
"I obviously accept whatever fine it is and move on and try and add one every year, but it's kind of tough," said Spieth, who is now subject to a "major penalty" in excess of $20,000 or even suspension, although that seems highly unlikely.
Here's the rub. Spieth played 23 events, which is actually more than the average (22.2) for the 30 players who did qualify for East Lake. Nor does the policy apply to veteran (over 45) or life members, like Tiger Woods and Phil Mickelson. This is likely the root of Spieth's frustration and will certainly make next year interesting when Spieth ascends to the Tour's policy board for his three-year term.
Tweet of the week: @maxhoma23 (Max Homa) "While walking off the 18th tee today [at the Nationwide Children's Hospital Championship], nearing the end of a pretty difficult/breezy day, my caddy said that if golf were easy it wouldn't be fun. It was a deep and philosophical comment. I wanted to punch him."
The next week Homa finished tied for sixth at the DAP Championship to secure his Tour card. Good for Homa, even better for the Tour's social media profile.
---
Missed Cut
Going the distance. The distance debate has predictably heated up as the Tour inches toward a new season and proponents of potential equipment rollbacks have started crunching the numbers.
Some have pointed out that Rory McIlroy is on the verge of becoming the first player to average over 320 yards off the tee and that the Tour average (296 yards) has increased by about 4 yards this season.
There is no question golf needs to address the distance gains, at least at the highest level, but perspective and facts need to be a part of this debate. First, McIlroy won't become the first player to average over 320 yards off the tee. Hank Kuehne did it in 2003 (321.4-yard average) and the conversation needs to go well beyond equipment's role in the increases.
"Every professional sport, it doesn't matter, guys continue to get better, that's just the way it goes. And I don't see why everyone has such an issue with that," Chris Kirk said earlier this month at TPC Boston.
The athletes who play the Tour are now bigger and stronger and their training has intensified to maximize how far they hit the golf ball. Unless golf's rule makers intend to outlaw gyms and trainers, this has the potential to become an arms race that can't be won.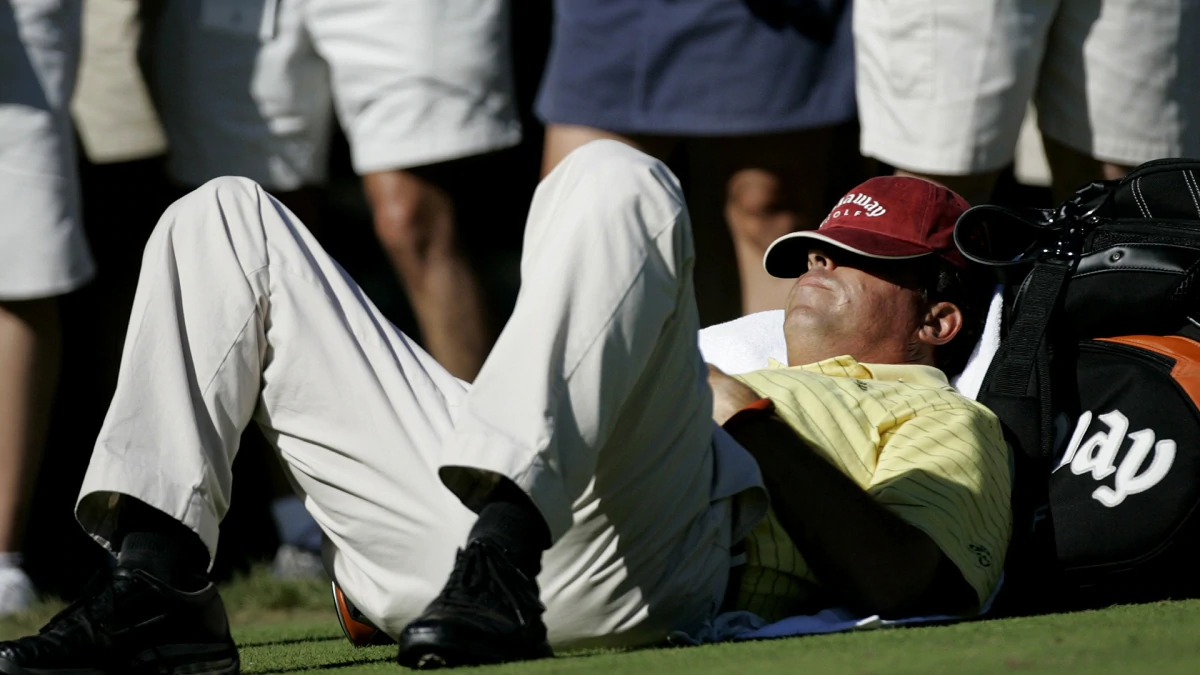 Source: Internet