BRG Kings Island Golf Resort is the first project of BRG Golf in Viet Nam. It is 50km Northwest from Ha Noi City, meant under an hour of transporting. This 54-hole golf Course is completely lying in Dong Mo Reservoir and adjacent to Ba Vi Ranges in Ba Vi National Park, making it the most scenic course in the North of Viet Nam. BRG Kings Island has 3 golf course, The Lake, The Mountain and The King
BRG Kings' Island Golf Club
The Lake course opened all the hole in late 1997, has 18 holes, designed by Mr Robert McFarland, a famous golf course architect in the US who has long been involved in bringing unique championship course into life. This course makes use of the water from the reservoir around, having water playing in 13 out of the total of 18 holes, which lead to constant gentle water hazards. Golfers must watch carefully and give the accurate shot to avoid these.
The Mountain Course was designed by a renowned golf course architect, which located in Australia, Pacific Coast Design. This also takes advantage of the waterside, as well as retain natural resources like sloping terrains and existing jungle.
The third golf course at Kings Island Golf Resort, one of the oldest golf courses in the North, the world-class 18-hole golf course named Kings Course is the first golf course project designed by Jack Nicklaus II. The "royal tee" kicker is located at the top of the 28-meter waterfall, with the distance between the tee and the green being a large lake.
Players can choose between two green "King Green" and "Queen Green" suit for long and short swing different. This is a unique "golf course" in Vietnam with the 19th hole golf course. The 19th hole is a special gift for golfers playing here with a unique and challenging design. Although not scored in the scorecard, golfers may experience this hole after completing an 18-hole round or can be used to delineate the results in play-offs.
BRG Kings Island is a frequent host of large-scale tournaments in the North: "King of The Mountain Open 2016" with more than 150 golfers in Viet Nam and foreign countries, "King Island Open 2015", etc. It is also the multiple award-winner. In the two the consecutive year of 2014 and 2015, it received award of "Best Course in Viet Nam" by Asian Golf Monthly Magazine. BRG Kings Island also got the title of "Top 5 Best Course in Viet Nam" by The Ministry of Sports, Culture and Tourism in 2015.
Design: Robert McFarland – Pacific Coast – Jack Nicklaus II
Holes: 54
Established: 1993
Distance: About 50 minutes to go to Ha Noi by car
Position: Dong Mo, Son Tay, Ha Noi, VietNam
Album BRG Kings' Island Golf Club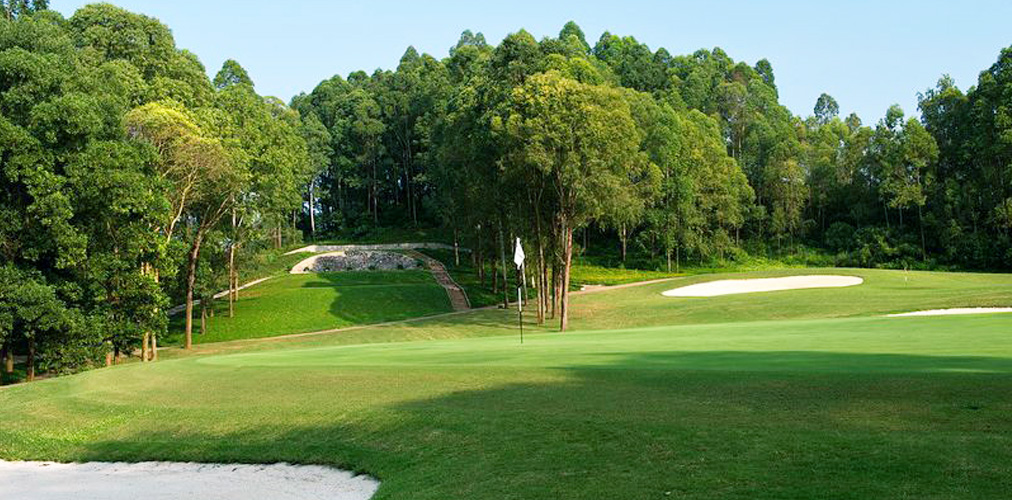 Infomation BRG Kings' Island Golf Club
Dong Mo, Son Tay, Ha Noi, VietNam
Map BRG Kings' Island Golf Club