BIRMINGHAM, Ala. – Will the USGA finally succumb and implement lift, clean and place in one of its championships?
It remained the giant question on players' minds during Wednesday's practice rounds at the weather-ravaged U.S. Women's Open.
John Bodenhamer, the USGA senior managing director of championships and governance, would not say definitively when asked on Wednesday afternoon. He repeated what he said a day earlier.
"It remains our intention to play 72 holes and to play the ball as it lies," Bodenhamer said.
Barring another overnight deluge, play at Shoal Creek is expected to begin on schedule Thursday at 6:40 a.m. CT. Bodenhamer indicated changing conditions could require adjustments.
"We evaluate in real time," Bodenhamer said. "We'll do things in real time, very late in the process. We take a look at all of those things in the moment. To get too far out ahead, we just don't do that."
He was pressed on whether lift, clean and place was possible.
"We can address some of what is out there with setup, and not compromise the integrity of what is the ultimate test, and provide what really the U.S. Women's Open is all about, identifying a great champion," Bodenhamer said. "We intend to do that."
If the USGA implements lift, clean and place, players will be notified on the first tee and also in a bulletin posted in the locker room.
Wednesday's practice rounds were played without any ground-under-repair markings around the bare, thin patches of turf that are an issue in some fairways and around some greens.
The USGA was studying players in Wednesday's practice rounds. If officials decide to mark ground as under repair, players will find the areas outlined in white paint as they play. If a player believes a ball is in an area that should be marked as ground under repair, she can call a roving official, who will have the authority to paint unmarked areas as ground under repair.
With the course so wet and soft, it's playing long, leading some players to ask whether the USGA would shorten the course more than it originally intended it to play. The scorecard yardage is 6,689 yards.
Azahara Munoz, Kris Tamulis, Ally McDonald and Solar Lee were in a foursome together in Wednesday's practice round. They were all unable to reach the 430-yard 12th with their second shots. They all came up short with 3-woods.
"I think that's part of the evaluation," Bodenhamer said. "I wouldn't necessarily say shorten it as much as strategically place things, whether it's teeing grounds, or hole locations. Can't really answer that right now. We'll talk about that later tonight … I think our target would be to maintain what we have always maintained as our plan coming into this as a course set up. We'll modify that based on what we think we need to mitigate."
Shoal Creek was opened Wednesday afternoon for practice rounds after being closed all of Tuesday and Wednesday morning. The course was hit with 1.6 inches of rain over night, upping the rainfall total to 4.7 inches over the last three days.
Tamulis was in the first group off when practice rounds resumed.
"It was better than I anticipated," Tamulis said. "But it was still really sloppy. Lot of mud balls. The fairways aren't terrible, around the greens is really wet, but the greens are remarkably dry."
Shoal Creek had its SubAir System running during Wednesday's practice rounds. The systems suck moisture out of the green.
Munoz said she didn't get many mud balls in her practice round, but she said that will change as the course begins to dry out.
"When the course is this wet, you don't get the mud balls," Munoz said. "The mud today was wet and loose and didn't stick."
McDonald agreed.
"Once the course gets a little more dry, you're going to see sticky mud," McDonald said. "Today it was bouncing in mud and then rolling through water."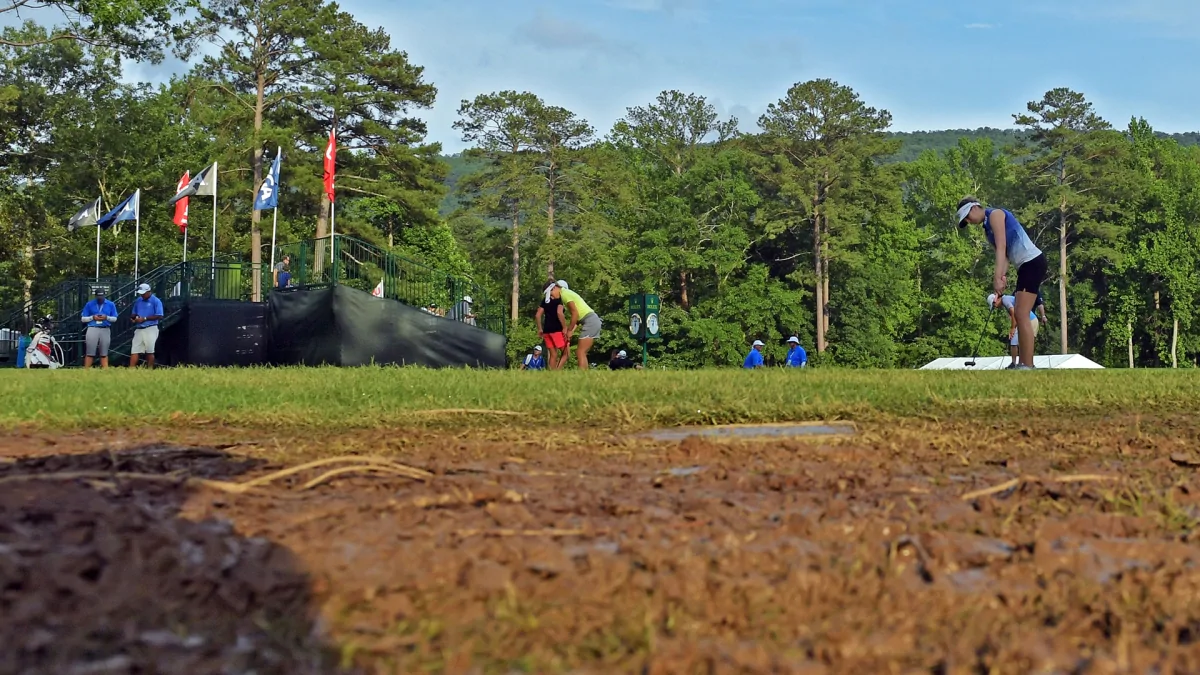 Source: Internet