Maurice Allen won his first Volvik World Long Drive Championship Wednesday night with a 393-yard blast to defeat Justin Moose.
Allen had never made it past the quarterfinals, but he was clearly the best competitor all night long, with drives of 392 yards in the quarterfinals, 393 in the semis and 393 in the final.
On the women's side, Phillis Meti defeated Chloe Garner to capture her third championship belt. Meti also won in 2006 and 2016.
Here's a summary on how the night played out:
Quarterfinals, Match 1: Justin Moose vs. Will Hogue
Hogue – a three-time winner this season – set the pace with a 388-yard drive, but Moose edged the favorite by a single yard on his seventh drive, his only shot that stayed in bounds.
Match 2: Ryan Steenberg vs. Jim Waldron
The first match was close, and this was even closer. Waldron and Steenberg both hit 386-yard drives, but after officials measured it was determined Waldron's went a few inches further.
Match 3: Tim Burke vs. Josh Cassaday
Cassaday delivered a breakout performance with a 390-yard bomb, and it was too much for Burke, the two-time champion, who could only manage 382 yards.
Match 4: Maurice Allen vs. Mark Costello
Allen launched his second drive 392 yards, the longest of the quarterfinals, and Costello never got close with his longest drive measuring 380 yards.
Semifinals, Match 1: Justin Moose vs. Jim Waldron
Once again, Moose struggled to keep a ball on the grid, but his sixth drive was crushed 387 yards, two yards longer than Waldron.
Match 2: Maurice Allen vs. Josh Cassaday
Allen smashed the longest drive in the quarterfinals and he did the same in the semis with a 393-yard bomb, and that put too much pressure on Cassaday who failed to keep a drive on the grid.
Final: Maurice Allen vs. Justin Moose
Allen saved his best for last, nailing his second 393-yard bomb of the night on his eighth and final ball, and Moose couldn't match him.
---
Semifinals, Match 1: Emily Tubert vs. Chloe Garner
Garner posted 319 yards and was too much for Tubert, an LPGA player, who only managed 305 yards.
Match 2: Phillis Meti vs. Heather Manfredda
In a rematch of last year's semifinals, Meti got revenge with a 317-yard bomb that Manfredda couldn't match.
Final: Phillis Meti vs. Chloe Garner
New Zealand's Meti won her third title with a 313-yard drive that was three yards longer than Garner's best effort.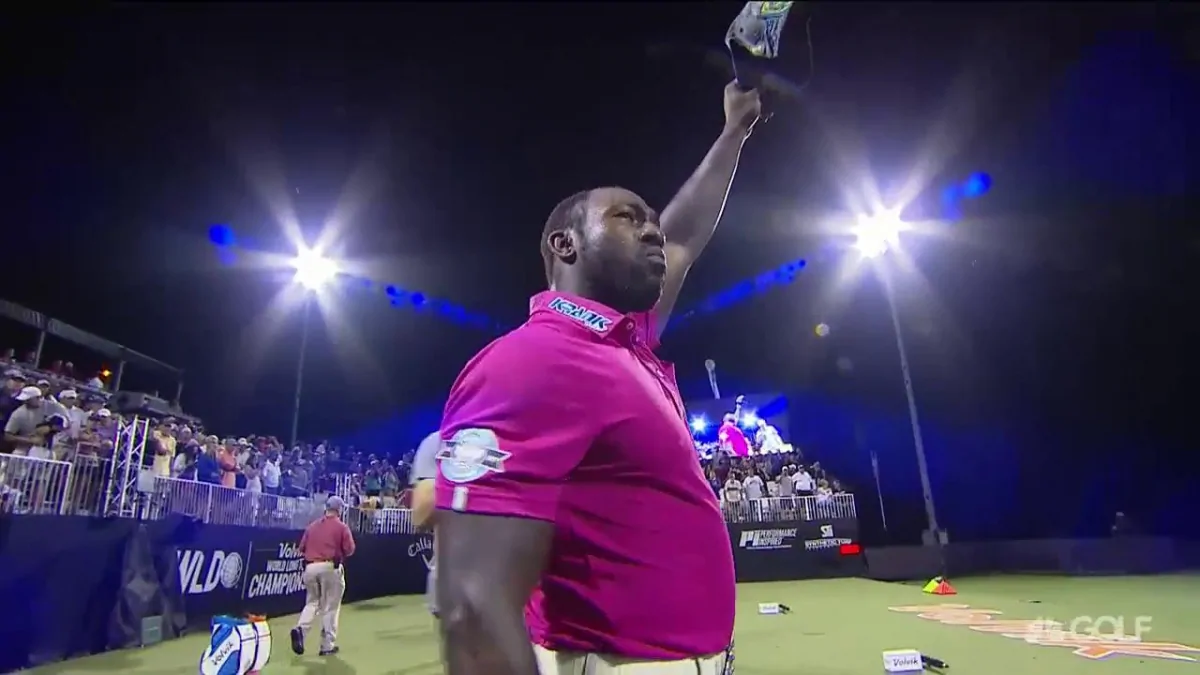 Source: Internet