Ladies, the golf shoe struggle is officially over! We no longer have to look like we're wearing men's shoes, just in a smaller, pinker version. That's because women's golf shoes have stepped up their game. Footwear companies are now designing golf shoes with the specific needs of female golfers in mind. And you can easily find a pair with all the performance technology you need, while still looking fashionable. It actually might be hard to choose from all the options available! So, we found the consensus from experts on the best golf shoes for women, and then compiled a list that will have you putting like a pro.
Golfing is great exercise, too! A study found playing golf may be even better than walking when it comes to older adults staying healthy. Researchers from the University of Eastern Finland discovered hitting the links is actually better exercise. So, despite the participants engaging in less intense exercise out on the golf course, it was the longer duration and higher total energy expenditure that resulted in a positive effect on lipid profile and glucose metabolism.
Golf isn't just a fun way to exercise. It's also a secret weapon against the Grim Reaper! Researchers say that going for a round of golf at least once per month can lower an older adult's overall risk of death. This conclusion comes after analyzing data from the Cardiovascular Health Study, which followed nearly 5,900 adults over the age of 65 from 1989 to 1999. The researchers conducted extensive health exams on the participants every six months and surveyed them on any heart-related health incidents. The results were nothing short of impressive. Once-a-month golfers had a significantly lower death rate (15.1 percent) than non-golfers (24.6 percent).
So, grab your clubs, your glove and your golf shoes! And definitely don't settle for uncomfortable shoes on the course or a pair that doesn't reflect your style. Choose from the shoes that experts say are a hole-in-one. Read on to find out which are recommended most often as the best golf shoes for women. And when you're ready to put your best foot forward, any of these top picks will help you hit the green with confidence. And they'll also help your feet stay comfortable — whether you're walking the course, teeing off, riding in the golf cart or hanging out at the country club. Let us know what you sport at tee-off in the comments below.
The List: Best Golf Shoes for Women, According to Sports Experts
1 – G/FORE Welt Stud Gallivanter Women's Golf Shoe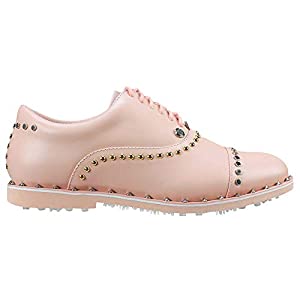 First up, we have a pair that's a blend of fashion and function, with a sleek design that will have you turning heads. These also feature waterproof leather and a cushioned insole for maximum comfort.
Independent Golf Reviews recommends these, and here's why: "The G/FORE Welt Stud Gallivanter golf shoes combine an athletic fit with premium waterproof leather. The shoe's upper features metallic gold and silver stud details that really make the Gallivanters stand out amongst the crowd. The footbed is washable, anti-microbial, features triple density foam cushioning, comfort system technology improving airflow, and a massage for the soles of your feet. It's clear G/FORE has thought of everything when it comes to creating luxury level golf shoes for women."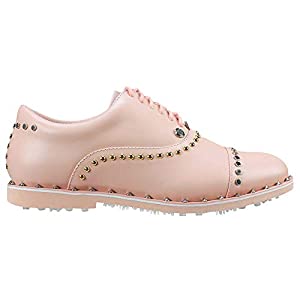 "When we tried on the Gallivanter, we found the shoe's bespoke cleat design gave us the perfect amount of grip to hit long and confident golf shots. It also features a deep massaging innersole that caresses the foot while you walk adding to the incredible support and comfort that this shoe provides. Overall, this is a great all-round golf shoe," Golf Monthly writes.
Golf.com explains that they are "As stylish as it is comfortable, this Gallivanter golf shoe combines an athletic fit with bespoke cleats designed for optimal traction and stability on the course."
2 – Adidas Women's S2G Spikeless Golf Shoes
Next on the list: the Adidas Women's S2G Spikeless Golf Shoes. These casual-looking shoes feature a no-spikes design and provide extra comfort for those walking the course.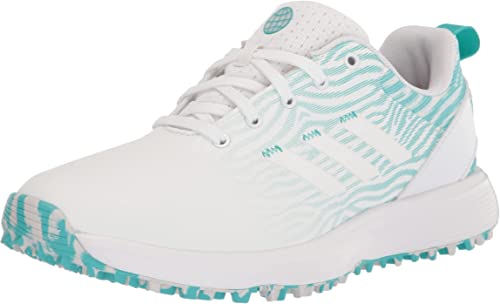 Golf.com thinks this pair is innovative: "These spikeless Adidas golf shoes were designed with the future in mind. The waterproof upper contains at least 50% recycled material to reduce plastic waste and promote a greener and healthier planet. While these shoes may be designed for on-course performance, they're made to be worn all day. These shoes offer long-lasting comfort, stability, and peace of mind no matter where the course takes you."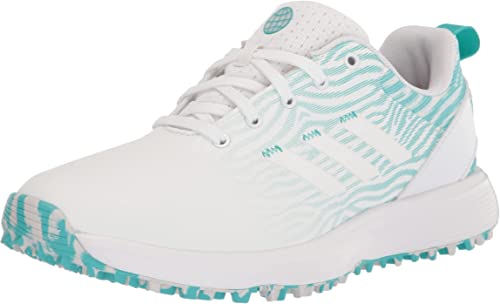 GolfDigest says, "This pair features a lightweight bounce midsole for added flexibility. The lugs on the outsole provide a solid grip despite the spikeless design."
Adidas also has other designs featuring no spikes, like their Summervent model. According to Golf Span, "The Adidas Summervent Spikeless golf shoes are a breathable, refreshing option for those blistering hot days."
3 – Adidas Golf Shoes Womens W Tech Response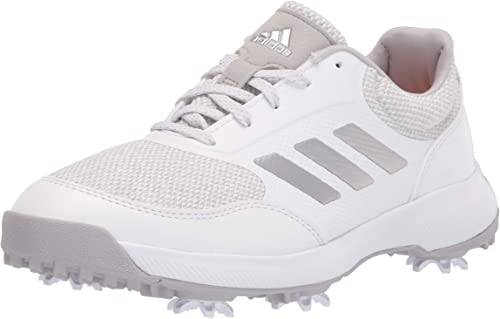 The shoe features a casual design with added comfort technology, such as a cloud foam insole and a breathable mesh upper. Travel Fashion Girl describes the features: "These Adidas golf shoes have the look of sneakers … The sole has a six-spike design which is durable and the Thintech cleats provide traction control, stability, and are friendly to the perfect grass of the greens. They are super comfortable with cloudfoam cushioning and the leather uppers provide protection in all weather."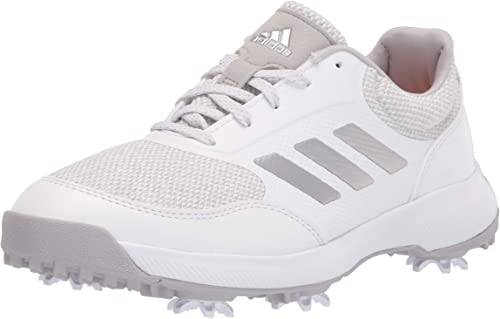 "In addition to five color options, you receive a breathable mesh upper for maximum airflow to keep your feet cool and dry on a hot day. Plus, an EVA midsole cushions the impact of every step for a pleasant walking experience. Lastly, Adidas employed six plastic cleats to help the shoe dig into the turf on each step and your swing. The studs keep you fastened to the ground and are replaceable to extend the shoes' lifespan," Golf Span claims.
Golf.com writes, "Complete with excellent breathability and a lightweight design, you can focus on the game and trust that these shoes will keep you grounded. These shoes are an excellent choice for newbie or budget-minded golfers, offering reliability and control without the hefty price tag."
4 – New Balance Women's Fresh Foam Links 2 Golf Shoe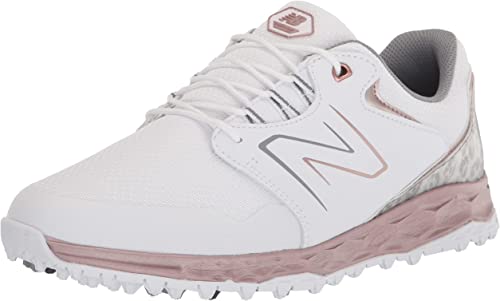 The shoe features a fresh foam midsole, which provides extra cushioning and support for long days on the course. Best Products Reviews cover the top things to know about this pair: "Main highlights: 2 year waterproof warranty; molded CUSH+ insole for superior comfort; 10mm drop Fresh Foam innovative midsole provides ultra-cush; cloud-like feel, smart rubber spikeless outsole has pressure mapping colors to highlight key performance zones; [and] waterproof microfiber leather/performance mesh upper."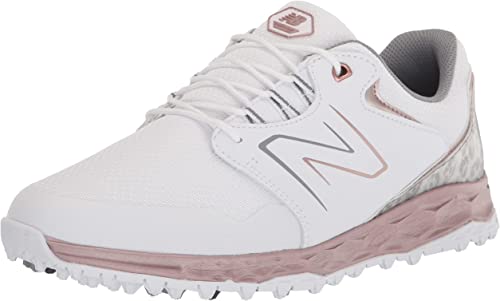 Golfweek says, "Why we love it: Known for their comfort, these New Balance shoes are great if you love to walk the golf course. A fun animal print on the heels makes these shoes pop and can leave your playing partners jealous."
Golf Span says these will provide optimal relief: "After considering a variety, it is clear that the New Balance Fresh Foam is the most comfortable women's golf shoe."
5 – ECCO Women's Biom Hybrid Golf Shoes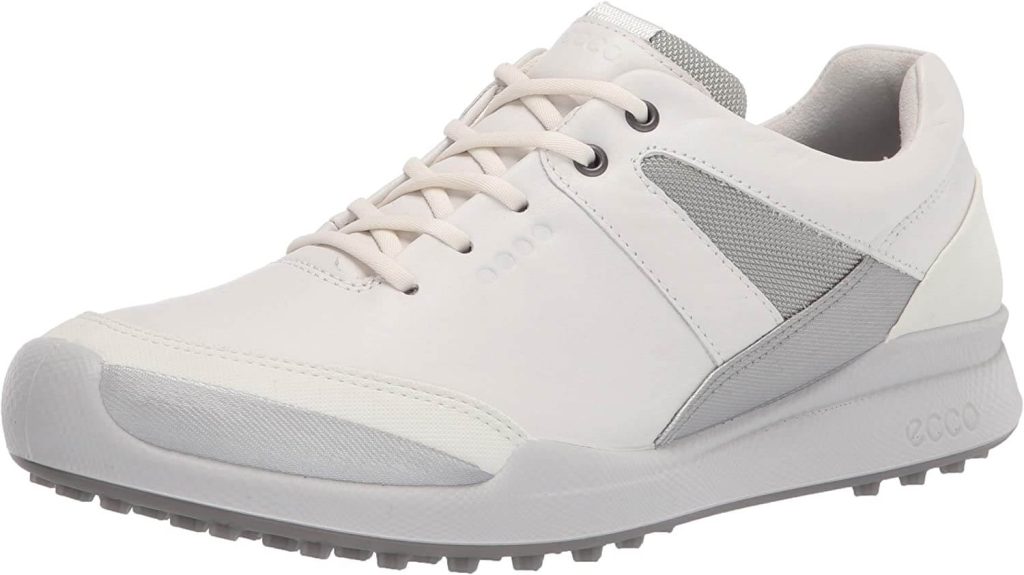 ​​This pair has natural motion technology, allowing for max flexibility and stability, while also sporting a sleek, polished look. Southhampton Golf Club raves about this choice: "The ECCO Women's Biom is made up of 100% leather and textile with rubber soles that enhance expansion and comfort when the need arises. If you are looking for a pair of shoes with natural motion technology and asymmetric reflective paneling, you will have to trust me when I say that this is your shoe right here. The shoe is also resistant to water, so you can rest assured that your feet will be dry."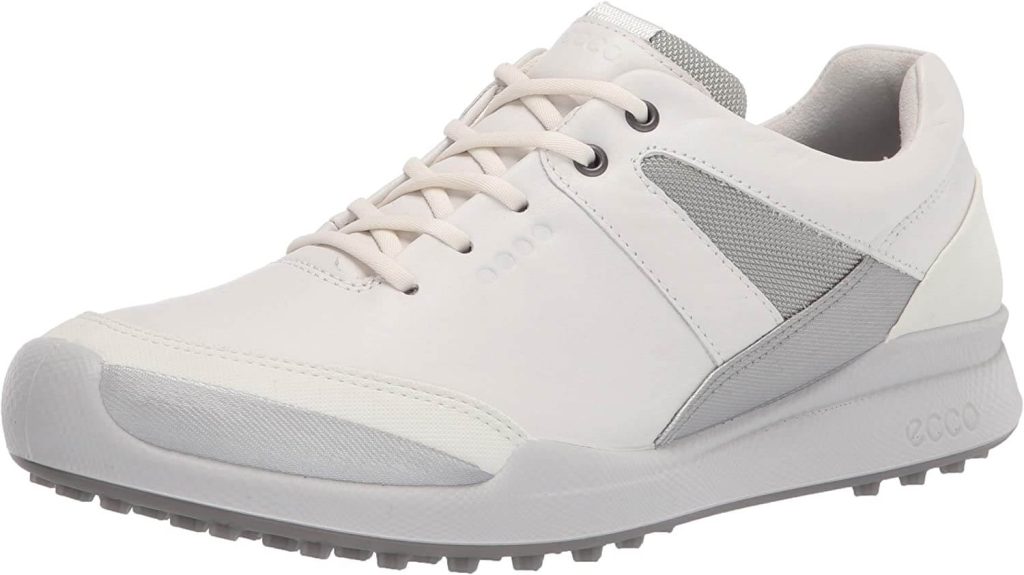 Lynn on the Links personally attests to their quality: "This ECCO Biom Hybrid Women's Golf Shoe is another favorite and is ultra-comfortable. The ECCO brand … tested 2,500 athletes to make sure that the shoe would perform to the highest level. I wore these for at least 5 years and they were a favorite. Extremely comfortable, waterproof, and I loved the soft leather, which for me didn't need to be broken in."
Travel Fashion Girl also agrees and writes: "Ecco womens golf shoes are modern and stylish, they have the look of a sneaker, but have a great traction pattern that works well on courses and concrete surfaces. The heel walls add stability when you swing and the material is lightweight and breathable."
Sources
Studyfinds
Independent Golf Reviews
Golf Monthly
Golf.com
GolfDigest
Travel Fashion Girl
GolfSpan
Best Products Reviews
Golfweek
Southhampton Golf Club
Lynn on the Links